There's no need to slave over the stove night after night this week. Chef Vivian Howard from PBS' "A Chef's Life" is sharing five dinner recipes that can be made with one night of cooking and a little light preparation throughout the remainder of the week.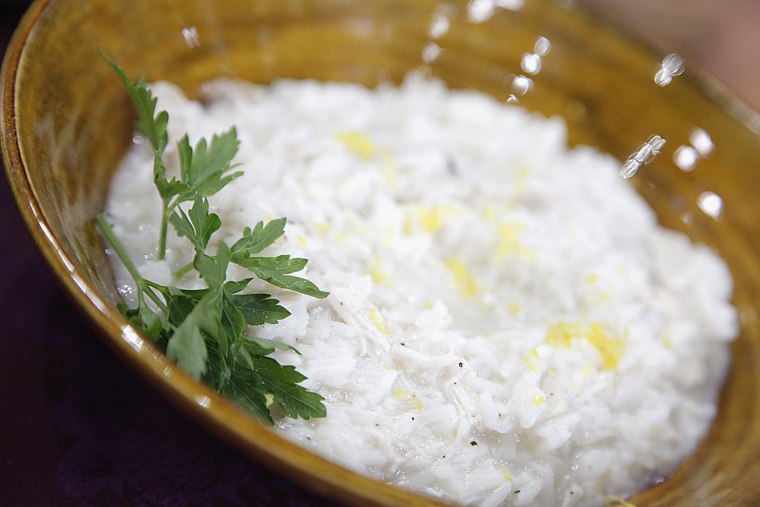 Scarlett's chicken and rice
Services 4

2 to 3 3 1/2 lb. chickens (throw in the necks if you have them)

1 large onion, peeled and split

2 bay leaves

Water to cover

2 cups rice

2 tbsp. salt

2 tsp. pepper

1 tbsp. butter

2 tbsp. lemon juice

Put your birds (breast side up), the split onion and bay leaves in a 12 qt. Dutch oven or similar vessel with a lid. Cover the birds with cool water. Add salt and black pepper to the pot. Cover, bring it all up to a simmer and cook for about an hour or until the birds, in my mom's words, are "falling to pieces." This should take no longer than 90 minutes. Once the birds are loose, let them rest in the broth for 30 minutes before removing them and allowing the chickens to cool to room temperature. Discard the onion and bay leaves.
In preparation for the remaining recipes, remove and chill 1 quart of the broth. Shred the chicken into medium pieces. You will be left with roughly 6 cups of chicken.
To finish Scarlett's chicken and rice, add 2 1/2 cups of the shredded chicken back to the broth and bring this up to a simmer. Add the rice. If you are a rice rinser, resist the urge here, as the starch helps make the broth homey and rich. Cook the rice for about 12 minutes, depending on the variety or brand, the time could vary. The rice should be just cooked through and should absolutely hold its shape. Turn off the heat. Add your butter and lemon juice. Taste for seasoning and adjust with additional salt or pepper.
In preparation for the broccoli chicken casserole, remove 2 cups of the chicken and rice immediately after the rice is just cooked through. Chill it down as quickly as possible to prevent the rice from bursting.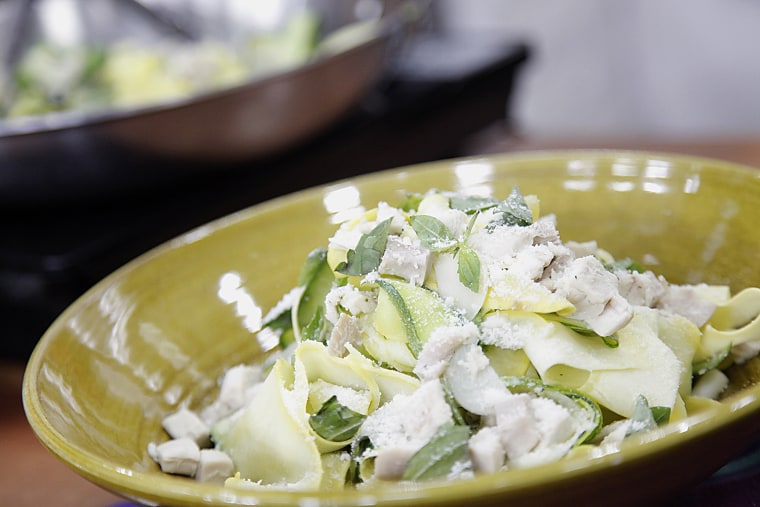 Chicken, summer squash and basil sauté
Serves 4

1 zucchini

1 yellow squash

1 cup reserved chicken

2 garlic cloves, sliced very thin

1/2 cup reserved broth

1/2 cup basil leaves (torn)

2 tbsp. lemon juice

2 tbsp. grated Parmiggiano Reggiano

1 tbsp. butter

Start by making long ribbons of the squash and zucchini using a vegetable peeler. To do this, hold the squash in one hand while peeling the full length of the vegetable with the other. Do this on all four sides, peeling down till you reach the seeded core of the squash. You will end up with long thick noodles of squash/zucchini without seeds.
In a medium saute pan, add the broth, garlic cloves and the chicken. Bring this to a boil and fold in the squash/zucchini ribbons. Allow this to wilt down and reduce out until there is about 1/4 cup liquid left in the pan. Depending on your heat, it could take up to 8 minutes. Add the basil leaves, lemon juice, parmesan cheese and butter. Season this with a pinch of salt to taste and cook until it's tight and saucy looking, about one minute. Serve warm.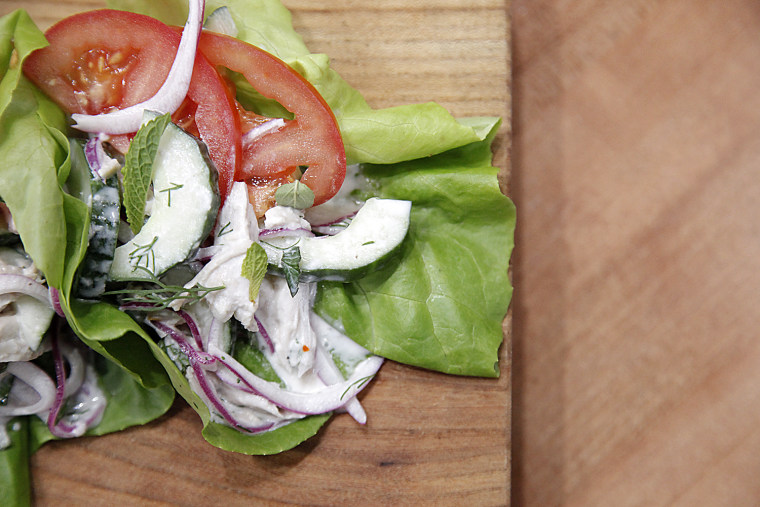 Tzatziki-style chicken salad
Serves 4

1/2 cup plain Greek yogurt

2 tbsp. mayonnaise

l/4 cup lemon juice

2 tsp. honey

1 garlic clove, grated on the micro-plane

1 1/2 cup reserved chicken

1 medium cucumber, peeled, seeded and sliced into thin half moons

1 small red onion, peeled, halved and sliced very thin

2 tbsp. fresh dill, picked and torn

1 tbsp. fresh oregano, chopped

1 tbsp. fresh mint, chopped

Salt

Pinch chili flakes

Bibb lettuce

Sliced tomato

Begin in a small bowl by whisking together the first 5 ingredients to make the dressing. Next, in a bowl large enough to hold it all, combine the chicken, cucumber, onion, and herbs. Season this mix with a little salt and a small pinch of chili flakes. Stir the dressing into the salad and allow this all to hang out refrigerated for at least an hour. Serve chilled inside lettuce leaves, garnished with tomato slices.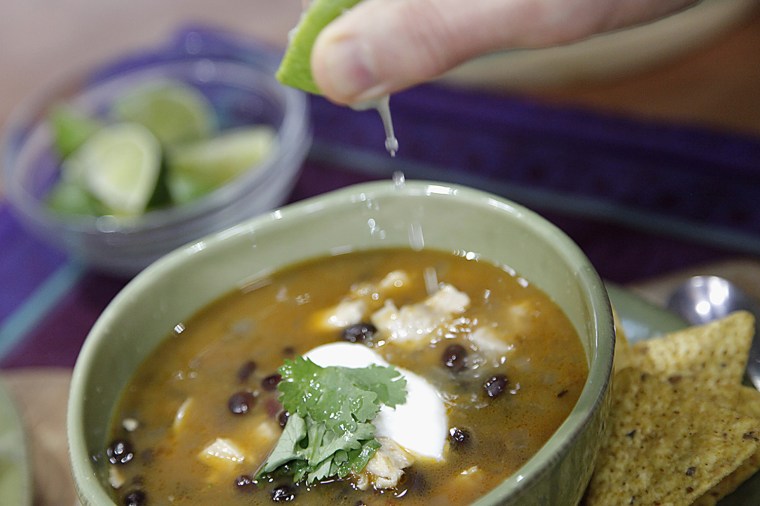 Black bean, sweet potato soup
Serves 4

1 tbsp. vegetable oil

1 onion, peeled and small diced

1 garlic clove, thinly sliced

1 tsp. salt

1 tbsp. chipotle puree

1 can black beans

1 small sweet potato, roasted and pureed

1 cup chicken

3 cups reserved broth

2 cups water

Tortilla chips

Sour cream

Lime juice

Cilantro

In a 4 qt. pot, sweat the onion, garlic and salt until translucent. Drain, rinse and add the beans, sweet potato, chicken, chipotle, broth and water. Bring this all up to a simmer and cook for about 10 minutes. If you need more liquid to achieve soup viscosity, add some water or milk.
To serve top with sour cream, lime juice and cilantro.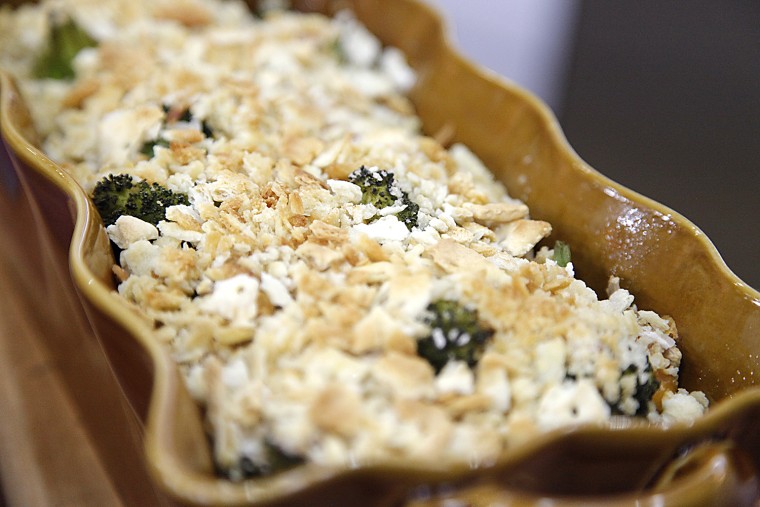 Broccoli, rice and chicken casserole

Serves 4
2 cups reserved chicken and rice

1 cup broccoli florets (broken into 1 inch pieces)

1 small can Rotel

1 cup shredded cheddar or monterey jack cheese

1 1/2 cup saltines or bread crumbs

3 tbsp. melted butter

Preheat your oven to 350 degrees. In a medium bowl, stir together the reserved chicken and rice, broccoli florets, Rotel, 1/2 cup water and 1/2 cup of the cheese. Pour this mix into the bottom of a 2 qt. baking dish. Toss the bread crumbs/saltines with the melted butter and spread this over top.
Bake uncovered for 30 minutes until bubbly and crusty. Serve warm.