As part of our Fresh Cooks Live: Summer Sizzle series, Guy Turland, host of the online cooking show "Bondi Harvest," invaded TODAY's kitchen for a live stream as he demonstrated how to cook some of his favorite dishes including jerk chicken, apple salsa and a jerk marinated steak sandwich.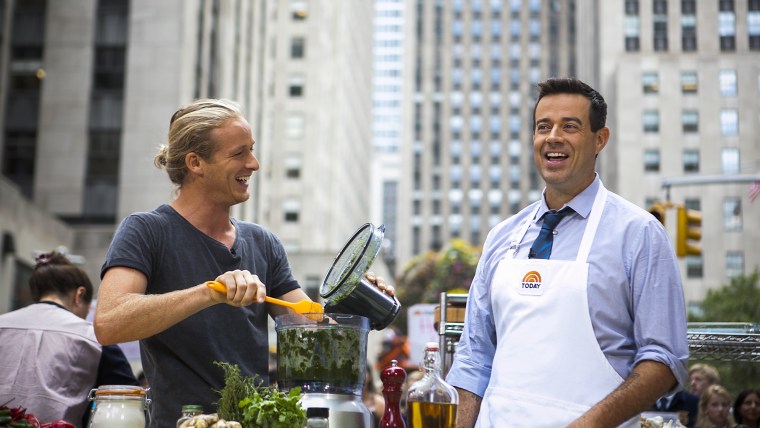 Missed it? No worries! We got the full demo so you can cook these delicious dishes step-by-step.

And be sure to tune in tomorrow because Robyn Lindars of GrillGrrrl.com is making an Italian feast full of rustic grilled margherita pizza and calzone.
Jerk marinade
1 yellow onion, peeled and quartered
4 cloves of garlic, peeled
1-inch piece of fresh ginger, peeled
3 jalapeno chilies, de-stemmed and cut in half
1 teaspoon ground cinnamon
1 1/2 teaspoons ground allspice
1/2 cup spiced rum
1 1/2 tablespoons light brown sugar
1 1/2 tablespoons granulated sugar
1/3 cup bottled barbecue sauce
2 tablespoons fresh thyme leaves
1 small bunch fresh cilantro with stems
Salt and pepper to taste
Place all in food processor and blend until combined. It should be a paste texture.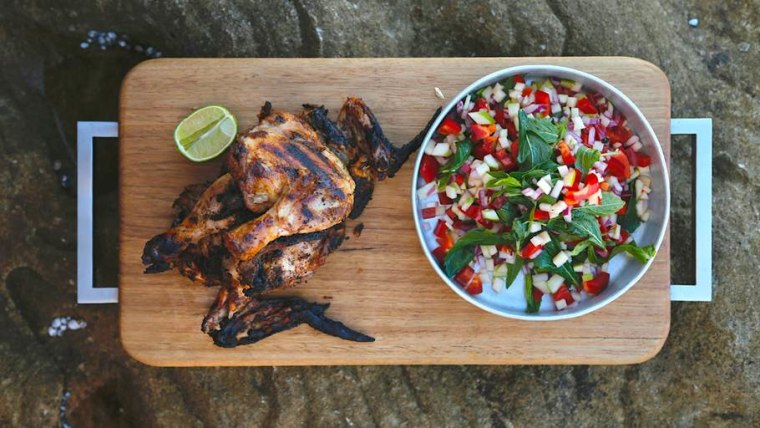 Jerk chicken
One whole chicken, about 3 1/2 pounds

Remove the backbone and breast bones from the chicken. This can be done by the butcher, or if doing yourself: Use strong scissors to cut along both sides of the backbone, removing it once free. Press the chicken open, then make a shallow cut through the cartilage between the breasts, flattening the chicken further. With a small sharp knife, cut the cartilage off the meat, then cut underneath the breastbones to separate them from the meat, removing them completely. The leg bones will stay in place.
Alternately, purchase two half chickens for the recipe.
Rub both sides of the chicken with the jerk marinade (recipe above), slipping some underneath the skin. Let marinate in the refrigerator for 2 hours to overnight. Remove from the fridge about a half hour before grilling.  
Prepare the coals to a medium-hot heat and position them on one side of the grill. Place the chicken skin-side-down on the opposite side of the grill, not directly over the coals. Place the lid on the grill and cook about 15-20 minutes, checking occasionally to make sure the skin isn't browning too deeply. Turn chicken over and continue to cook with the lid on the grill for another 15-20 minutes, or until the chicken is done. Remove to a carving board and let rest 10 minutes before cutting into servings.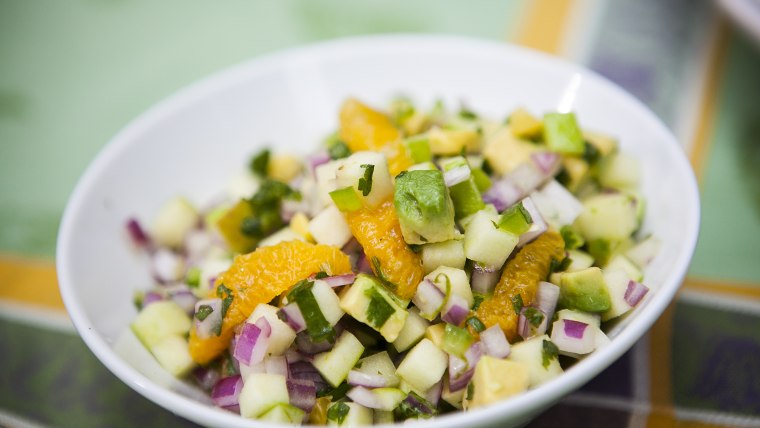 Apple salsa
2 green apples

1/2 bunch of mint

1/2 bunch of cilantro

1 jalapeno

1 garlic clove

3 limes

1 avocado

1 red onion

1.6 ounces olive oil

1 orange

Dice green apple, avocado and Spanish onion and add to a mixing bowl. Chop very fine and add cilantro, mint, jalapenos and garlic to the same bowl. Dress with lime zest, juice and olive oil season with salt and pepper
Jerk marinated steak sandwich
1/2 lb. flank steak

2 cups arugula

1 sourdough loaf

1 clove of garlic

1 onion

1 cup olive oil

2 tomatoes

1/2 bunch of parsley

1 cup aioli

1 lemon

2 tablespoon of capers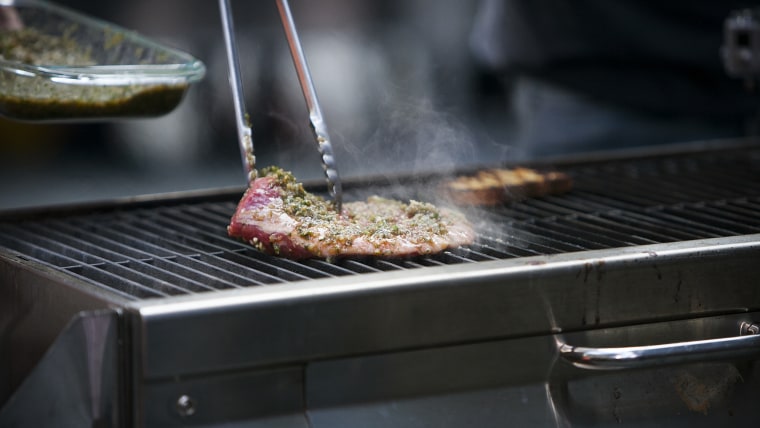 Marinate steak with jerk marinade for at least 12 hours. Preheat grill to medium heat. Slice the bread nice and thin and brush with olive oil. Grill until golden brown. Take the bread off and then rub with garlic. 

Brush steak and chopped onion with oil. Season steak with salt and pepper then place on the grill. Grill for 1-2 minutes or until perfectly colored then turn, and continue to cook until desired degree. Take steak and onion off the grill and let steak rest.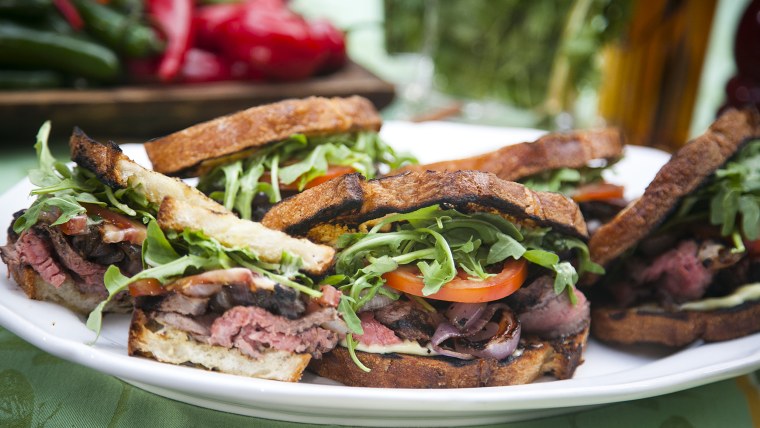 While the steak is resting, mix the aioli with chopped parsley, lemons juice and capers. Spread bread with aioli mix then layer with tomato, onion and steak, then add the sourdough lid.