A billboard and signage at a pizza shop in Ohio that were meant to be funny have been removed after the shop owner received a wave of backlash on social media.
The large billboard read, "Fat people are harder to kidnap." The slogan was being used as an advertisement for the Barberton location of East of Chicago Pizza, a chain of franchises with restaurants across the Midwest and East Coast.
The slogan was also used on the sign in front of the business and other marketing materials.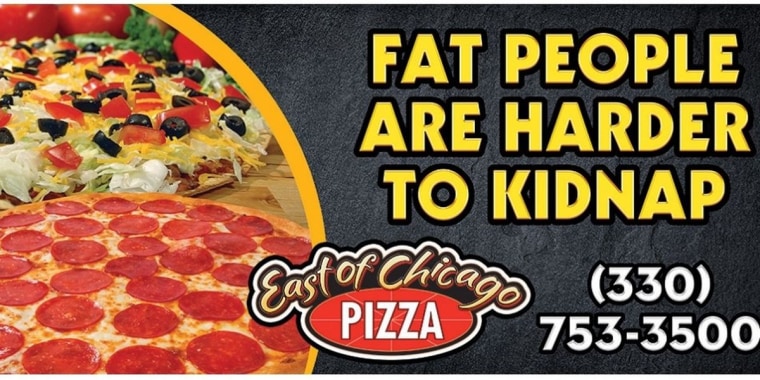 "When I was a kid, people used to say fat people are harder to kidnap. It was something we said to each other growing up. It was just funny to us," owner Jeremy Clemetson told TODAY Food. Clemetson is known for using humor to market his business. Past shop slogans have included, "Legalize Marinara," "You will never have abs so order pizza," and "Free box with every pizza." But his latest message seems to have gone too far for two main reasons.
While the billboard was only put up Friday, the slogan has been on the store's marquee sign for several weeks where, according to Clemenston, it received nothing but positive responses. One customer even reportedly raved that there was "finally a sign for us fat people."
However, once the large billboard went up, people began to complain, with many reaching out to the company's corporate office.
Clemetson, who has owned the Barberton location since 2009 and worked for East of Chicago Pizza since 1995, said he never meant any harm and he "totally gets why people would be offended."
Some early sign critics argued that the message is rude and offensive, not only because it body shames those who weigh more, but also because it makes light of the serious issue surrounding kidnapping. January also happens to be National Human Trafficking Awareness Month.
"I never even thought about it in that way, kidnapping is not a joke, we are taking it down. But there are still going to be more funny signs up here and more funny signs around the community, and if anyone has any comments, my door is always open," Clemetson told the Cleveland, Ohio-based affiliate WJW.
Cleveland.com held a live broadcast in front of the billboard before it was removed, asking viewers if they thought the sign was funny or offensive. Many people weighed in on both sides of the argument, with some pointing out this slogan has been around for a long time, and has appeared on T-shirts, bumper stickers and in various memes.
The back-and-forth over the sign played out online where many people still supported it.
"This is funny. People need to stop being so sensitive and get a sense of humor!" wrote person on Facebook.
"It's hilarious honestly. Stop acting like being fat isn't common yet preventable. Some people like being fat others," Posted another.
Others argued that the messaging was insensitive and shouldn't be tolerated under any circumstances.
"Definitely not funny! Body shaming is a real thing! How abt saying skinny ppl are easy to kidnap? With all the human trafficking now how is it funny?"
"Poking fun at human trafficking is not ok."
The billboard came down on Monday afternoon but Clemetson's team has not deleted Facebook posts that featured the signage from earlier this month. A spokesperson for the corporate office of East of Chicago Pizza did not immediately respond to TODAY's request for comment.
Whether his sign was offensive or not, Clemetson certainly succeeded at garnering attention for his local business.