The battle to topple the cork continues.
Makers of screwcaps and synthetic corks have contended for attention in recent years, offering up solutions to the lingering problem of cork taint. (Corks, made from oak bark, can become tainted by TCA, a compound that manifests itself in wood materials. TCA can ruin a wine.)
Better known for aluminum bottle caps, Alcoa has entered the fray with an innovative glass stopper that solves not only taint but another big concern for winemakers: how to make a bottle alluring without a cork.
While synthetics have been popular, they can be hard to pull and often draw lukewarm reviews from sommeliers and wine collectors. Screwcaps have gained popularity in the past year, but wineries and retailers alike continue to struggle with convincing consumers to accept them.
While wine drinkers in Britain and Australia have long accepted screw-top closures, the U.S. market has been slower to adopt – even though, supporters point out, caps not only prevent taint but also obviate the need for a corkscrew.
Alcoa's new Vino-Lok closure, which resembles a slightly flattened version of those glass stoppers from chemistry class, seems to solve both sides of the cork conundrum: It is both safe and stylish.
Rubberized O-rings provide a sterile seal, but the stopper's real virtue is its construction.  It looks at home atop even expensive bottles, can be colored to match the bottle and labeled to promote the winery. Removing one is not unlike popping a champagne cork -– with thumbs under the lip or a firm twist and pull.  Drinkers can recap the bottle should they want to save some for later.
"It's what we call the marriage between the winemaker needs and the consumer needs," says Juan Lopez of Alcoa Closure Systems International.
Already a giant in soft drink, beer and water packaging, it is hardly surprising Alcoa would eye wine.  The new stopper, invented by a medical doctor, will be manufactured in the same Worms, Germany, plant that produces many of its soft-drink caps.  A Plexiglas model will be available for wines in the $10 to 20 range, with an all-glass version for pricier bottles.
More than 40 wineries in Germany, Austria and Italy conducted small-scale trials of about 1,000 bottles apiece, including top-rated Riesling producers like Bürklin-Wolf. At least two German vintners, P.J. Valckenberg and Schloss Vollrads, have announced they will use the stoppers in some bottlings.
Currently, the company is evaluating winemakers for U.S. trials. (The French don't appear to be invited yet.) About six will be selected next month, with hopes of the first bottles on shelves early next year. A winery's cost is about the same as for a good cork -- 25 to 50 cents – and while some new equipment is needed, the stopper eliminates the special bottles required for screwcaps.
Which is not to say the screwcap isn't still a contender. Earlier this year, California's R.H. Phillips Wineries and Washington's Hogue Cellars, both owned by Vincor USA, announced they would use screw tops on their entire lines of over 1 million cases.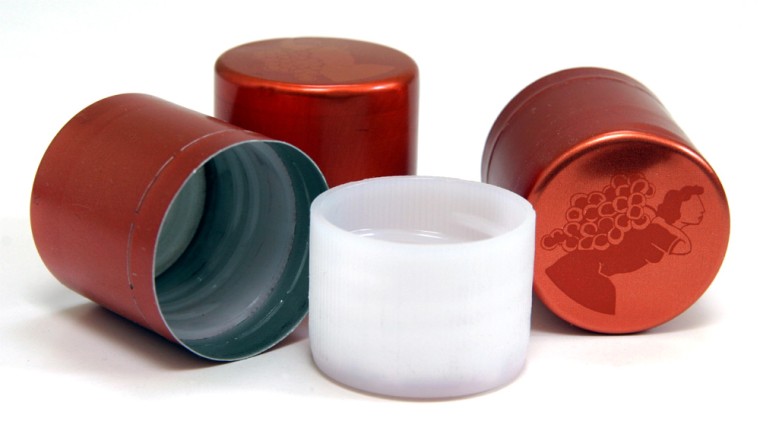 Unlike the popular Stelvin wine top, they chose a torqued-on pilfer-proof (TOPP) closure, developed for hard liquor, that helps hide bottle threads.  Along with Kendall-Jackson's Pepi label, which has 100,000 cases in caps, these decisions to go corkless are strong signs domestic winemakers feel the screwcap can be a winner on mid-priced wine.
"But," notes R.H. Phillips co-founder Lane Giguiere, "consumer education is the big piece."
To that end, her first 100,000 screwcapped bottles will include a small cork dangling from the neck and a slip of paper suggesting 101 other uses for cork.
The decision wasn't cheap –- R.H. Phillips spent $500,000 to retool -– but Giguiere sees it as a necessary flag-planting for an industry struggling to expand its market. Caps might be a way to sell her Phillips line, in the $7 to $12 range, to consumers who might balk at a cork. "It makes it more of a beverage," she says. "It's not intimidating."
None of this is heartening to cork producers, who have been galloping to head off the anti-cork stampede.  Portuguese firm Amorim last year unveiled its new ROSA process, a cork steam cleaning that reduces TCA by up to 80 percent. Their hope, of course, is to redeem the value of a centuries-old technology before we toss those corkscrews from our gadget drawers forever.