Coca-Cola is launching two new soda flavors with a vintage flair.
Inspired by sodas that were hand-mixed and poured at the neighborhood drugstore during a bygone era, Coca-Cola Georgia Peach and Coca-Cola California Raspberry will be popping up in restaurants, bars, and grocery stores this week.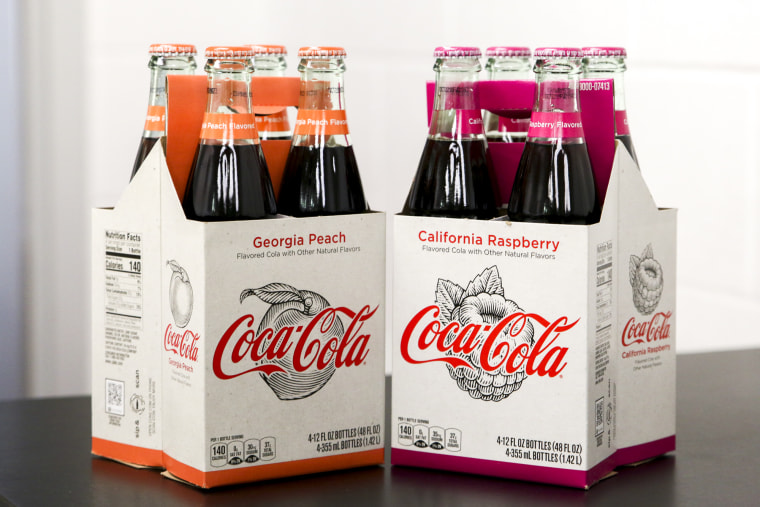 The choice to use raspberry and peach — the brand's first new added flavorings since Vanilla Coke debuted in 2002 — was decided after the company explored over 30 different flavors with nearly 9,500 consumers. The raspberry flavoring is actually sourced from California-grown raspberries, while the peach flavoring comes from Georgia's signature fruit.
"We know that our consumers want more transparency," Lillian Norton, senior brand manager, Coca-Cola Innovation, said in a release. "They want clear ingredient information, and they're seeking out more local products. They're shopping local, and eating local. So we wanted to allow people to experience some unique local flavors no matter where they live in the United States."
The new colas' sport a vintage look: In lieu of labels, logos are printed directly on the 12-ounce glass bottles, which come in singles or as four-packs. And to reinforce the idea of locally-grown and made products, the brand has enlisted artists from California and Georgia to create advertisements through murals, installations, and street art in their hometowns to promote the new colas.
But these Coca-Cola drinks aren't the only fruit-forward innovations from the company this year.
In January, the brand released four new Diet Coke flavors (ginger lime, twisted mango, zesty blood orange, and feisty cherry) in sleeker, slimmer silver cans.