If you've been feeling nostalgic for the original Trix cereal — the kind with vibrant colors like blue and green — this news might make your morning a little brighter.
Two years ago, General Mills eliminated artificial flavors and colors from its cereals in a bid to appeal to a more health-conscious demographic. But it turns out, Trix fans really missed the bright rainbow of whole grain puffs.
Now, the company says it will be offering two versions of the product: one without artificial flavors or colors and one with.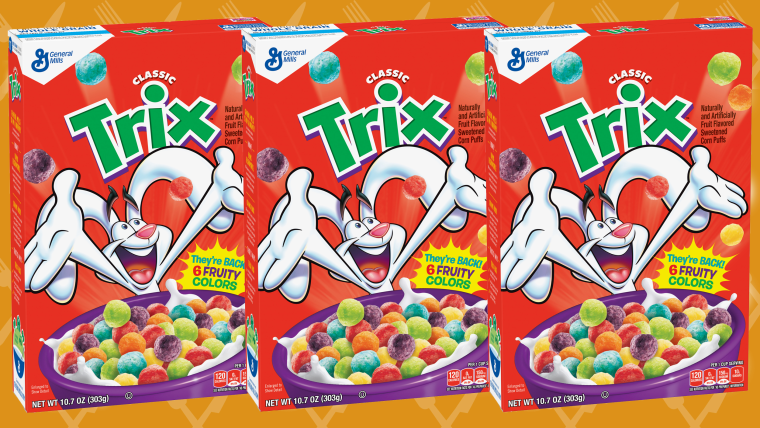 Classic Trix will hit shelves in October and they will feature all of the bright colors you grew up eating.
"We have heard from many Trix fans who have been calling, emailing and reaching out on social media to tell us that they miss the old product," General Mills spokesman Mike Siemienas told TODAY Food.
"We know consumers have differing food preferences, and providing consumers choices of what they would like to eat is very important to General Mills. As a result, we are launching 'Classic Trix' to fill these consumer requests."
On a slightly ironic note, it was the customers who voiced their desire for more natural ingredients in the first place a few years back. According to a blog post from 2015, Lauren Pradhan, senior marketing manager for wellness strategy in the cereal division at General Mills said, "People have told us they don't want dyes in their cereal."
Turns out, a lot of people actually do want dyes — if it makes for a more colorful and tasty breakfast experience.
One of the biggest complaints among fans who opposed the new cereal with natural ingredients (it was colored with plants like turmeric and radishes) was that the fruit and vegetable juices used weren't colorful. As one Twitter user put it, "Now they're small neutral tan/brown bland pieces that blend into the carpet."
Some also complained that it didn't taste the same and they certainly weren't impressed with the duller hues.
Fans of the classic Trix are now praising the company for bringing back the artificial ingredients.
But some customers are saying the colors and flavors aren't enough. In the 1990s and early aughts, the cereal came in mini fruit shapes, not just round puffs. However, those shapes aren't coming back… yet. Perhaps with enough fans speaking out, it will only be a matter of time until a bowl of Trix will once again look like a bowl of miniature produce.