Trader Joe's has a pretty delicious-looking new frozen item out — "Puff Dogs" — and the British are having a field day with it.
An all-beef hot dog, wrapped in puff pastry — what could be controversial about that, you ask?
Well, Brits on social media have been in an uproar over the product launch, saying the supermarket chain is claiming to have "invented" the snack, which they say are similar to their own sausage rolls: pork wrapped in puff pastry.
They're even taking the name to task, with predictable Sean "Diddy" Combs-inspired jokes.
As far as we can tell, Trader Joe's never says it invented the sausage roll — it calls the marriage of beef and buttery pastry "pretty genius" on its site (agreed), but we don't see where the chain is claiming to have invented the entire concept.
We have to say, too, that Trader Joe's version, above, with its juicy-looking hot dogs and flakey, golden crust, does look like a little more appetizing than many of the traditional English ones out there (below), no?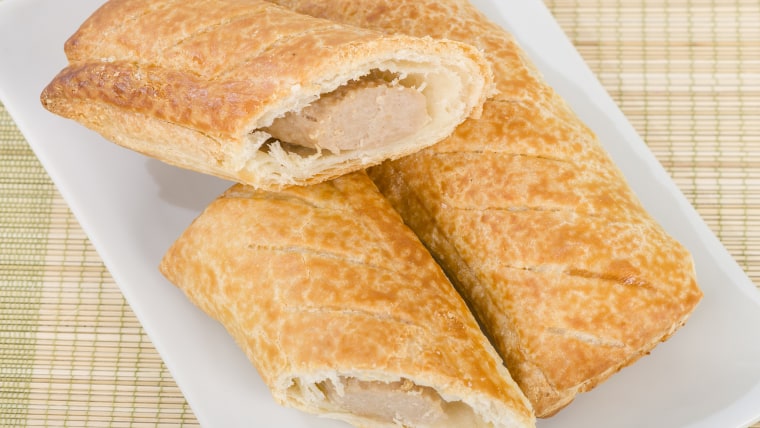 Funnily enough, not even the Brits themselves invented the sausage roll: The concept of dough-wrapped meat has been around since ancient Greek and Roman times, which many of the British critics acknowledged. Though they've probably been eating some version of this snack in the U.K. since at least the 1600s, when agrarian workers took the portable snack to work, according to the site Foodimentary.
One tweet, which we can't display here because of some, ahem, language, said the sausage roll has been around "longer than your [expletive] country!"
We suspect there's probably some other international aggression playing out here in this food feud, but please, people, it's pastry-wrapped meat — let's not ruin this for everyone's sake, OK?