There may be few things more decadent than a fresh, giant cinnamon roll straight from the Cinnabon oven. But now, the company famous for its over-the-top buns has unleashed a treat that may just blow its traditional rolls out of the water: a chocolate chip cookie that's been stuffed with a cinnamon roll.
On Monday, Cinnabon is rolling out Cookie BonBites, a tiny, chewy cinnamon roll nestled inside a chocolate chip cookie shell.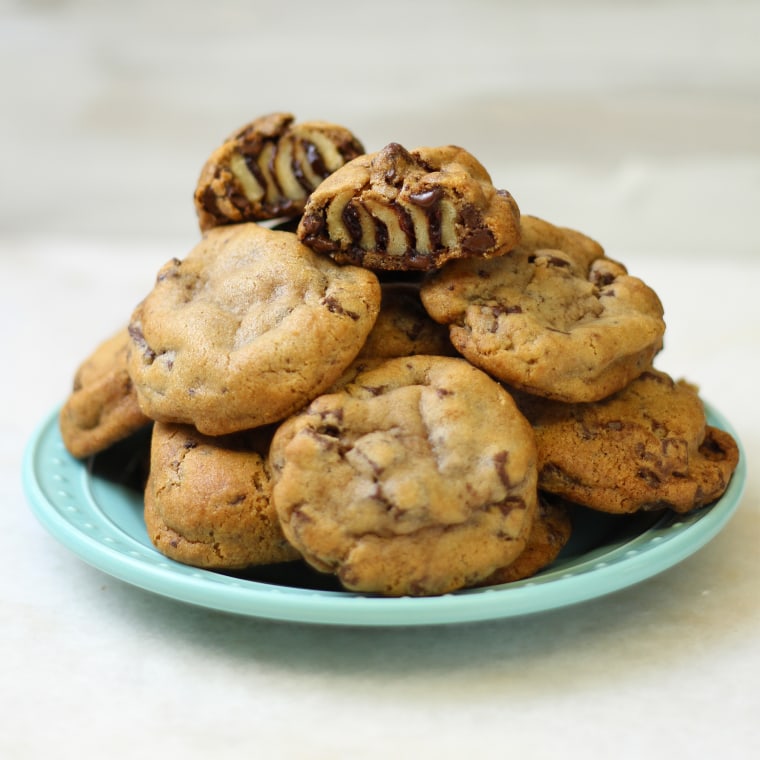 "Putting a Cinnabon within a cookie is a first of its kind," a representative for Cinnabon told TODAY Food via email. "There's no plans as of now to do another crazy mashup, but the test kitchen is always testing out these insane ideas, so I'm confident there will be more in the future."
This cookie fusion is actually made from cookie dough supplied by Nashville's Christie Cookie Company, the brand behind the cookies handed out at DoubleTree by Hilton hotels. Though the brand has partnered with other food companies before, they've never released a hybrid mashup product quite like the Cookie BonBite. And we've never tasted anything quite like this either.
TODAY tasters were eager to try the chewy-gooey cookie mashup and it did not disappoint.
"Not to be too controversial, but this is better than the original Cinnabon," said one excited taster who tried the cookie both warm and at room temperature. "If someone told me this was 1,000 calories ... I'd still eat it!"
The cookie itself is incredibly chewy and the mini Cinnabon maintains its shape after being baked into the cookie. The result is a cinnamon-flavored, chewy chocolate explosion. And it's surprisingly not too sweet!
"It's like if a Cinnabon and a chocolate chip cookie had a baby — and it was the best baby ever," said another excited taster.
The new mashup will enjoy a limited release beginning Monday, Dec. 4, which just so happens to be National Cookie Day. One BonBite will set you back $2.99, or if you want to treat a few friends, $9.99 for a half dozen.
For those who never tired of milk with cookies as kids, Cinnabon has partnered with Fairlife and will be giving out free 8-ounce bottles of milk with every Cookie BonBite purchase on National Cookie Day.
Twitter seems pretty eager to get a taste.
After the giant cinnamon roll launched by Sam's Club recently, it seems that cinnamon rolls are absolutely having a pretty major moment right now.
A version of this article was originally published Dec. 1. 2017.