It turns out that small acts of kindness really do app up. An Ohio church's dollar donations added up to a big bonus for employees working at a local Waffle House on Christmas Eve.
It started when Reverend Mick Whistler of Grand Lake United Methodist Church in Celina, Ohio asked his parishioners to set aside just one dollar a week in the weeks leading up to Christmas and bring the money to Christmas Eve services.
The collection was part of a series called "Anticipating Jesus," Whistler told TODAY Food, adding, "The idea is that we often lose that sense of anticipation of what God is doing in the nativity, and in our lives even today, as we get busy with all of the other holiday activities and responsibilities."
"I chose $1 per person per week for the month because it was such a low amount it wouldn't hurt anyone financially," Whistler explained. "But it was more than enough to make people curious and 'anticipate' what was going to happen and how God was going to show up."
Whistler didn't tell the churchgoers what the donations were for until Dec. 24. "All I said was they would have to 'anticipate' what we were going to do with the money," Whistler said. "All I told them was that it would create a modern day version of the nativity, where Jesus shows up first to the shepherds."
Then on Christmas Eve, Whistler announced that they'd be taking the money they collected — an impressive $3,577 — to a Waffle House in nearby Wapakoneta, Ohio. The grateful employees could be seen responding with shock and big hugs all around in a live stream on the church's website and Facebook page. Whistler says the workers were initially in disbelief. "One asked if we were serious," he told TODAY. "Another thought there was a catch. Once they realized it was real, and there was no catch, they hugged each other and some started to cry."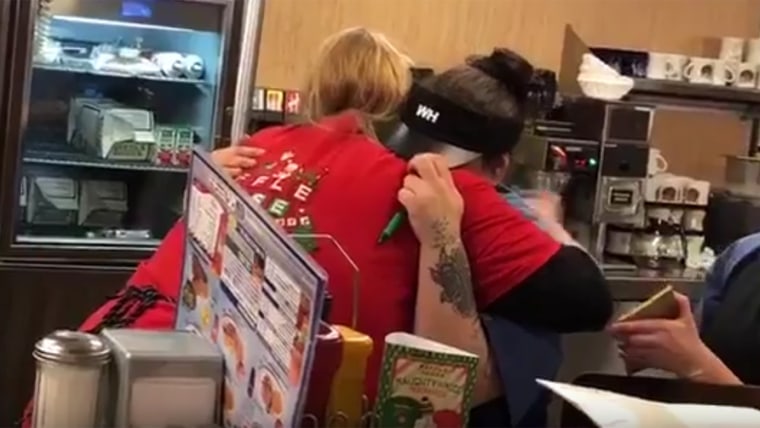 Whistler told TODAY Food he got the idea from a story by Jacob Armstrong in the book "Sent: Delivering the Gift of Hope" by Jorge Acevedo. "Armstrong tells of taking his young daughters to Waffle House early one morning, while it was still dark, and his kids being amazed that there's a whole world going on while they sleep," Whistler relates. "Armstrong then paints a beautiful picture of the Waffle House employees being today's version of shepherds, watching over their flocks at night. He ended the story saying, 'And I wondered, if God made that grand announcement today, would he go to the ladies working all night at Waffle House?'"
After interviewing several of the lucky tip recipients, a local TV station told Whistler that some employees used the money to buy "much needed eye glasses," help out ill relatives and get a car fixed.
This may be the biggest tip the servers have ever received but it turns out a lot of people like giving generously to Waffle House servers. Earlier this year, actor Donnie Wahlberg left a $2,000 tip on an $82 bill at a Waffle House in Charlotte, North Carolina.
In a Facebook post, Wahlberg noted that his mom waited tables for years and his dad was a bartender, which inspired him to do right by waitstaff. Dwayne Clark, who left a $3,000 tip on a $40 bill in Bellevue, Washington, just before Christmas cited similar familial motivation. "You guys do a great job! When I was 7, I washed dishes and my mom cooked in a diner just like this," he wrote on the back of his check. "We were dirt poor and didn't have money for Christmas. Hopefully, this will help all of you have a better Christmas."
As one of the few places open Christmas, Waffle House gets a lot of love on social media:
Hopefully that Christmas spirit translates into more big tips for all the hard-working servers at Waffle House, and all restaurants across country, over the holidays!