In this special weekly feature, "Today" food editor Phil Lempert brings you recipes "stolen" (with permission) from notable restaurants across America. See how much fun you can have (and money you can save) by cooking these dishes at home.
THIS WEEK: "Origins" Bittersweet Chocolate Brownie Baked Alaska from Aria Restaurant & Bar, Chicago, Ill.
Ahhh … chocolate! That divinely rich and sweet creation that can soothe the soul and makes us swoon! This week, we've "stolen" a recipe that will give you and your guests the ultimate chocolate experience. From Aria restaurant and bar in Chicago, Ill., this recipe is part of a dish called Chocolate Origins, which takes three single-origin chocolates and presents them in their purest form to create a three-part dessert that honors and highlights the unique features of these unique cocoa beans. The dish at Aria features single-origin chocolates from Venezuela, Madagascar and Ecuador. (This dish highlights Madagascar.)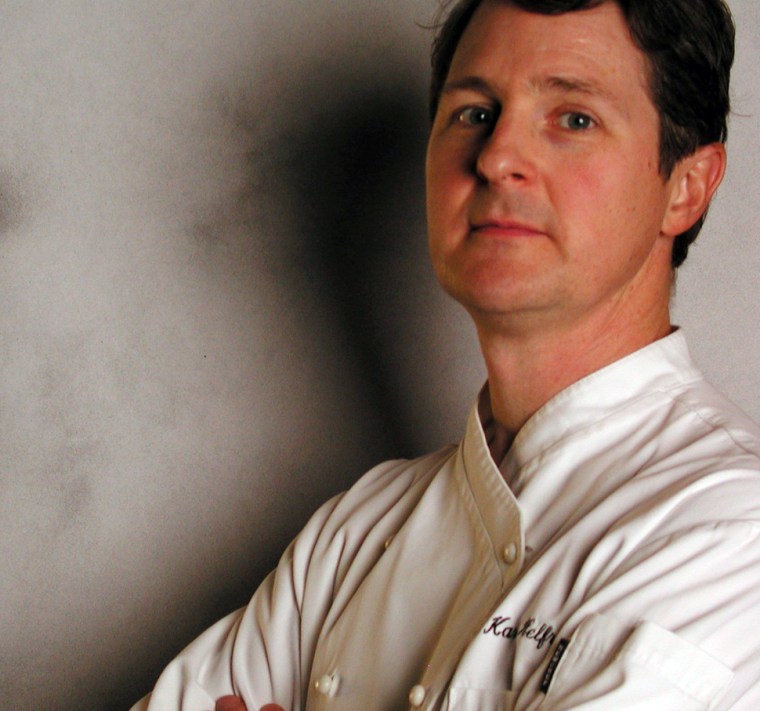 Karl received training in the French tradition. He has studied sugar showpieces with Ewald Notter and wedding cakes with Colette Peters. A master of chocolate, Karl participated in a forum on chocolate production at Carma Chocolate Works in Dubendorf, Switzerland, in 1986.
Prior to his arrival at Aria, Karl designed desserts at the Fairmont Chicago, where he still manages the 24-hour bakeshop and a staff of nine fellow chefs. Karl also was the pastry chef for Stouffer's Hotel in Cleveland from 1992 to 1993, where he was responsible for the sweets at Sans Souci, the hotel's fine dining establishment. He was pastry chef for the Ritz Carlton in Cleveland, 1990 to 1991, where he ventured into afternoon tea pastries, room amenities and showpiece creations. At the Ritz Carlton in Laguna Niguel, from 1985 to 1990, Karl showed what he could do as pastry chef for a five-star, five-diamond hotel.
Karl earned a B.A. in Business from Michigan State University. He is fluent in Spanish. He and his family live in Park Ridge, Ill.
"Origins" Bittersweet Chocolate Brownie Baked Alaska
Served at Aria Restaurant & Bar as a segment of a three-part desert for $12. This recipe is meant to serve 2.
Chocolate brownie cake ingredients: 1-1/4 cups all purpose flour                                                    1-3/4 cups cocoa powder                                                                              5 eggs                                                                        1-1/3 cups sugar                                                         1 teaspoon vanilla extract                                                   1 pound 2 ounces butter, melted                                                         9 ounces bittersweet single origin (or organic) chocolate, chopped
Vanilla bean ice cream:
Purchase Häagen-Dazs or similar high quality vanilla ice cream. Scoop with small ice cream scoop and freeze.
Muscovado meringue ingredients:
4 fresh egg whites2 ounces Moscovado sugar4 ounces granulated sugar
Raspberry aigre-doux ingredients:
1/2 cup sugar1/2 cup white balsamic vinegar1/2 cup fresh raspberries (can substitute cherries, huckleberries, etc.)
Assembly ingredients:
4 to 5 fresh raspberries (can substitute cherries, huckleberries, etc.)
Chocolate brownie cake instructions:
Preheat oven to 350 degrees.Sift dry ingredients.Whip eggs and sugar to ribbon stage.Add vanilla and mix.Alternate dry ingredients with melted butter.Fold in chopped chocolate.Pour into 9 x 13-inch pan lined with parchment paper.Bake in oven for 20 to 25 minutes.
Muscovado meringue instructions:
Place all ingredients in a mixing bowl.Heat the ingredients over a water bath, stirring constantly until the sugars dissolve.Whip at high speed until meringue is stiff, but creamy.
Raspberry aigre-doux instructions:
Puree fresh raspberries in a blender and strain seeds to obtain raspberry puree.Bring sugar and vinegar to a boil, reduce until syrupy.Add raspberry puree and reduce heat slightly.
Assembly instructions:
Cut a disc of brownie with a round cookie cutter.Place in middle of plate.Cut 4 to 5 raspberries in half and spread around brownie.Spoon a little bit of the aigre-doux over the berries, not too much!Using a small spatula, spread the muscovado meringue onto the balls of ice cream.Place the meringued ice cream on a metal cookie sheet and brown with a kitchen blowtorch.Using a spatula, place the ice cream on top of the brownie and serve.
Aria Restaurant and Bar
200 North Columbus Dr.Chicago, IL 60601312-444-9494
Want to nominate your favorite restaurant dish for a "Steal This Recipe" feature? Just e-mail Phil at (or use the mail box below) with the name of the restaurant, city and state, and the dish you would like to have re-created. Want to know more about Phil and food? Visit his Web site at .