Chipotle Mexican Grill rarely makes changes to its core menu, but the latest addition to the chain's roster of test items is something customers have been asking about for years.
After testing a version of its cilantro-lime rice that uses riced cauliflower at 55 restaurant locations in the Denver area and throughout Wisconsin since July, the chain has now taken the cauliflower rice nationwide.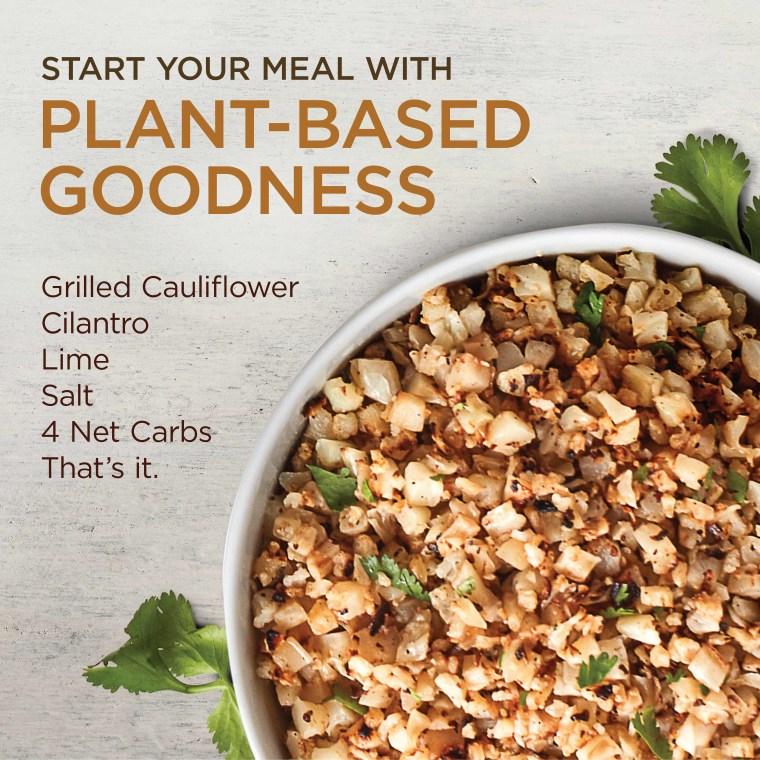 The new cauliflower rice base starts with grilled cauliflower that's seasoned with freshly chopped cilantro, lime juice and salt. It's 100% grain free and contains 4 grams of carbs per serving, making it a good option for those following low-carb diets, like South Beach or the ketogenic diet. The riced cauliflower is also 100% vegan.
This healthy spin on rice will cost an additional $2 and will be available in-restaurant and through the Chipotle app, website and third-party delivery partners. As an added incentive to give it a try, through Jan. 11, Chipotle will waive the delivery fee on any Chipotle app or website order of $10 or more that includes the cauliflower rice.
"Chipotle fans have been craving more plant-powered, better-for-you options that align with the latest health trends and emphasize the benefits of real food," said Chris Brandt, Chief Marketing Officer, in a media statement. "That's why we are thrilled to offer Cauliflower Rice nationally and help our fans achieve their diet or lifestyle goals."
Unfortunately, for now, it seems that the cauliflower rice will only be available for a limited time.
"At this time, there are no further details to share on how long it will be available, just that it will be on menus nationwide (in the U.S. and Canada) for a limited time," a spokesperson for Chipotle told TODAY Food in an email.
While cauliflower rice has been around for about two decades now (one of the earliest known recipes popped up in 1998 when chef Ben Ford — Harrison Ford's son! — used something he called "cauliflower couscous" in a dish), it's become even more trendy as low-carb eating plans surged in popularity over the past five years. Trader Joe's released its own version of cauliflower rice in 2016 and California Pizza Kitchen even developed a cauliflower pizza crust in 2017.
EDITOR'S NOTE (Jan. 4, 11:58 a.m. EST): This article has been updated with the information that Chipotle's Cilantro-Lime Cauliflower Rice is now available nationwide.