The thirst for a quality queso has created a bit of a burrito chain cheese war in recent months after Chipotle finally released its own version of the gooey cheese dip customers have been wanting for years — and then the other chains scrambled to do better.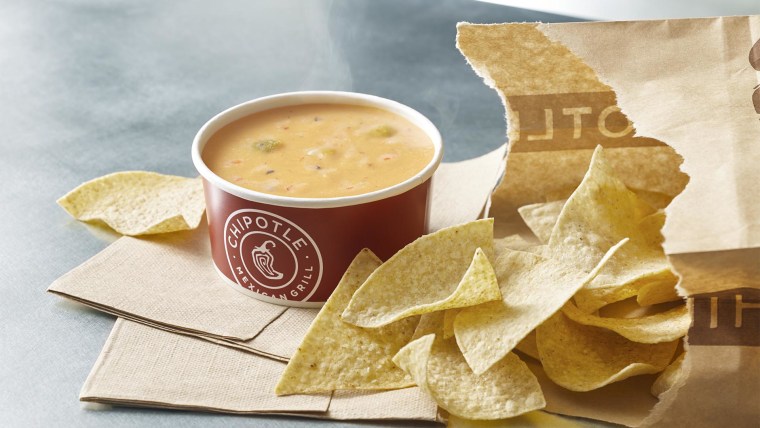 Chipotle has a famously streamlined menu and seldom makes changes. So when they finally added queso this summer, a lot of people were pretty excited ... until they actually tried it.
Many of those very same customers who clamored for queso for years were disappointed when their fantasy became a gritty, unimpressive reality.
The problem, it seems, is that many queso lovers are used to the taste of traditional queso, which usually involves a base of a processed cheese like American or Velveeta. Chipotle tried to make its own queso free of anything artificial (as it promises for most of its menu items), but the "natural" recipe simply didn't lead to the same taste experience.
"When we first launched queso, we said we'd continue to tweak the recipe based on customer feedback and that's exactly what we've done," a representative for Chipotle told TODAY Food over email. "To get the queso customers can find now in all of our restaurants, we tweaked the ratio of ingredients."
After the negative feedback, the chain didn't exactly add anything new to the revamped queso (which debuted earlier this month) but they did alter the ratio of cheese and extras to make it creamier and spicier.
The queso includes ingredients like aged cheddar, tomatillos, jalapeños, and a mix of herbs and spices.
If you have yet to try the revamped queso and are curious if it's worth dipping your chips into, you'll get a chance to have a taste for free tomorrow. The chain says anyone who dons their "cheesiest sweater" (read: hilarious holiday attire) to Chipotle on Tuesday, Dec. 12, will score free queso with the purchase of any entrée.
While we're not exactly sure what a cheesy sweater entails, we're sure just about any seasonally festive ensemble would apply. But let's face it, this is probably just an attempt to get the new and improved queso into as many stomachs as possible — which is a great idea, if people actually enjoy it this time.
In the meantime, if you aren't inspired to don your cheesy sweater best and head out into the cold for a taste, it's pretty easy to make this magical cheese sauce for yourself right at home.