After much anticipation, and a whole lot of speculation, Magnolia Table — the very first restaurant from "Fixer Upper" stars Chip and Joanna Gaines — officially opened for business on Monday morning.
This has been quite a busy year for the Gaines family: the couple is expecting their fifth child and Joanna's first cookbook will hit store shelves in April.
Magnolia Table opened bright and early at 6 a.m. Monday, but there was no big ribbon cutting ceremony or much fanfare surrounding the highly anticipated opening. However, we now know that the restaurant is focused on breakfast and brunch items, it's open from 6 a.m. to 3 p.m. Monday through Saturday, and it will be closed on Sundays. We also got a good look at the delicious-sounding menu.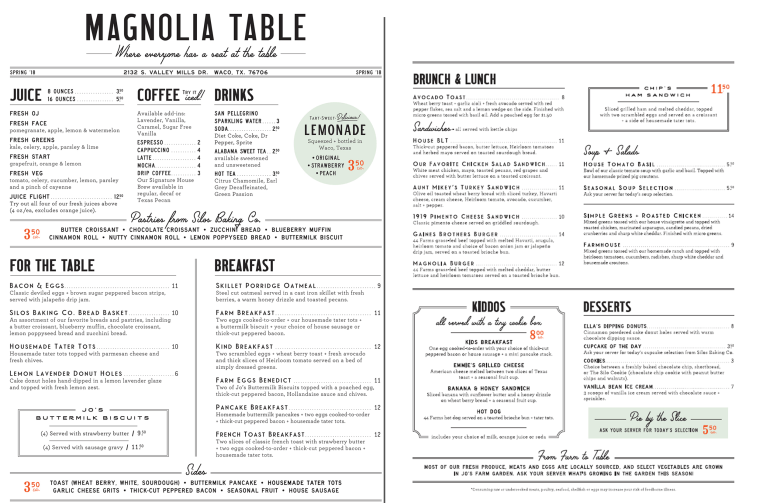 While breakfast standbys like bacon and eggs are on the menu, there are also new takes on the dish like the Southern classic deviled eggs topped with brown sugar bacon bits. Homestyle favorites like buttermilk biscuits and french toast appear on the menu, along with new standbys like a fresh green juice and avocado toast.
Joanna Gaines recently mentioned on her Instagram that produce from her own garden would be prevalent on the menu, which can be found in dishes like her farmhouse salad and seasonal soup selections.
Unfortunately for "Fixer Upper" fans planning cross-country pilgrimages to eat some of the Gaines' homecooking, Magnolia Table does not take reservations. According to the restaurant, guests will be only be seated on a first-come, first-serve basis.
However, for those unable to snag a seat in the eatery when they drop by, there are other options. Magnolia Table also has an outdoor coffee bar and the "Take Away," an onsite market where guests can purchase gifts and grab select menu items to-go.
Despite little advance notice of the restaurant's opening, fans flocked to Waco, Texas, on Monday morning to take in the restaurant's grand opening.
Magnolia Table is built on the land formerly occupied by the historic Elite Cafe, where Elvis was known to have frequented while stationed nearby during his time in the army. The new restaurant pays tribute to the former eatery via vintage photographs on the walls, as well as a menu item inspired by the original Elite Cafe: the "1919," a modern take on the Elite's classic pimento cheese sandwich.