With summer travel in full swing, there's plenty of eating on the road. And whether you're on a plane, train or automobile it can be quite a challenge to make smart food choices. Navigate food courts and gas stations like a nutrition pro with these picks for the healthiest grab-and-go snacks.
1. Best low-cal protein-packed snack: beef jerky vs. almonds
Beef jerky, with 9 grams of protein and about 120 calories, is a smart choice. Almonds have 165 calories and 6 grams of protein.
2. Better low-cal fast-food meal: a small personal pizza vs. a chili dog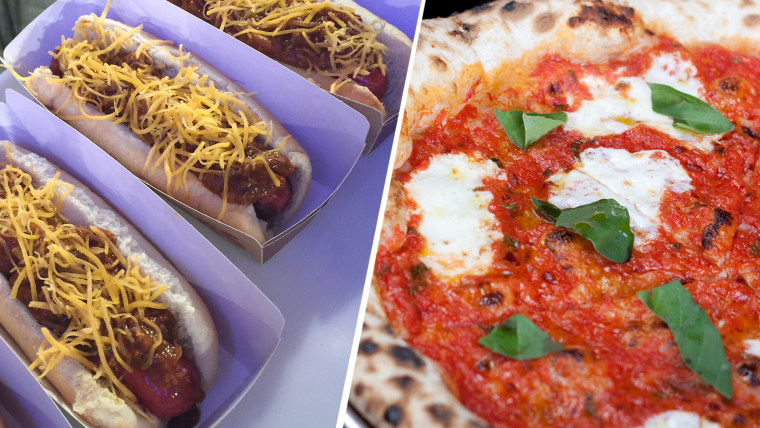 Go for the chili dog, which weighs in with around 325 calories, including the bun. A personal, round cheese pizza has around 550 calories. If you end up going with the pizza anyway, try topping it with vegetables instead of meat to save up to 100 more calories.
3. Top low-sugar drink: cola vs. lemonade
A 12-ounce cola has 3 fewer teaspoons of sugar than lemonade, even with a whopping 38 grams of sugar. Lemonade has even more, with 50 grams of sugar for the same serving size. Stick with no sugar added drinks or those with low-calorie sweeteners if water isn't your drink of choice.
4. Better low-cal and low-sugar sweet treat: vanilla milkshake vs. premium vanilla ice cream
One cup of premium ice cream has nearly 200 fewer calories and about 40 percent less sugar, with 360 calories and 36 grams of sugar. A small 12-ounce milkshake weighs in at 530 calories and 66 grams of sugar — that's an additional 7 teaspoons of sugar! Share with another person to cut the calories and sugar in half. Or ask for a "kiddie" size serving.
5. Best low-cal snack: trail mix vs. pretzel rods
A large handful (1/4 cup) of trail mix has fewer calories, with about 195.(With 40 calories for one pretzel rod, six rods total 240 calories. The calories with many low-fat snacks like pretzels add up fast. Look for pre-packed single servings and read the package labels for serving size calorie information.
Madelyn Fernstrom is NBC News Health and Nutrition Editor. Follow her on Twitter @drfernstrom.