Two classic comfort carbs—pot pie and dumplings—combine for the ultimate satisfying family meal. It's a cinch to make with frozen puff pastry, and even easier if you have leftover rotisserie chicken in the house.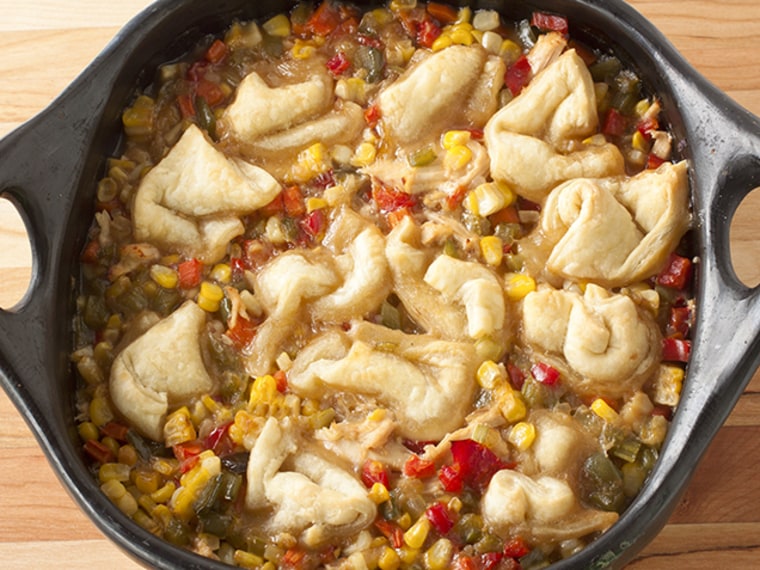 Ingredients:
2 tablespoons canola or vegetable oil

1 large garlic clove, minced

1 pound boneless, skinless chicken breast, cut into 1-inch pieces, or 2 cups shredded rotisserie chicken

1 cup frozen corn

1 small red or yellow onion, minced

1 teaspoon kosher salt

2 large celery stalks, diced

2 cups chicken broth

1 large bell pepper (any color), diced

1 tablespoon all-purpose flour

1 large carrot, peeled and diced

1 sheet puff pastry, thawed

Yield: 6 Servings
Directions:
Preheat the oven to 400F.
Heat the oil in a large, high-sided sauté pan or skillet over medium-high heat.
If using uncooked chicken breast, add the chicken and cook about 2 minutes per side until browned. Transfer to a deep, square casserole dish. If using pre-cooked chicken, place in the casserole dish and reserve.
Add the onion, celery, pepper, carrot, garlic and corn to the skillet and sprinkle with the salt. Cook, stirring frequently, for 5 minutes until the vegetables are crisp-tender.
Add the chicken broth and bring to a simmer.
Whisk in the flour and cook for 1 minute more, then pour into the casserole dish.
Cut the puff pastry into rough 2-inch squares and gently scrunch together, tucking them into the casserole like dumplings.
Bake for 20-30 minutes, until the pastry is puffed and golden. Serve immediately.
This recipe originally appeared on iVillage.