A Crock-Pot might be the first thing that springs to mind when you think of meals that require only one cooking vessel. But there's another weapon in the easy cooking arsenal that you might be overlooking: the sheet pan (a.k.a. rimmed baking pan). 
In fact, you can make all sorts of dinners — and breakfasts, lunches and desserts, for that matter — using a sheet pan. In her new book, "Sheet Pan Suppers," Molly Gilbert presents dozens of easy recipes for dishes (and even full meals) that are roasted, baked or broiled in one pan. Here, she's sharing three recipes from the book — baked chicken Parmesan; honey-orange shrimp with baby bok choy; and quick chicken and baby broccoli with spicy peanut sauce — plus her top tips for creating magic with that one little pan. 

TIPS
1. Invest in a good, sturdy sheet pan! Aluminum or stainless steel is the way to go — there are loads of good brands out there. Just make sure it's a true sheet pan (also called a "half sheet" or "rimmed baking sheet") and not a jelly roll pan (which is smaller and less sturdy).
2. Use parchment paper or aluminum foil to line the pan before cooking — this step helps to majorly cut down on clean up time!
3. Don't be afraid to experiment and have fun! There are so many different combinations of protein and vegetables that can be whipped up on a sheet pan in your oven. 
RECIPES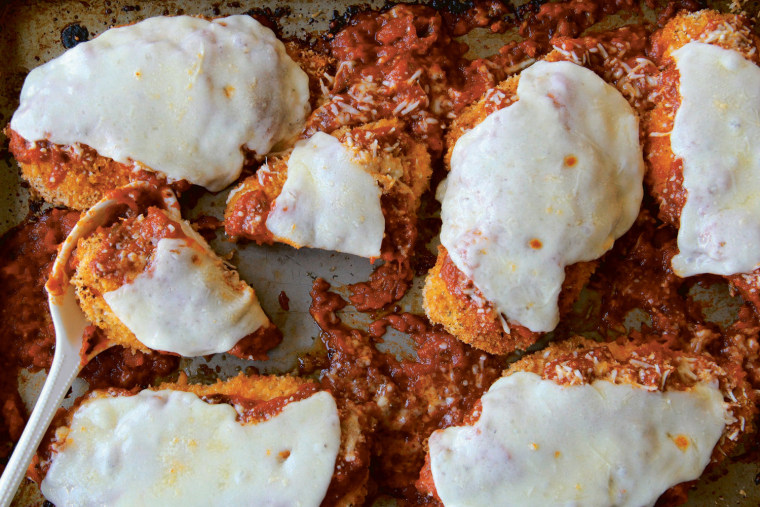 Chicken Parmesan
Serves 4 to 6
Chicken Parmesan is one of those classic Italian-American dishes, a favorite of pretty much everyone with tastebuds. I often feel guilty scarfing down restaurant versions, though, since they're usually deep-fried and smothered in cheese. Luckily, the homemade version doesn't have to be quite so caloric. Instead of frying, we'll bake our chicken in a crisp panko coating; that way we won't have to think twice about loading on the cheese. Heck of a compromise, if you ask me. Pasta is the traditional accompaniment to chicken Parmesan, but a green salad and some toasted crusty bread are also great alongside.
Olive oil cooking spray

1 1/2 cups panko breadcrumbs

2 teaspoons garlic powder

2 teaspoons dried oregano

2 tablespoons sweet or smoked paprika

1 teaspoon kosher salt

1/2 cup all-purpose flour

1/2 teaspoon freshly ground black pepper

2 large eggs

4 to 6 boneless, skinless chicken breasts or cutlets, each about 1/2 inch thick (about 1 1/2 pounds total)

1 jar (24 ounces) good-quality marinara sauce (I love Rao's)

6 to 8 slices provolone cheese

1/4 cup shredded Parmesan cheese

Let's cook:
1. Preheat oven to 400°F with a rack in the upper third. Generously mist a sheet pan with cooking spray.
2. Stir together the panko, garlic powder, oregano, paprika, and 1/2 teaspoon of the salt in a large bowl to combine. In another large bowl, whisk together the flour, the remaining 1/2 teaspoon salt, and the pepper. In a third shallow bowl, whisk together the eggs.
3. Dip each chicken cutlet first in the flour mixture, shaking off any excess, then in the eggs, and finally in the panko mixture, patting to coat thoroughly on both sides. Place the breaded chicken cutlets on the prepared pan. Mist the chicken with cooking spray to lightly coat.
4. Bake the chicken until the panko has browned and the cutlets are almost entirely cooked through (they'll no longer feel squishy when you poke them), about 15 minutes.
5. Remove the pan from the oven. Top each chicken cutlet with about 1/2 cup marinara sauce (use up the jar) and the provolone and Parmesan, and return to the oven. Bake until the cheese is melted and bubbly, an additional 10 minutes.
6. Serve hot.

Tip: Using panko breadcrumbs instead of regular results in crispier chicken!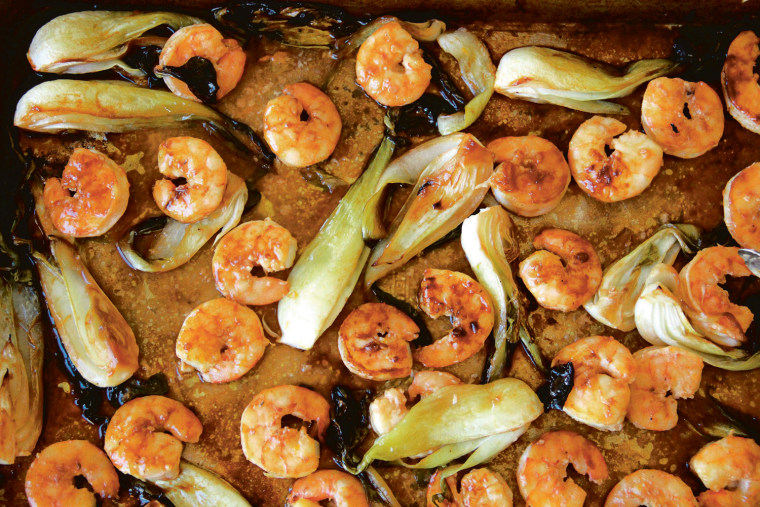 Honey-orange shrimp with baby bok choy
Serves 4
This is sort of like the sheet pan version of a sweet and spicy stir-fry. We just marinate the shrimp while some glazed baby bok choy gets a head start in the hot oven, then all we have to do is toss the shrimp on top and wait for the oven to turn them pink and lovely. A big bowl of jasmine rice is a natural pairing here.


1 1/2 pounds 26/30 count raw shrimp, peeled and deveined, tails removed

1 teaspoon grated orange zest

1/4 cup plus 3 tablespoons freshly squeezed orange juice

1/4 cup extra virgin olive oil

2 tablespoons hot sauce (such as Cholula's or Frank's Red Hot)

1 tablespoon Dijon mustard

2 cloves garlic, minced

Olive oil cooking spray

2 tablespoons unsalted butter, melted

2 tablespoons honey

1 tablespoon soy sauce

Pinch of crushed red pepper flakes

1 pound baby bok choy, sliced lengthwise into quarters

Let's cook:

1. Place the shrimp, orange zest, 1/4 cup of the orange juice, the olive oil, hot sauce, mustard, and garlic in a medium-size bowl or gallon-size zip-top bag, and toss to combine (or seal the bag and shake gently). Cover the bowl and marinate the shrimp in the refrigerator for 20 to 30 minutes.
2. Meanwhile, preheat the oven to 400°F with a rack in the center position. Mist a sheet pan with cooking spray.
3. Whisk together the butter, honey, soy sauce, red pepper flakes, and the remaining 3 tablespoons orange juice in a small bowl. Place the bok choy on the sheet pan, drizzle with the dressing, and toss to coat. Spread out the bok choy in a single layer. 
4. Roast the bok choy, rotating the pan halfway through, until it starts to brown and the sauce has thickened, about 25 minutes. 
5. Add the shrimp and its marinade to the pan in a single layer over the bok choy, and roast until the shrimp are bright pink and just cooked through, an additional 8 to 10 minutes. 6. Serve hot.

Tip: Buying pre-cleaned & deveined shrimp helps this one come together in a snap.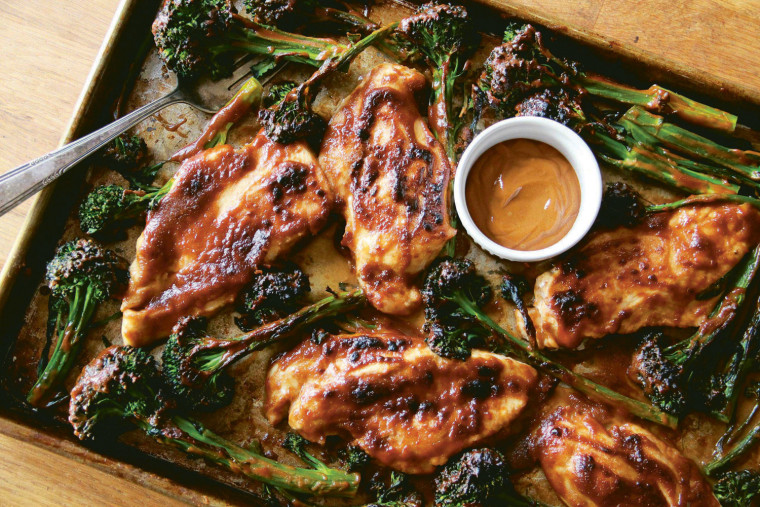 Quick chicken & baby broccoli with spicy peanut sauce
Serves 4
Peanut sauce is like the chocolate sauce of dinnertime. I'm pretty sure I'd eat my shoe if it were covered in enough of it. This satay-inspired dish pairs my beloved peanut sauce with thinly sliced chicken and baby broccoli charred under the broiler. The whole dish cooks in only about 10 minutes but results in juicy chicken, tender broccolini, and thick, bubbly sauce. It's addicting. Keep it away from your shoes. I've seen packaged thin-cut chicken breasts or cutlets at some grocery stores, but you can easily make your own by slicing a regular chicken breast in half horizontally to create two thin-cut pieces.
Olive oil cooking spray (optional)

1 tablespoon packed dark brown sugar

1/4 cup plus 2 tablespoons creamy peanut butter (commercial or natural)

1 tablespoon toasted sesame oil

1/4 cup low-sodium soy sauce

1 tablespoon sriracha sauce

1 tablespoon rice vinegar

1/4 cup warm water

1 tablespoon freshly squeezed lime juice

2 bunches broccolini (1 pound total)

4 to 6 thin-cut boneless, skinless chicken breasts or cutlets (1 to 1 1/2 pounds total)

Let's cook:
1. Preheat the oven to broil, with a rack 4 inches from the heat. Line a sheet pan with aluminum foil or mist it with cooking spray.
2. Whisk together the brown sugar, peanut butter, sesame oil, soy sauce, sriracha, vinegar, water, and lime juice in a medium-size bowl until smooth. Set aside 1/4 cup of the peanut sauce for serving.
3. Rub the broccolini and chicken with the remaining peanut sauce to thickly coat, and arrange them in a tight single layer on the prepared pan. Broil, keeping a close eye on the pan to prevent burning, and flipping the chicken halfway through, until the chicken is just cooked through, the broccolini is well charred, and the sauce is bubbly and deeply browned, 10 to 12 minutes.
4. Serve the chicken and broccolini hot from the oven with the reserved dipping sauce alongside.

Tip: This dish goes really well with rice!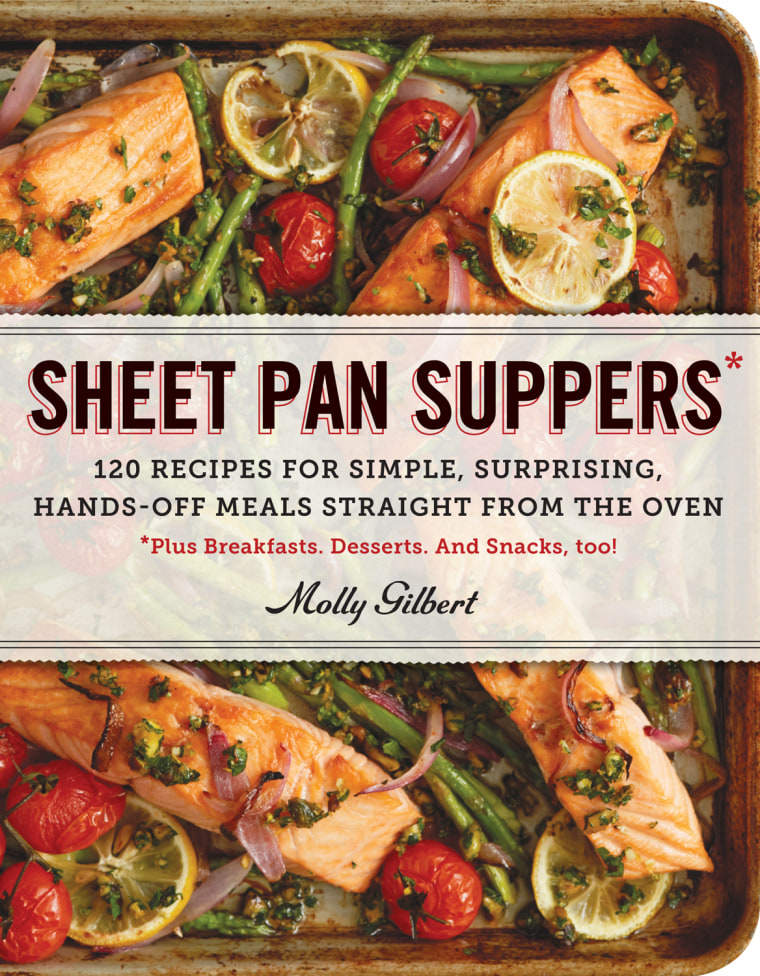 Recipes and photographs reprinted with permission from Sheet Pan Suppers by Molly Gilbert (Workman, 2014).