Chicken breasts get a bad rap. We get it. If you don't really know what to do with them they can end up being insanely boring, completely bland and super dry. Here's the thing: if you properly learn how to cook chicken breasts just once, you'll never get enough of them. Instead, you'll be stuffing them with cheese, smothering them in pesto, baking them into casseroles, frying them up into fingers and tossing them with pasta. To get you started, here are 34 truly delicious chicken breast recipes to try.
Hoda Kotb's mother Sami livens up chicken breasts in under 30 minutes with fresh pesto, sliced tomato and gooey melted cheese.
Elevate ordinary chicken breasts into an elegant and easy one-skillet supper with a few vegetables, a touch of crème fraîche and a handful of fresh herbs.
These juicy chicken breasts will become your new go-to thanks to a simple mixture of herbs, chiles and garlic that does double duty as a marinade and sauce (using half to marinate and the other half to serve on the side). When thinly pounded, boneless and skinless chicken breasts cook so quickly that the flavor and color of the marinade remain vibrant and bright.
It's easy to see why Cajun chicken pasta keeps popping up on fast-casual restaurant menus nationwide. Even picky eaters agree that the combination of spicy chicken and creamy sauce (not to mention mountains of irresistible noodles!) is across-the-board appealing. Check out this healthier version of the dish.
Fresh and simple, this 5-ingredient almond-crusted chicken breasts with tomato salad is a fast and easy weeknight meal and is also elegant enough for entertaining.
Little (and big!) kids will love these homemade chicken tenders with sweet and sour sauce.
Pep up boneless, skinless chicken breasts with sage, rosemary, garlic and lemon zest.
Get a meal on the table quickly with these fast and delicious chicken cutlets paired with a creative take on Caesar salad.
For this crowd-pleasing crispy chicken dish, flavor thin breaded chicken breasts with Dijon mustard and tarragon.
"I love chopped salads — you get so many great tastes in one bite," says star chef Giada De Laurentiis. "This recipe is my twist on a traditional chicken chopped salad. Instead of mixing in the lettuce, I use it as a wrap for the salad, which—like every good chopped salad—is studded with so many yummy flavors: chunks of chicken, creamy avocado, salty feta, crunchy fennel, peppery arugula, and bits of sun-dried tomatoes and briny olives. If packing this up to go, keep the salad and lettuce separate so the lettuce leaves don't wilt."
This crispy Asian chicken salad, inspired by Applebee's Asian chicken salad, is a great dinner or make-ahead lunch.
Combine shredded chicken breasts with, Frank's Red Hot sauce, cream cheese, sour cream, shredded cheddar and blue cheese for a warm and delicious game day dip.
Colorful bell peppers become a hearty sauce in this quick and healthy chicken dinner.
This easy make-ahead stuffed chicken tortillas recipe is inspired by a popular Cheesecake Factory dish.
"Pesto has gone from a simple, uncooked pasta sauce in the Italian province of Liguria to a worldwide phenomenon," says star chef Curtis Stone. It is so easy to make — just whiz it in a food processor. Here, it's a topping for chicken breasts. I love the way pesto gets a bit toasty in the oven and how good it tastes mixed with the juices from chicken in spaghetti.
This popular restaurant-inspired dish is an irresistible homemade version of Chick-fil-A's chicken sandwich.
Ever since wings were invented, it seems like we've been trying to find new ways to get our wing fix without actually, you know, FRYING wings in the kitchen. Here's one of the easiest and most portable ways to bring that Buffalo flavor to your party — a throw-together flatbread that guests will go crazy over.
Grilling soy sauce and ginger marinated chicken breasts on planks of pineapple imparts a sweet flavor you're going to love in this delicious 6-ingredient grilled chicken dish.
Giada De Laurentiis serves up a one-skillet chicken stew that is a hearty and satisfying weeknight meal.
The Cheesecake Factory's Bang-Bang Chicken and Shrimp might be a splurge at the restaurant, but it's a steal when you make it at home.
Fried crispy then layered in tomato sauce and gooey melted mozzarella cheese, this classic chicken parm is irresistible.
These make-ahead Southwestern egg rolls inspired by the longtime favorite served up at Chili's restaurants are easy to assemble — we promise! They replace the usual heavy flour tortillas with light and simple egg roll wrappers, and because they're baked instead of deep-fried, they're healthier and less indulgent than the restaurant splurge.
This simple grilled chicken marinade packs a lot of flavor for so few ingredients. It's perfectly suited for boneless, skinless breasts, but can also be used with legs and thighs. Just make a few gashes in the meat and rub with the marinade.
Because sometimes, we all just need a little crispy chicken skin, switch things up with bone-in, skin-on chicken breasts.
Who says spaghetti pie can't be elegant? Grab chicken cutlets and a jar of pesto to make this easy toss-together pie. Leftovers never looked so good.
Make a mouthwatering version of Shake Shack's crunchy, tangy fried Chick'n Shack sandwich at home. It's just as tender and juicy, but a little healthier than the deep-fried Shack original.
Make Thai-style chicken breasts with five ingredients: lime zest, ginger, cilantro, cardamom and fish sauce.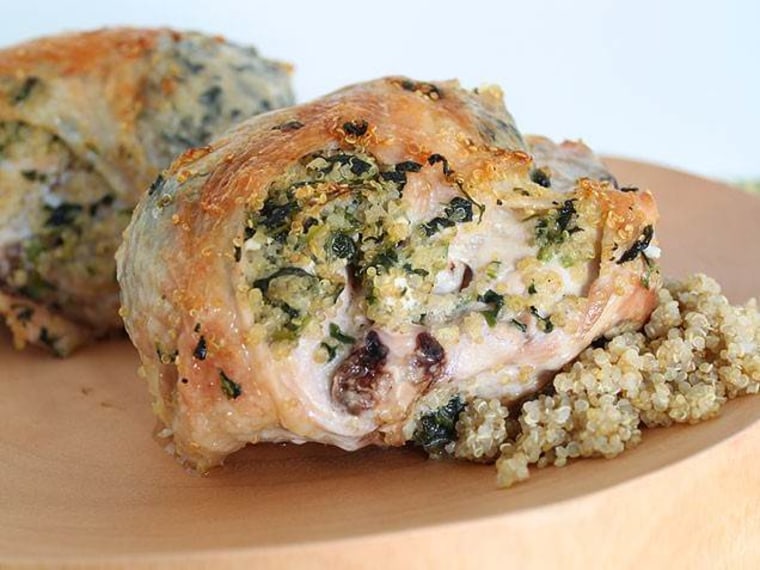 Packed with protein, this 4-ingredient main is a fast, easy and healthy weeknight dish.
Make Indian-style chicken breasts with the easy addition of cumin, turmeric, onion powder and ground coriander.
Serve up Siri Daly's version of Chili's-style chicken fajitas. "This is a great meal for a taco night when you just want to stay at home!" she says.
Stuffed with spicy Sriracha chicken, avocado, pepper jack and mango chutney, these colorful, Asian-inspired pita sandwiches will hold up to the heat and travel well.
Spicy chicken and veggie kebabs have all the flavor of classic chicken wings...but only 255 calories.
Jazz up roast chicken breasts with a delicious and healthy red pepper and walnut sauce.
Cook crispy skin-on chicken breasts in a cast-iron skillet with a quick and easy butter that's flavored with fresh basil.
RELATED