Chick-fil-A first entered the retail market earlier this year to give chicken lovers a taste of their favorite signature sauces without needing to pile up on packets from stores.
In March, the beloved chicken chain began selling two of its dipping sauces by the bottle at all of its restaurant locations in Florida. Now, the chain is offering tubs of five different sauces at restaurants nationwide.
On Tuesday, the chain's Instagram account announced that patrons will now be able to pick up 8-ounce containers of Chick-fil-A sauce, Garden Herb Ranch, Honey Mustard, Polynesian sauce and Barbecue sauce at local restaurants or via its app. Prices at locations may vary but the suggested retail price per tub is $2.80. Like most fast-food chains across the country, Chick-fil-A has closed its dining rooms, but the sauce will be available at drive-thru windows.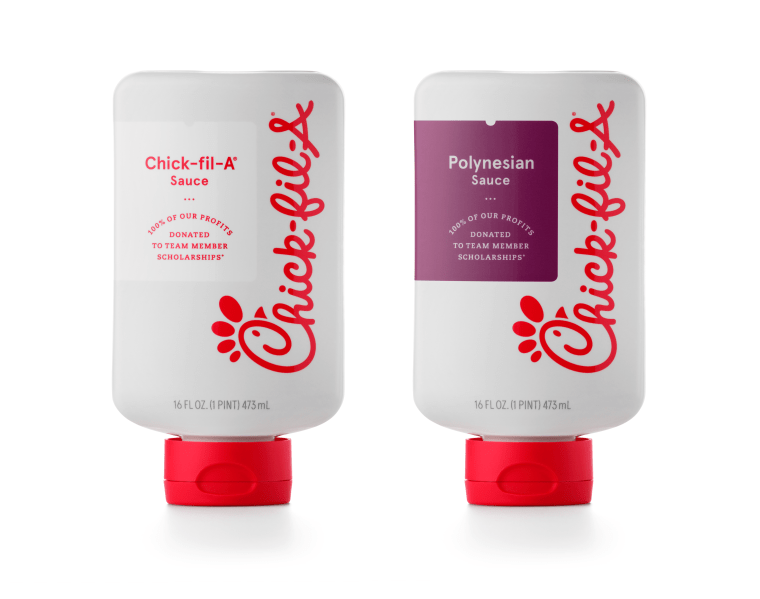 Earlier this month, the chain rolled out 16-ounce bottles of its Chick-fil-A sauce (a mix of honey mustard and barbecue) and its sweet and spicy Polynesian sauce. A spokesperson for the chain told TODAY Food that those two sauces are the restaurant's most popular. The sauces, which retail for $3.49 a bottle, are also be available at Publix, Target, Walmart and Winn-Dixie stores throughout Florida.
In mid-March, Hoda Kotb and Jenna Bush Hager tried the chain's bottled sauces and loved them both!
Fans were stoked that they wouldn't have to pile up on tiny sauce pouches anymore.
As a way to give back to its team members, many of whom are known for conducting random acts of kindness for customers, Chick-fil-A said it will donate 100% of the money made from sauce retail sales to its Remarkable Futures Scholarship Initiative, which provides scholarships to Chick-fil-A employees. The chain has pledged to donate $17 million to fund education programs for 6,700 of its workers.
For the now, the large bottles of Chick-fil-A dipping sauces will only be available at restaurants and grocery stores in Florida, but if the pilot in the Sunshine State is successful, the chain will consider rolling out the bottles nationwide later this year.