Fast food chain Chick-fil-A is encouraging customers to ditch their smartphones during dinner, even placing boxes called "cell phone coops" on the tables at some of its locations.
The point is to get people to talk to each other instead of texting or scrolling through social media, Brad Williams, who operates two Chick-fil-A locations in the Atlanta area, told TODAY.
"I've been doing this for 25 years, and it's interesting to walk through the dining room and see the evolution, the change from having a conversation to nowadays, when there's just this disconnect," he said.
Williams started the initiative in his stores in January, and it's since spread to nearly 200 Chick-fil-A locations across the country.
"For a lot of our regular guests, it's becoming a habit," he said. "They come in our stores and say, OK, cell phones in the box."
RELATED: Dread dining out with kids? Chick-fil-A's 'Mom's Valet' may be your saving grace
Customers who leave their phones untouched during the entire meal get a free ice cream. And most do — Williams estimated that about 90 percent of customers who attempt the "cell phone coop challenge" are successful. Of course, not everyone can resist the urge to sneak a peek at their phone.
"I had one family come up to me, and the dad said, 'We tried the challenge, but unfortunately my son decided he needed to send a text in the middle of dinner, so we're going to go home with no dessert, no ice cream,'" Williams said. "But he said, 'We'll be back next week to try again.'"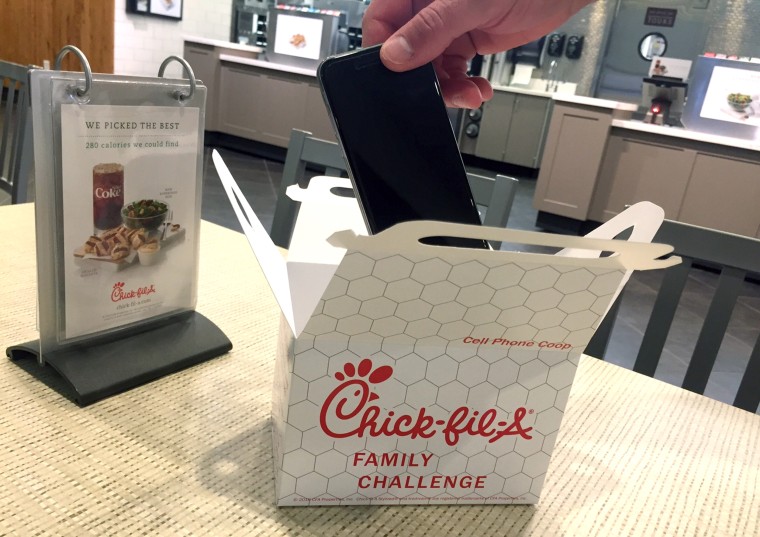 While rewarding customers who unplug might be new to the fast food industry, some restaurants have been doing it for years. Bedivere Eatery & Tavern in Lebanon offers a 10 percent discount to people who check their phones at the door, and before it closed, Los Angeles' Eva Restaurant took 5 percent off the bill of customers who were willing to leave their phone at the host stand during dinner.
RELATED: Hang up and eat! Restaurants battle distracted dining
Other restaurants post signs asking diners to turn off or silence their phones before sitting down. And in New York, some chefs have started to ban customers from taking photos of their food in recent years, according to The New York Times.
RELATED: Waiter serves up list of most annoying restaurant customer behaviors
As ubiquitous as a cell phone at the dinner table has become, most people frown upon it: only 38 percent of people think using cell phones at restaurants is OK, according to a recent survey from the Pew Research Center.