Chick-fil-A is giving customers something to crow about: free eight-piece chicken nuggets.
Chick-fil-A announced Thursday that it is offering the nuggets to customers who create or sign into a Chick-fil-A One account with the fast-food chain's mobile app. The promotion runs through Sept. 29 at all of the company's 2,300-plus restaurants across the country.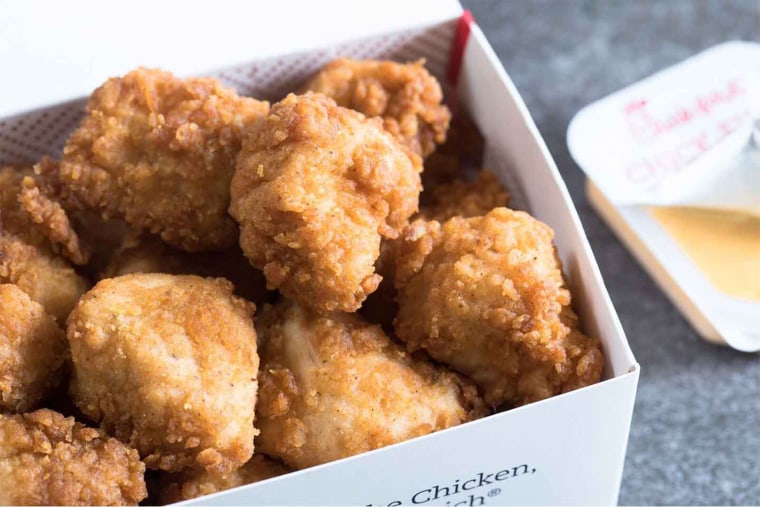 "We want to thank the millions of customers who have joined Chick-fil-A One on our mobile app, and this is just a small way to show our appreciation for dining with us," Chick-fil-A One Membership senior lead Kaitlyn White said in a statement.
The tiered membership program is designed to deliver rewards for purchases. Members of higher-level tiers can also have the chain donate a meal on their behalf to Feeding Children Everywhere, a nonprofit charity that sends meals to children in need across the country.
It's been a busy week at Chick-fil-A, which also launched five new menu and catering options on Monday timed to back-to-school season.
The new menu options include a 30-count size of chicken nuggets, designed to feed a whole family. Other new additions include Waffle Potato Chips, a gluten-free, kettle-cooked option that was previously only available on the catering menu, and an improved Fruit Cup.
Chick-fil-A's catering and online order menu has also been revamped, with a Grilled Chicken Bundle and a Spicy Chilled Grilled Chicken Sub Sandwich.