There's good news and bad news for Chick-fil-A fans in Atlanta, Georgia.
Ahead of football season, the fast-food chain has opened a concessions booth at the new Mercedes-Benz Stadium, where the Atlanta Falcons will play their home games. But, in sticking with the company's longstanding policy, the new location will remain closed on Sundays — the busiest day of the season for any football stadium when most of the home games will be played.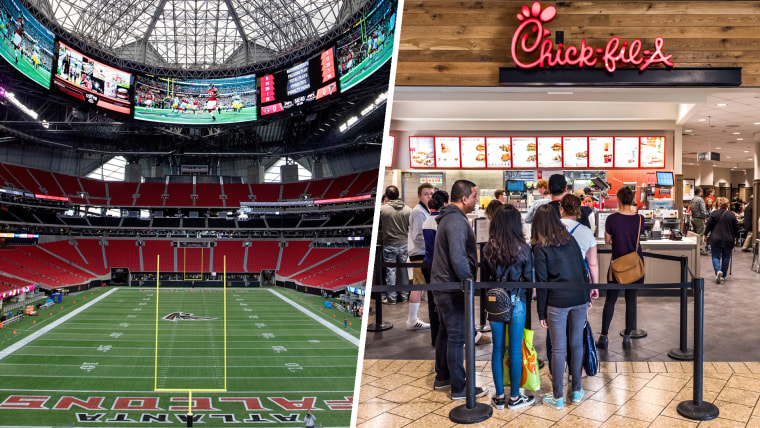 According to the Washington Post, seven of the Falcons' eight regular season home games are on Sunday this year, except for a Thursday night game in December against the New Orleans Saints.
"While we serve Chick-fil-A at several stadiums throughout the country, we have always adhered to our founder's commitment to close on Sundays," John Mattioli, senior manager of partnerships and activation marketing at the chain, told TODAY Food. "It gives our team members a chance to take a day of rest."
Many fans, however, seem to be confused, and even dismayed, by the business' decision, considering the brand will be missing out on a major chunk of sales from game days.
Joseph M. Pawlak, Managing Principal at the food service research and consulting firm Technomic, said the average Chick-Fil-A restaurant makes $3.3 million in annual sales, which equates to about $10,500 per day. "The stadium location would surely do far more in terms of sales versus the average during NFL games," he told TODAY Food.
But, he says that the company is sticking to its cultural roots by keeping all units closed on Sunday, regardless of location and opportunity. "This is well-understood by the consumer, and most admire their decision," Pawlak said. Since 1946, Chick-fil-A stores have been closed on Sundays, a policy mandated by the chain's founder S. Truett Cathy.
Of course there are other sales opportunities beyond NFL games and Sundays. "This partnership also allows us to serve customers at other events at the stadium throughout the year," Mattioli said, adding that there will be concerts and other marquee events held at the stadium during the other six days of the week, year-round.
Falcons fans will also have plenty of other food options to choose from on Sunday game days including pizza, burgers and Tex-Mex from many local specialty restaurants. In fact, one notable thing about the new stadium is how reasonably priced the concessions are going to be, which is expected to be a big draw for families coming to the games.
And during the regular Falcons' season, the Chick-fil-A booth won't be empty on Sundays. According to ESPN, the chicken chain's signage will be flipped, allowing for a different food business to sell non-branded concessions during games.
For those concerned about Chick-fil-A missing out on game day sales, though, Pawlak suggested it's not going to hurt them too bad. "For a company that did over $5.7 billion in sales last year, whatever lost sales opportunities there are by being closed on Sunday in this stadium is a drop in the bucket."