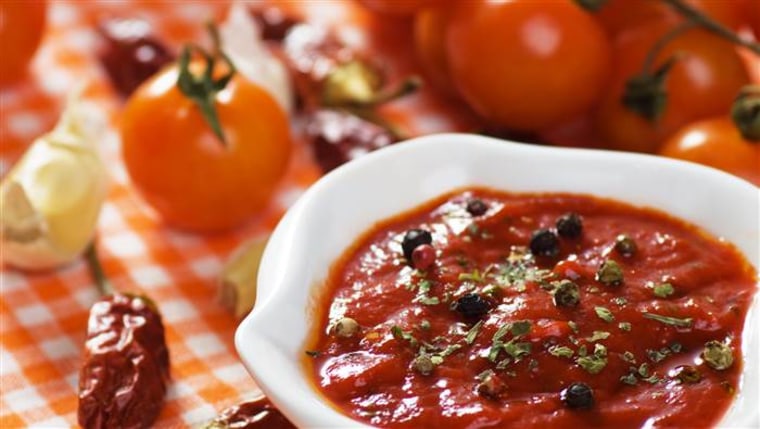 Tomato paste is a pantry MVP: Its concentrated, almost meaty taste adds nuance and body to everything from pasta sauce to stews, casseroles and more. But home cooks tend to miss out on the flavor potential hiding out in that little can or tube.
RELATED: 9 easy and delicious tomato sauces you'll want to use on everything
While recipes often call for tomato paste to be added along with liquid—usually broth, water or wine—chefs have a secret to coaxing more intense flavor out of the ingredient. How? They add the paste earlier in the cooking process. By letting tomato paste "brown" in the pan, and sautéing it with spices and other aromatic ingredients like cooked onions, you can boost the flavor of your dish in a big way.
Geoffrey Zakarian, chef and co-owner of The Lambs Club in New York City, always lets his tomato paste cook for a few minutes when making his famous Bolognese sauce. "You just want to make sure it's heated through," Zakarian explains, adding that this usually takes less than five minutes. "Then, deglaze the pan with wine. This method caramelizes the sugars, making [the sauce] smoother and sweetening the flavor."
You can even freeze leftover tomato paste in tablespoon-sized blobs; the strong, acidic paste will melt quickly in a hot skillet and have the same effect.
RELATED: Spaghetti pie is a fun way to make dinner with leftovers for later
Zakarian likes to serve his ragu Bolognese over house-made maccheroni at The Lambs Club, but you can amplify your favorite sauce—even a simple marinara—at home. Start by cooking onions and garlic in olive oil over low heat until they're soft and translucent, then add your tomato paste. Let it cook for a few minutes more; you'll see it darken in color and thicken. Add wine or broth and scrape up all the tasty browned bits on the bottom of the pan, then add the rest of your ingredients (for instance canned tomatoes or tomato sauce, vegetables, meat). Simmer for up to an hour or two if you're making a ragu like this hearty Bolognese—until the ingredients cook down into a thick, delicious sauce.