A year ago, chef Adrian Lipscombe dreamed of creating a space for Black farmers to grow their own produce. Now, just a year later, that dream has come true.
Black farmers make up less than 2% of all farmers in the U.S. Now, Lipscombe plans to use her 39 acres of land in Helena, South Carolina, as a place where Black farmers can learn about the history of the industry and grow their own crops.
"We were cooking as slaves, as the cooks in these kitchens," Lipscombe told TODAY's Morgan Radford. "We want to recreate those kitchens. We want to celebrate, but also explain to others and to the public. We want the community to come to this land. We want them to be able to come celebrate on this land."
The project is called "40 Acres and a Mule," in reference to an attempt at reparations for former enslaved people following the Civil War.
"It started with a special field order, Number 15, by General (William) Sherman, to give 40 acres and a mule to the slaves that were released from the Civil War that were following him," Lipscombe said. "And the question he asked is, 'What do you want?' And one of them stood up and said, 'Land.'"
The reparations project was short-lived and rescinded after the assassination of Abraham Lincoln.
In less than a year, Lipscombe was able to raise more than $150,000 on GoFundMe, allowing her to purchase the land for 40 Acres and a Mule. The donations began with a mysterious check in the mail for $1,000 dollars from a donor that Lipscombe said she didn't know. Celebrity chefs like Mashama Bailey and David Thomas also supported the project.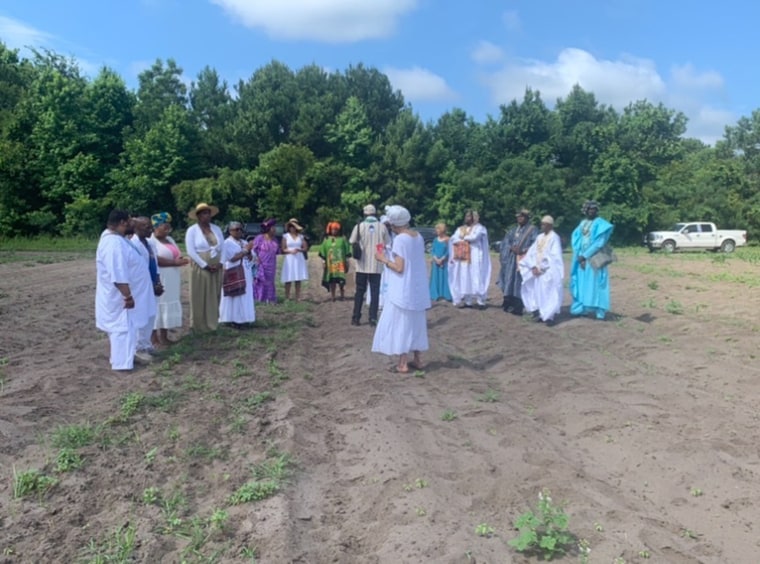 Lipscombe, a mother of four who owns the Uptowne Cafe and Bakery in La Crosse, Wisconsin, said she decided to start the project in South Carolina because of the area's connections to slavery.
"Slaves were here," she said. " … As an African American chef, I am really interested in reclaiming the narrative of where the food of this country started."
Juneteenth, a now-federal holiday that celebrates the end of slavery in the United States on June 19, also has a connection to the project. The date marks when enslaved people in Galveston, Texas, the last in the country, were finally informed of their freedom by federal troops, months after slavery officially ended.
"By the next day, they're celebrating. They're saying, 'We are free,'" said Lipscombe, who noted that her family has "always" celebrated Juneteenth. "And what is so interesting is that slaves weren't allowed to be in big groups. And so a lot of those leaders came together and they bought land, where they would go and celebrate Juneteenth, and food was a huge portion of this celebration of freedom."
This year, Lipscombe and other chefs will celebrate Juneteenth on this land, working together to continue the project.
"Land is huge," she said. "Land brings identity. Land brings community. Land brings freedom. It allows us to navigate in this world, to create our history, to respect our history, but also bring forth our future."
Related: