Whenever you sit down for a meal at The Cheesecake Factory, you can always count on two things: the restaurant's extra-large menu greeting you with many (maybe too many) options, and that slightly sweet, delicious brown bread to nosh on while you ponder your main meal choice.
Now, you don't actually have to go to the restaurant for the latter. This week, the chain is rolling out its popular bread in grocery stores nationwide — and it will be available in three different varieties.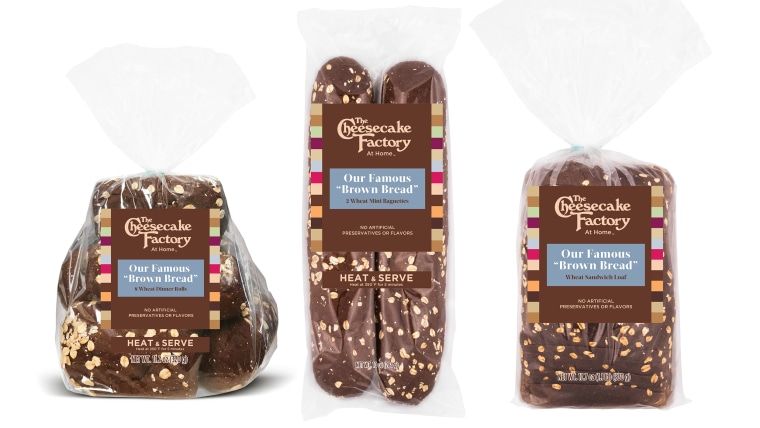 The brown bread will be available in an eight-pack of heat-and-serve dinner rolls, a two-pack with mini baguettes, and pre-sliced sandwich loaves, and you'll be able to find them in your store's bakery section. The suggested retail price is $3.49 for the baguettes and rolls and $4.49 for the sandwich bread.
So, does it taste just like the kind they serve at the restaurant?
TODAY Food gladly took the taste test, and as huge fans of the bread (yes, we'll always have more when they ask), we can attest that eating it at home is just as yummy as it is at the restaurant. The bread is soft and chewy and tastes like flavorful wheat, with a hint of semi-addictive sweetness (dried molasses and brown sugar are listed in the ingredients.)
To make the dinner rolls and baguettes extra delicious, heat them in the oven for five minutes at 350 degrees and top with butter. Yum.
The bread is made with whole wheat flour and is similar in calorie count to bread from other brands. One dinner roll, for example, is 110 calories compared to a Pillsbury crescent dinner roll, which is 100 calories. A slice of the sandwich bread is 80 ca.lories, compared to one slice of Pepperidge Farm's whole grain whole wheat bread which is 110 calories
People are pretty excited that the popular bread will be even easier to get soon.
Whether you want to serve up the brown bread at your next fancy dinner party, or just warm it up for yourself on those chilly Netflix binge nights, it will definitely be a delicious addition to a meal any time of day. Now, if only we could get them to put the 250-plus menu items in grocery stores, too!
If you really, really love Cheesecake Factory foods, there are a few other items available at the grocery store that will make you feel like you're at the restaurant. The bread is part of the chains' Cheesecake Factory At Home line which includes cheesecake mix, coffee creamer and chocolates.