Once upon a time, cheeses used in dessert were limited to versatile favorites like cream cheese, ricotta, and marscapone. These soft, mild dairy products easily showcased other flavors, blended well with sweeteners, and brought a smooth, creamy texture to the dish.

These days, as dessert plates are incorporating more savory and non-traditional elements, chefs are pushing the envelope by using more distinct, flavorful cheeses to complement the final course.
Before the highly anticipated Qui opened in Austin, Texas earlier this summer, pastry chef Monica Glenn began to develop an aged cheddar ice cream inspired by the frozen cheese confections executive chef Paul Qui enjoyed as a child in the Philippines. Next, sous chef Jorge Hernandez developed delicate cajeta waffle cookies and it morphed into a toothsome ice cream sandwich with a cult following.

When searching for a cheese, Glenn said they tasted the 10-month aged Cabot Clothbound Cheddar side by side with other cheeses selected by the dairy experts at Antonelli's Cheese Shop. "The brine wash really gives it a unique, punch-in-your-face kind of flavor," she told TODAY.com.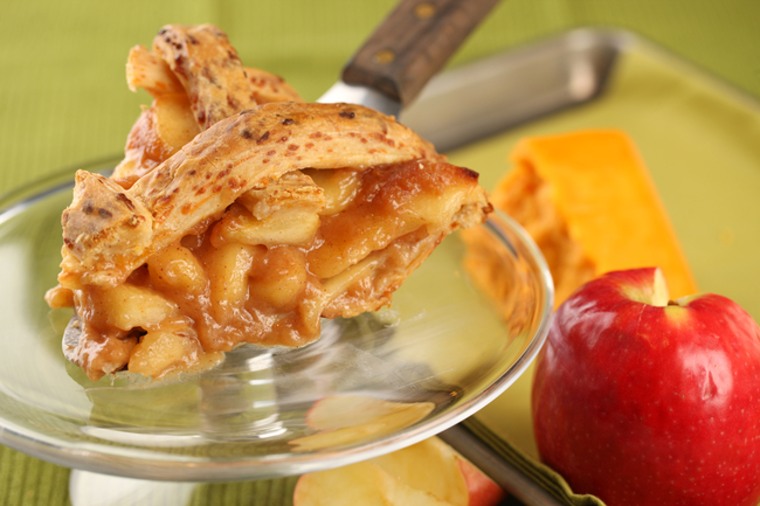 North Carolina-raised Elizabeth Kramer makes her signature apple pie at Hill Country Chicken with a rich cheddar cheese crust, just like her grandma taught her. "Think of the best cheese straw you've tasted filled with cinnamon-scented, sweet and tart Granny Smith apples," she described.

"Top Chef" alum Edward Lee of 610 Magnolia and Milkwood in Louisville and author of "Smoke & Pickles," a cookbook celebrating his Southern and Korean fusion cuisine, shares his recipe for togarashi cheesecake, which adds spice and depth to the traditional dessert.
"The tartness of goat cheese pairs nicely with the heat of the togarashi spice," Lee told TODAY.com. "But goat cheese needs the cream cheese to get the desired texture. The two together achieve a marriage of tart flavor with a creamy mouthfeel."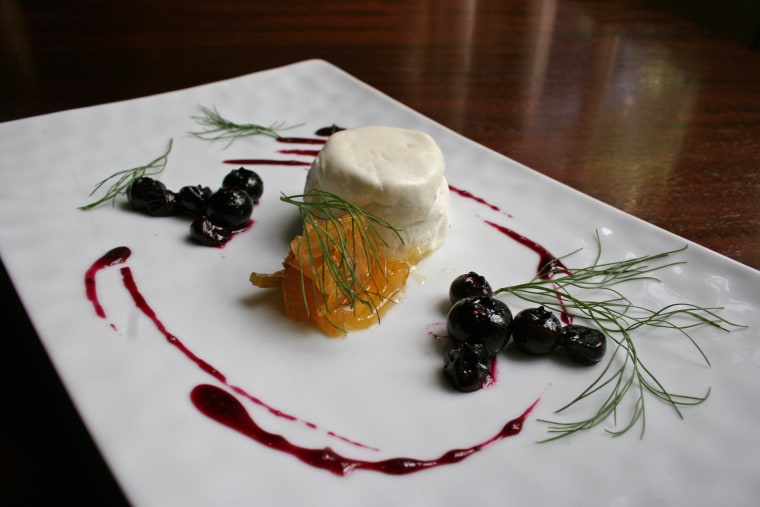 Some composed desserts are beginning to look more like cheese plates, but with added pastry-inspired touches. At Restaurant R'evolution in New Orleans, chefs John Folse and Rick Tramonto recently featured a savory Green Hill Cheese Sformato with slightly sweet berry gelée and fennel marmalade.
"Iron Chef"and "Top Chef" alum Kelly Liken doesn't think diners at her eponymous restaurant should have to choose. "Many of our guests like to finish their meal with a cheese plate," she said. "(But) we also have people who love to finish with something very sweet. Then there are those on the fence. We've created these dishes with those diners in mind."
A recent offering included goat cheese gourgeres with roasted cherries, basil sherbet, and black pepper gastrique. Another creation combined spiced honey roasted pear with puff pastry, pine nuts, Blu di Langa cheese, and sherry vinegar reduction.
"A cheese plate is generally a few ounces of cheese and small tastes of complementing fruits or breads. For these dishes, we have just reversed the proportions," she explained.
At Acquerello in San Francisco, Chef Suzette Gresham-Tognetti dreams up similarly artful composed plates like the Piemontese Cusié cheese with mushroom crumble, chestnut honey meringue, and tobacco tuile. "Every time you take a bite of this dish with its components, you can find a different nuance in the cheese," she told TODAY.com. "It's like a virtual roadmap of flavor after flavor."
She likes to choose complex, sophisticated cheeses, then adds unique and texturous elements which bring out its various characteristics. "Every cheese has a story," Gresham-Tognettie sums up. "And as chef, I am the storyteller."
Give your story a spicy ending with this savory-sweet togarashi cheesecake from Edward Lee's cookbook "Smoke & Pickles"(Artisan Books Copyright © 2013).
Togarashi Cheesecake with Sorghum
Feeds 8 to 10
When I was a kid, if I was well behaved (which wasn't often), I might get a rare treat of cheesecake from Junior's in Brooklyn. A single slice was probably bigger than my head. Those were magical times, and I guess I've been searching for that emotional cheesecake connection ever since. This is my adult version of cheesecake, full of togarashi. I use it a lot in savory recipes to add spice, but here it gives the cake a sharp, spicy note that helps balance the denseness. Serve with strong green tea or chai.
Crust
2 cups gingersnap cookie crumbs

2½ tablespoons sugar

5 tablespoons unsalted butter, melted

Filling
4 ounces fresh goat cheese, at room temperature

6 ounces cream cheese, at room temperature

½ cup buttermilk

½ cup plus 2 tablespoons sugar

4 large eggs

Grated zest and juice of 1 lemon

1 teaspoon togarashi

About 1 tablespoon sorghum for garnish

1. Preheat the oven to 350°F.
2. To make the crust: Stir the cookie crumbs, sugar, and melted butter together in a medium bowl with a fork until the crumbs are evenly moistened. Press the mixture evenly onto the bottom of a 9-inch springform pan. Bake until golden brown and crispy, about 10 minutes. Cool completely. Reduce the oven temperature to 325°F.  
3. To make the filling: In the bowl of a stand mixer fitted with the paddle attachment (or using a handheld mixer), beat together the goat cheese, cream cheese, and buttermilk until smooth and fluffy, 4 to 5 minutes. Gradually beat in the sugar until smooth. Beat in the eggs one at a time. Beat in the lemon zest and juice. Beat in ½ teaspoon of the togarashi.   
4. Pour the filling into the springform pan. Sprinkle the top with the remaining ½ teaspoon togarashi. Wrap the pan in aluminum foil to prevent leaks and place the pan in a large roasting pan. Pour enough hot water into the roasting pan to come one-third of the way up the sides of the cake pan.
5. Bake the cheesecake for 1 hour and 20 minutes, or until slightly puffed. Remove the cake pan from the water bath and allow it to cool to room temperature, then chill in the refrigerator for at least 2 hours. (The cheesecake can be refrigerated, tightly wrapped in plastic wrap, for up to 5 days.)
6. To serve, run a thin knife around the sides of the cake pan and release the sides of the pan.Slide the cheesecake onto a serving platter. Drizzle the top with a little sorghum, slice, and serve.
Veronica Meewes is an Austin-based freelance writer who will travel for food but always returns for breakfast tacos. Follow her on Twitter @wellfedlife and visit her blog.