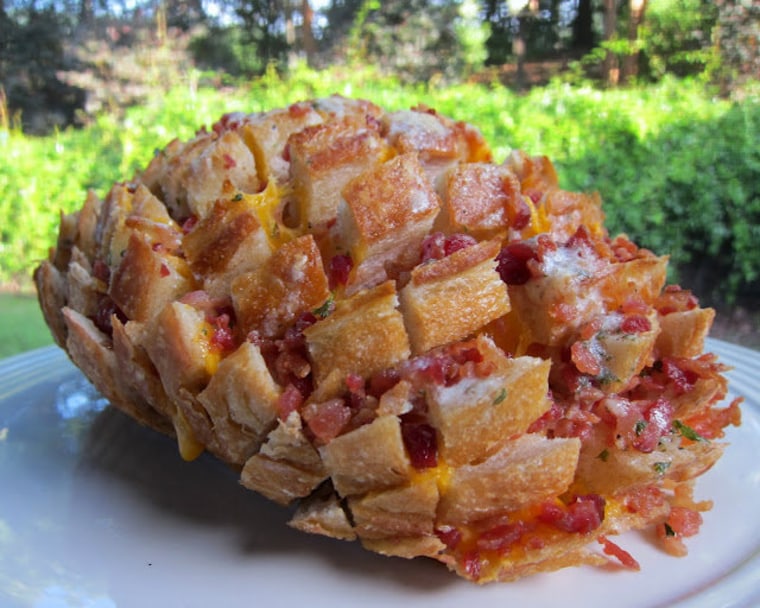 If you haven't had monkey bread, also known as pull-apart bread or pulls, you are missing out. The dough is rolled in butter and various ingredients, then piled into a Bundt or loaf pan before being baked, so it all cooks together in one sticky, gooey mass. You eat it by pulling off tufts of dough, probably burning your mouth and fingers from hastiness. Though it is traditionally a cinnamon breakfast pastry, chefs and bloggers have spun the dish off in all sorts of different directions, with savory and sweet concoctions galore. Take a look at these seven varieties, all perfect for pleasing a crowd.
Maple-bacon monkey bread
Suffice it to say that this dish, featured on the site Best of Texas, is goodness amplified. Amanda Warr makes her own dough, then uses pecans, bacon and maple sugar for the ultimate sweet and salty treat. The result is like dipping your bacon in maple syrup, then wrapping it in a pancake.
Cheddar-bacon ranch pulls 
Making your own dough seem like too much work? You might want to try this cousin of monkey bread, Plain Chicken's cheddar-bacon ranch pulls. This recipe uses a loaf of ready-made sourdough bread that is cut into slits and stuffed with sharp cheddar cheese and crispy bacon bits before being dredged in ranch dressing-flavored butter. "This bread is highly addictive," the site warns. "We will refer to this bread as 'Crack Bread' from now on!"
David Burke's caramel monkey bread
Monkey bread isn't just a guilty pleasure to be enjoyed at home. Famed chef David Burke serves the dish at David Burke Kitchen as a dessert, with vanilla ice cream and freshly whipped cream. Slathered in cinnamon, caramel, bananas and pecans, this dish is an exercise in decadence. Skinny Pig says that this is a "delicious, over–the-top, ridiculously gooey dessert," and Eater listed it as one of "New York's Most Wacked Out NYC Desserts."
Pizza monkey bread
Healthy and Sane takes individual rounds of pizza dough, wraps them around mozzarella cheese and pepperoni, and then rolls them in garlic butter before baking them in a Bundt pan and serving them with marinara sauce. Be aware that these chewy pizza-licious bites may cause a riot. "Served these at a football-watching gathering and the whole thing was gone in less than 2 minutes. I honestly wish I took a video of this. People were on top of each other, ripping off bun after bun," the blogger wrote.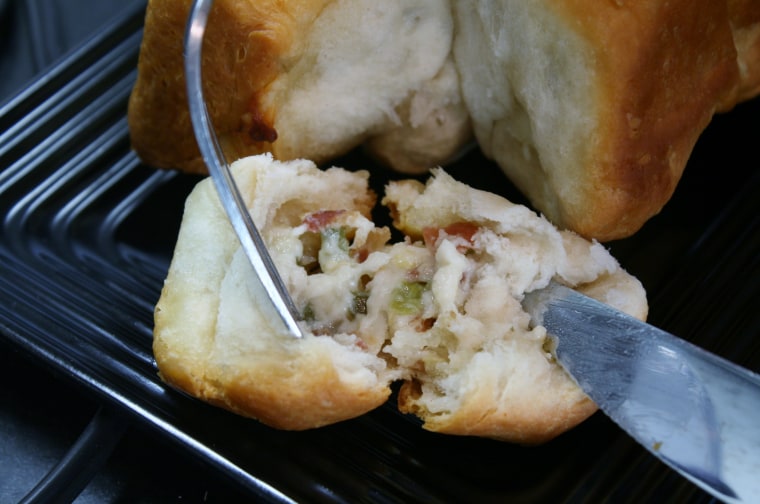 Jarlsberg cheese, crispy bacon and spicy jalapenos hide inside my favorite iteration of this bread, and using refrigerated biscuits makes the cooking process a breeze – from start to finish, it is under an hour. If you, like me, prefer your food on the spicier side, dice up a few bird's-eye chiles in there along with the jalapenos. It'll make your eyes tear, but you won't be able to stop eating this addictive snack.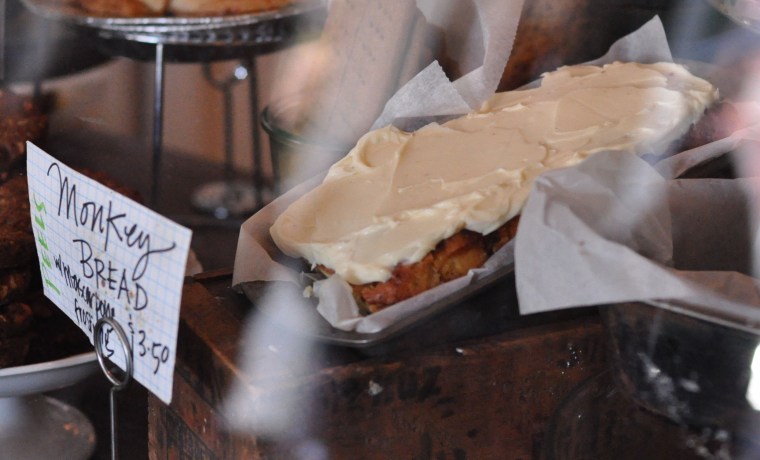 Peels monkey bread
All variations must pay homage to the original, and Peels makes a classic version that Fork in the Road calls "reminiscent of the Entemann's breakfast pastries of our childhood, only about 10,000 times better." Made with brioche dough, cinnamon and topped with a mascarpone icing, this is as delicious a way to start your day as it is to end your meal. And now, you can make it at home. Be prepared: this recipe is laborious, but it is not difficult. 
For the brioche:
1-lb. all-purpose flour
1 tbsp. fresh yeast
2 tbsp. sugar
1 tbsp. kosher salt
1/4-cup whole milk
4 large eggs
6 ounces unsalted butter
Slice butter into thin slivers and let come to room temperature, set aside. Warm milk slightly, set aside.
In the bowl of a stand mixer fitted with a dough hook, measure in sugar, milk, and eggs. Whisk until eggs are broken up and add yeast. While yeast is settling in, measure flour in one bowl and salt in another bowl.
When yeast is beginning to bloom (i.e. rise to the surface and look foamy), pour all flour at once on top of liquids, and salt on top of flour.
Beginning on lowest setting, mix dough to incorporate ingredients.
When dough starts looking less like a sticky mess and more like a bread dough (about 5 minutes), start feeding in super soft butter a little at a time, without turning off mixer, until bread dough looks soft, sumptuous and slightly sticky.
Let dough mix on speed one or two for another 10 minutes.
Lightly butter a large bowl or glass storage container, and scrape dough into it. Fit container with a tightly fitting lid and place in very cold refrigerator and store overnight.
For monkey bread assembly:
1 loaf pan equaling 6-8 portions
3 tbsp. sugar
3 tbsp light brown sugar
6 tbsp melted, unsalted butter
2 tsp. cinnamon
The next day, when brioche dough is cold, roll out to ½ inch thickness on lightly floured work surface. Cut into ½ inch cubes.
Generously butter a loaf pan and line with a piece of parchment paper.
Mix sugars and cinnamon together in medium sized bowl.
Pour melted butter into a medium-large bowl.
Toss cubes of brioche in melted butter and then in sugar mixture, making sure to coat all cubes completely. 
Tightly pack a little over a pound's worth of the cinnamon-sugar coated Monkey Bread cubes into the loaf pan and cover loosely with a dish towel and leave in a warm, moist location in your kitchen to rise. (You can also assemble monkey bread loaf and leave in fridge to proof slowly overnight.)
When brioche cubes have risen and look and feel delicate and spongy, preheat oven to 325F.
Set first timer for 20 minutes. Place loaf pan on a cookie sheet (this helps distribute heat more evenly through the loaf pan/baking vessel) and place in oven.
When first timer goes off, turn pan around, and set second timer for 20-30 minutes. 
When brioche has taken on a reddish brown hue, much like the color of cinnamon, take out of oven and place loaf pan on cooling rack. 
Set a timer for 5 minutes. Lightly run a knife around the monkey bread loaf right at the 5 minute mark and let cool until room temperature before frosting or slicing. Slice finished monkey bread with a serrated knife.
Mascarpone frosting:
1/2-tub mascarpone cheese
1 1/4-cup sugar
1 tsp. sea salt
1/2 tsp vanilla extract
Using a malleable spatula, flatten and mix mascarpone until uniform. To flavor, slowly add vanilla extract a few drops at a time and confectioner's sugar and sea salt a few dashes at a time.  (Although it seems odd to make this mixture on the salty side, if you don't add enough salt, it will taste flat on the monkey bread. Taste a piece of the finished monkey bread with your mascarpone frosting until you have a flavor combination and balance you're happy with.)
Slice monkey bread and then frost for the best presentation, making sure to frost just moments before eating, so the frosting does not wilt.
Sarah Spigelman will eat anything that isn't moving too fast for her to catch. She believes that if the kimchi isn't spicy enough to make her eyes tear and her nose run, it really isn't a meal.