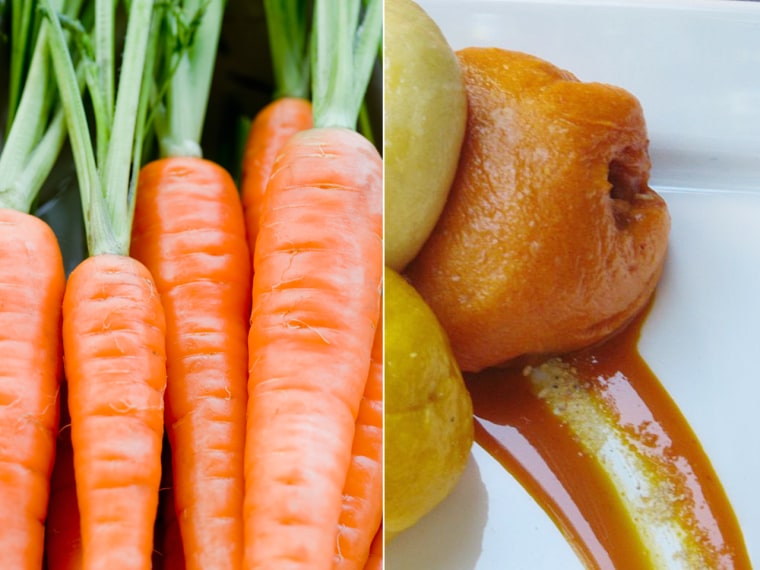 Amanda Cohen loves vegetables so much, she can't even choose her favorite for fear of making the others "jealous. I don't want a strike on my hands," she joked. The chef and owner of New York's Dirt Candy, a small but popular vegetarian restaurant, even pokes a little fun at her carnivore counterparts:
"Anyone can cook a hamburger, but leave the vegetables to the professionals," the restaurant's website boasts.
"Hamburgers have been around for hundreds of years, and everyone has a general idea how to do it," Cohen told TODAY.com. "You need a whole different set of skills to work with vegetables."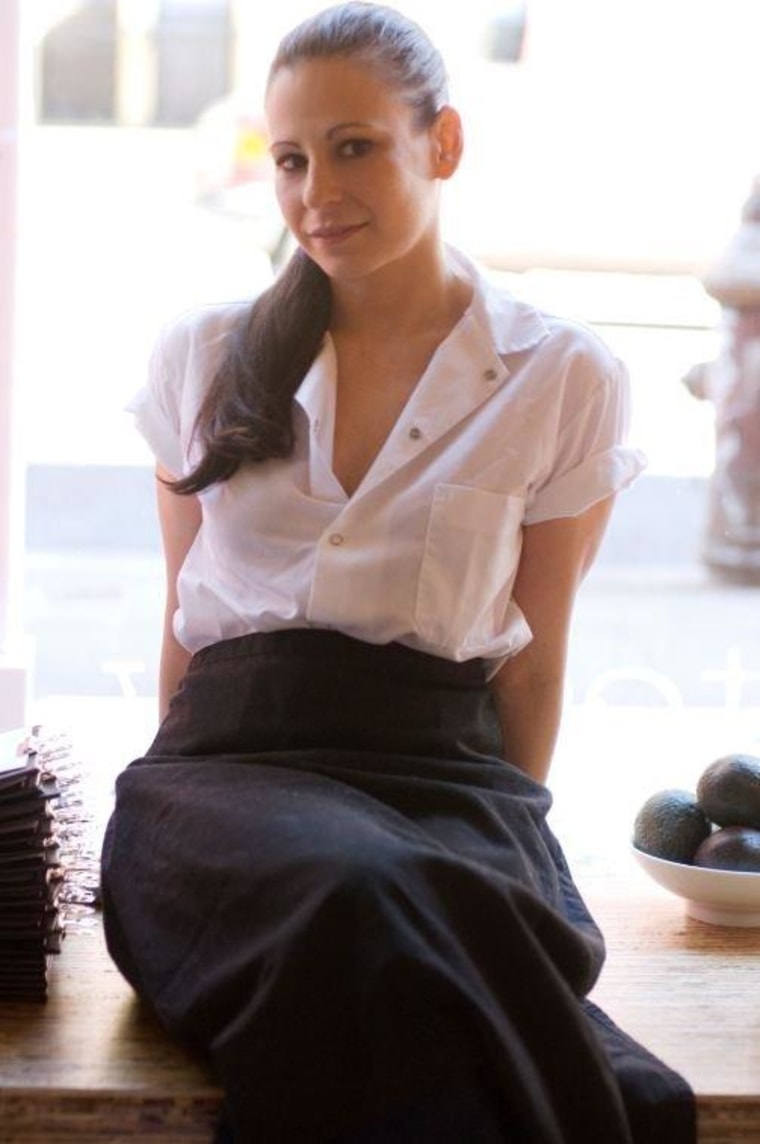 And though she says the crew at Dirt Candy are still trying to hone those skills, judging by the way diners pack the restaurant nightly (try getting a reservation on a Saturday night and you'll see), they're doing just fine.
If the word "vegetarian" makes you think Dirt Candy serves dishes you eat only because they're good for you, you're sorely mistaken. One bite of the buttermilk-battered cauliflower, or the tomato cake stuffed with smoked feta, complemented by an herb puree, and you'll taste the difference. This vegetarian fare is pure comfort food, and not for calorie counters.
Cohen wants to change the stereotype of vegetables as boring diet food and elevate them to something luxurious – a satisfying treat.
"The vegetarian movement is so rooted in diet and philosophy – not necessarily taste," she explained. "Meat-eating focused on taste, luxury and desire. People stopped focusing on vegetables and relegated them to side dishes because they weren't sexy. Steak and sushi? Yeah, they're sexy. But a carrot? Not so much. It takes work, but it can be done."
Now Cohen is sharing her secrets for taking vegetables to whole new heights, in her recently released "Dirt Candy" cookbook. The book is unique in that it's also a graphic novel that tells the story behind the restaurant and conveys the frenzy of opening an eatery in New York City.
Cohen says the goal of the cookbook was to make the restaurant's recipes easy and accessible for the home cook.
"We managed to really break up the recipes into different components so you don't have to feel overwhelmed by it – you can leave parts out," she said. "We have techniques you haven't seen in other cookbooks – the things that elevate vegetables on the plate to 'Oh, I didn't know a carrot could taste this way!' We've discovered some amazing things like juicing, hydrating and playing with the oven temperature."
Cohen is helping usher in a vegetable renaissance, and says she's just "having so much fun playing with them." Try the recipe for one of her most popular (oh-so-mouthwatering) dishes – roasted carrot buns with carrot and cucumber ginger salad. And remember, you can make or leave out components as you wish!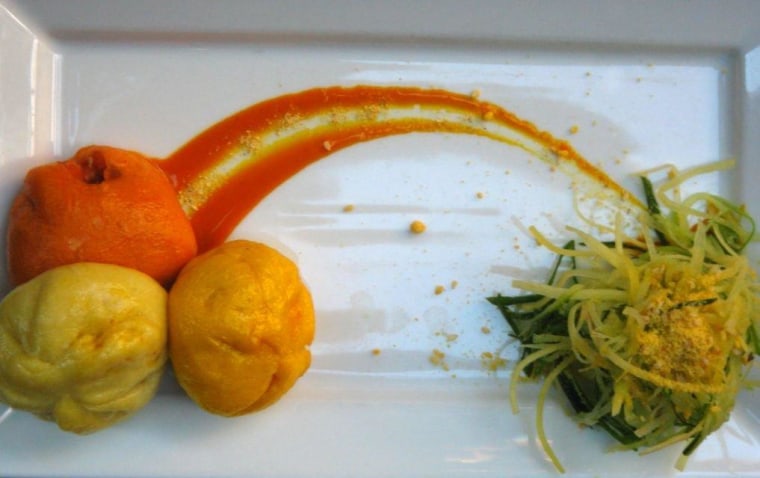 Roasted carrot buns with carrot and cucumber ginger salad
Carrot buns + Carrot and Cucumber Salad (recipe follows) + Carrot Halvah (optional, recipe follows) + Carrot Hoisin Sauce (optional, recipe follows)
Makes 25 buns plus 2 extra batches of filling
BUN FILLING
4 cups diced carrots
2 cups carrot juice, plus more as needed
¼ cup vegetarian oyster sauce
1 teaspoon fresh lime juice
2 tablespoons dark brown sugar
2 tablespoons rice wine vinegar
1 tablespoon plus 1 teaspoon extra-virgin olive oil
1 tablespoon plus 1 teaspoon toasted sesame oil
2 teaspoons shoyu or soy sauce
1 teaspoon hot sauce
Salt
¼ cup sesame seeds
1 teaspoon chopped garlic
1 teaspoon chopped peeled fresh ginger
1 cup diced seeded hothouse cucumbers
½ cup sliced scallions
¼ cup chopped water chestnuts
BUN DOUGH
300 grams cake flour (see Note)
3 grams baking powder
3 grams instant yeast
30 grams white sugar
160 milliliters carrot juice
15 grams extra-virgin olive oil, plus more for bowl
(Note: The bun dough recipe is measured in metric for accuracy.)
1. To prepare the filling: Preheat the oven to 425°F.
2. In an 8-inch-square or other small baking dish (as small as possible), combine the carrots, carrot juice, oyster sauce, lime juice, brown sugar, vinegar, 1 tablespoon olive oil, 1 tablespoon sesame oil, shoyu, hot sauce, and 1 teaspoon salt.
3. Bake until the carrots have softened and browned on the outside, about 1 hour, stirring every 15 minutes. If after an hour there's a lot of liquid in the pan, drain off and reserve the liquid, and then crisp the carrots in the oven for 5 more minutes. Older carrots are drier and will soak up the liquid, but fresher carrots will release additional juices of their own. Remove from the oven and set aside.
4. In a dry pan over medium heat, toast the sesame seeds until light brown, 5 minutes. Set aside to cool.
5. In a large pan over medium heat, soften the garlic and ginger in 1 teaspoon olive oil and 1 teaspoon sesame oil. Add the carrot mixture and cook until the oil starts to bubble, about 3 minutes. Add the cucumbers, scallions, water chestnuts, and any reserved cooking liquid. If your carrots didn't have a lot of liquid and the pan looks dry, you can add some carrot juice to the pan at this point to get the mix juicy looking.
6. Bring the mixture to a simmer and immediately remove the pan from the heat. It should be a rich orange-brown color. Salt to taste. Set aside to cool to room temperature. The filling can be covered and refrigerated for up to 5 days or frozen for up to 2 months. Return the filling to room temperature before you fill the buns.
7. To prepare the dough: In a food processor fitted with the dough-blade attachment, combine the cake flour, baking powder, yeast, and sugar. Pulse a few times.
8. Turn the food processor to normal speed, and slowly pour in the carrot juice. Gluten strands will form and the dough will come together in a ball. Slowly pour in the olive oil. Continue to process for 3 to 5 minutes as the dough comes together into a ball and then breaks open.
9. Touch the dough; it should feel hot and sticky. If it does not, then let it mix longer. This has activated the yeast. (Normally yeast is pre-activated in a bowl of warm water, but this recipe activates the yeast in the dough itself!)
10. Oil a bowl and form the dough into a ball as you move it from the food processor to the bowl. Cover with plastic wrap and draw a circle on the plastic that's the same size as the dough. Cover it with a towel and stick it in a warm, dry place for 1 hour. Check the circle. Has the dough doubled in size? If so, it's activated. If it didn't activate, you can't save it. Throw it out and start over.
11. Punch the dough to get rid of air. Divide it into about 25 .7-ounce balls. Roll each ball into a small disc about 2 inches in diameter. Put slightly less than 1 tablespoon of filling into the center of each.  Pinch four small pleats into the dough. While holding in the filling with your finger, fold each corner to the center and then pinch them together with a half-twist. Fold over to seal. Cut small squares of parchment paper and place one under each bun. Cover with a towel. Let rise for 30 minutes.
12. Prepare a steamer. Working in batches, steam the buns for 15 minutes.
13. Remove the buns from the steamer and serve immediately, or let cool completely. When ready to serve, steam again for 6 to 10 minutes.
14. To serve: Carrot Buns should be served hot. Steam or re-steam right before serving. Carrot Hoisin Sauce can be streaked or served in a ramekin on the side for dipping. Carrot and Cucumber Salad to add freshness and texture. Carrot Halvah scattered over the salad for texture and to reinforce the carrot flavor. It makes the salad a lot more interesting.
Carrot Hoisin Sauce
Makes ½ cup
1 cup carrot juice
1 teaspoon extra-virgin olive oil
1 teaspoon toasted sesame oil
1 teaspoon chopped peeled fresh ginger
1 teaspoon chopped garlic
¼ teaspoon crushed red pepper flakes
¼ cup hoisin sauce
2 teaspoons cornstarch
Salt
1. In a small pan over medium heat, reduce the carrot juice to ½ cup, about 15 minutes.
2. In a clean, small pan over low heat, add the olive and sesame oils, ginger, and garlic, and cook for 2 minutes. Add the red pepper flakes and cook for 3 more minutes. Add the hoisin sauce and reduced carrot juice and whisk to combine.
3. Bring to a simmer and whisk in the cornstarch. When bubbles start to form, remove the pan from the heat, pour the sauce into a blender, and mix until smooth. Salt to taste and let cool. Use immediately or cover and store in the fridge for up to 1 week.
Carrot Halvah
Makes 3 cups
¾ cup sesame seeds
6 tablespoons carrot juice
¾ cup tahini
½ cup plus 2 tablespoons sugar
1. In a dry pan over medium heat, toast the sesame seeds until light brown, about 5 minutes. Let cool.
2. In a pan over low heat, cook the carrot juice until it reduces to 3 tablespoons, about 15 minutes.
Remove from the heat and let cool.
3. Put the tahini in a heatproof bowl. In a small pot over very low heat, heat the sugar and reduced carrot juice until the mixture reaches 275°F on a candy thermometer. The mixture should be golden orange, not brown. If it turns brown, it's ruined and you must begin again. Immediately transfer the syrup to the tahini bowl. Quickly mix with a spatula and then immediately pour in the sesame seeds. Keep stirring until fully incorporated and clumps form.
4. Set aside and let cool. Keep covered in a cool, dry place for up to 1 month.
Carrot and Cucumber Salad
Serves 4
2 cups julienned white carrots
2 cups julienned seeded hothouse cucumbers
¼ cup thinly sliced scallion
2 teaspoons finely julienned peeled fresh ginger
2 tablespoons toasted sesame oil
3 tablespoons fresh lime juice
Salt
This cooling summer salad is all texture and it goes best with the Roasted Carrot Buns or any other dish with rich flavors that need a clean, crisp taste to balance them.
In a large bowl, gently toss together all of the ingredients, salting to taste. Serve.
More from TODAY Food: