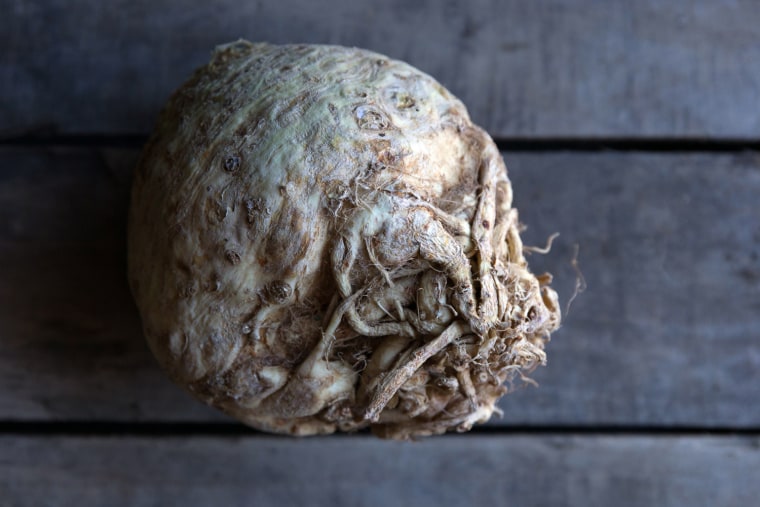 Despite its name, celery root — or celeriac — isn't actually the root of celery, but simply a relative. Adding to the confusion, celery root has a refreshing flavor that's similar to celery. But unlike the crispy, crunchy stalks, celery root has a starchy, creamy white flesh underneath its knobby, brownish skin. Cooking brings out celery root's sweetness and this versatile veggie can be roasted, baked, boiled and mashed or used in soups and stews. It can even be grated raw and tossed into salads and slaws, as in France's famous mustard- and mayonnaise-dressed céleri rémoulade. Celery root greens are also edible and can be sautéed or added to soup or stock. Read on for more on celery root, including advice for shopping, storage and prep.
Give root vegetables the raw treatment
How to shop for celery root
Select small, firm celery root that feels heavy for its size. The skin will never be that smooth, but for ease of preparation, seek out celery roots that have fewer rootlets and nooks and crannies.
Celery root is sometimes sold with its stems and leaves still attached. Make sure these look fresh and not at all wilted or slimy.
How to store celery root
Wrap celery root loosely in a plastic bag and store it in the crisper drawer of the refrigerator; it should last one to two weeks.
Remove any stems and leaves before storing celery root. These can be wrapped in a plastic bag with a paper towel and refrigerated, but they won't last nearly as long as the celery root.
How to prep celery root
Celery root can trap dirt in its uneven skin, so give it a good rinse before you do any other prep. Celery root greens can also be quite dirty, so be sure to give them a thorough washing.
Use a large, sharp knife to cut off the root end. You'll likely end up chopping off the bottom third of the celery root and in order to remove all of the roots, you may need to trim some of the sides off as well.
If the skin is thin enough, use a vegetable peeler to remove it. For thicker skin, use a paring knife or even a chef's knife. You'll know the celery root is ready when all you see if perfectly clean white flesh.
If you don't plan to use your peeled celery root right away, rub it with lemon or place it in water with some lemon juice to prevent discoloration.
Celery root recipes
Crab cake with celery root salad and herb mustard sauce