If the aroma of coffee seems especially sweet this week, it's because it's free. Well, some of it is.
Wednesday, Sept. 29 is National Coffee Day, and plenty of our favorite chains, cafes and online retailers are dishing up the deals. From free cups of coffee to big discounts on beans, brew and even coffee subscriptions, there are more than enough ways to cash in on some extra caffeine.
So take a look online, stop by your favorite coffee shops and savor this special day.
Barnes and Noble
The nationwide bookstore's cafe serves up Starbucks coffee and has a fun freebie for National Coffee Day. With the purchase of any item from the bakery case, folks can get one free hot or iced tall coffee. All you need to do is pop in the store to enjoy the deal.
Biggby Coffee
The Michigan-based coffeehouse with nearly 250 locations will give its customers a free 20-ounce hot or iced coffee all day on Wednesday with any purchase.
Bulletproof
The coffee company that became known for its rich and creamy butter coffee is celebrating the holiday with 30% off its entire website leading up to National Coffee Day and continuing through Friday. Shoppers can also receive free shipping on any orders of $35 or more so they can stock up on Bulletproof's famous Brain Octane C8 MCT Oil, dark roasts, original creamers and more.
Chameleon Organic Coffee
Now through Wednesday, win a prize bundle of coffee and coffee-themed merchandise (cold brew glassware, t-shirts and more) through this coffee brand's sweepstakes. To enter, follow @chameleoncoffee on Instagram, tag a friend in its sweepstakes post in the comments with #ChameleonSweepstakes.
Circle K
The international convenience store and gas station will offer a free hot or iced coffee of any size to customers at all its participating stores on National Coffee Day. To redeem a freebie, just text "FREE" to number, 31310, and present the coupon at checkout.
Defy
This Black, veteran and woman-owned brand combines 80 milligrams of caffeine from green coffee beans with an immune-boosting blend electrolytes, elderberry and beet root to craft its Defy Boost drink. It's gluten, soy and dairy-free recipe is a great option if you're looking to cut down on drip coffee (or have already had your fill from the freebies on this list). To add an extra boost to your morning, mid-day or pre-workout routine, enjoy 25% off the enter order by using the code DEFYTODAY at checkout online.
Dunkin'
Last year, the international chain asserted its National Coffee Day dominance by proclaiming Wednesday "National Dunkin' Day." While they're still offering free coffee for this year's holiday, it's not as easy as waltzing up to the register. To redeem a a free medium hot or iced coffee with purchase on Wednesday, customers will have to become members. To do so, just download the DD Perks rewards app and you'll be official.
Grounds and Hounds Coffee Co.
This organic, fair-trade online coffee retailer is offering 20% off all of its products sitewide and 25% off its coffee subscriptions now through Thursday night. Just enter the code COFFEEDAY20 at checkout. Anyone that spends $75 or more will also receive an additional free surprise gift. An added bonus of supporting this online coffee company is that it was founded to support dog rescues and donates 20% of its purchases to organizations that help furry friends.
Krispy Kreme
What goes better with free coffee than a free doughnut? In addition to its year of ongoing freebies to customers who show proof of vaccination, the national chain will also will offer its rewards members one free coffee and doughnut all day in stores on Wednesday. Make sure to download its app online before heading in.
MAPCO
This regional gas station chain wants customers to "espresso themselves" (their words) with a complimentary 16-ounce coffee, for all guests — no coupon or app needed. Folks who do sign up for th the MAPCO rewards program through the app, can continue to enjoy one free coffee on weekdays from 5 to 8 a.m. through Nov. 8 at its 350 stores in Tennessee, Alabama, Georgia, Arkansas, Virginia, Kentucky and Mississippi.
Nescafé
The international coffee brand is awarding a few lucky customers with the ultimate prize pack, which includes a year's worth of instant coffee and two signature red Nescafé mugs. To enter, follow @nescafelatino on Instagram and tag a friend in the comments section of its Sweepstakes post with #MomentoNescafe and #sweepstakes.
Panera Bread
The big chain known for its coffee and pastries, soups and mac and cheese wants to honor some of its most tired customers: parents. Just let the cashier in store or at the drive-thru know you're a parent or caregiver and receive free coffee all day. Yes, return coffee drinkers are welcome! Want to keep ongoing coffee refills on-hand all day. Head to the restaurant's sweepstakes website on Wednesday for a chance to also win its Jump Start Jug — a giant vessel designed for a gallon coffee.
Peet's Coffee
Stop by a Peet's cafe in-person or online to enjoy 25% off fresh beans, K-Cup pods and espresso capsules for National Coffee Day. Anyone who has the Peetnik Rewards app, can also enjoy $0 delivery through the app on Friday.
Pilot Flying J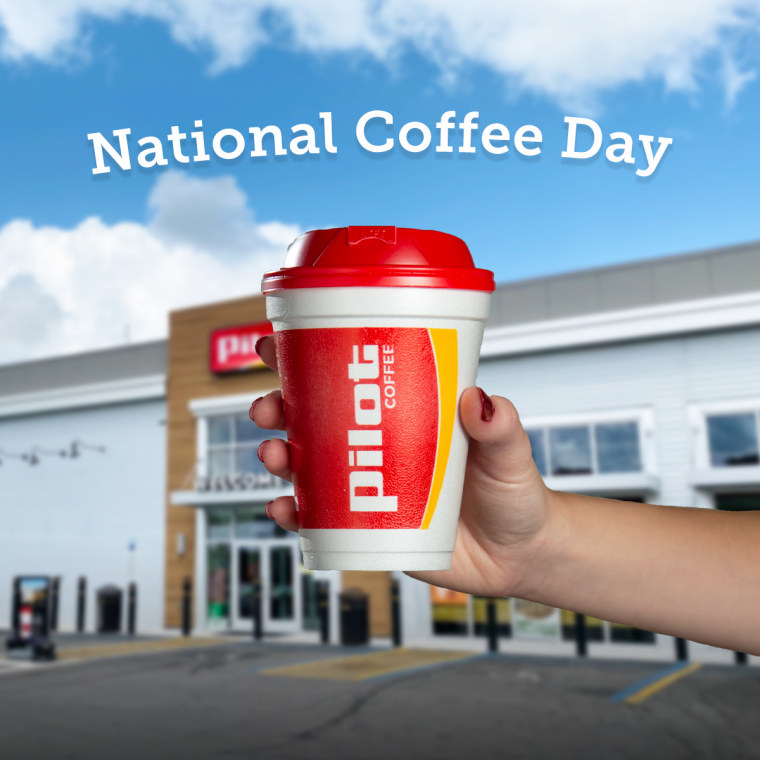 This roadside gas station and convenience store with more than 650 locations will give away free hot or cold Pilot J coffee of any size all day on Sept. 29, including specialty drinks like Vanilla Cold Brew. Just download the Pilot Flying J app online to redeem the freebie.
Super Coffee
Now through Thursday, this coffee brand is offering 20% off select variety bundles. The bundles range from pre-made canned coffee drinks to bagged coffee grounds and super pods for quick cups of hot Joe. The discount will be applied automatically with purchases online, via Amazon or in stores at Target, Whole Foods, Walmart, Kroger, CVS and more.
Tim Hortons
The Canada-based coffee shop with locations around the U.S. will celebrate National Coffee Day from Monday, Sept. 28 through through Oct. 26. Guests can purchase any size hot or iced coffee for $0.99 through the Tim Hortons app or website.
Related: