Formerly famous just for its clam chowder, a California restaurant is now drawing attention for its policy of not allowing "crying children" or kids making "loud noises."
Old Fisherman's Grotto, in Monterey, California, makes no secret of its Children's Policy — it's on its web site, and clearly displayed in the restaurant. It's been in place since 2011, but recently started drawing both ire and praise after one diner recently snapped a photo of it and posted it on Yelp.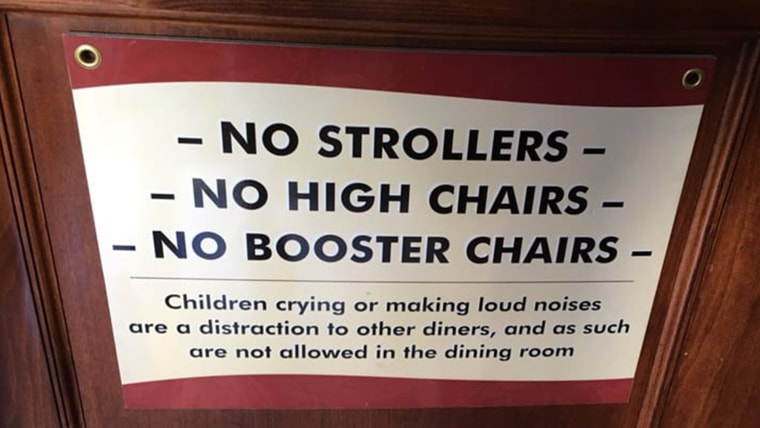 "Best sign ever," wrote reviewer Eric S. Since then, the local TV news stopped in, and the seafood restaurant has been getting loads of feedback for its policy, which reads: "No strollers. No high chairs. No booster chairs. Children crying or making loud noises are a distraction to other diners, and as such are not allowed in the dining room."
The no-stroller part actually started in 2009, for the "safety of our staff and guests," as the dining room is relatively small, making it a challenge to maneuver around, according to the restaurant.
To give regulars an "alternative place to eat on Fisherman's Wharf that has a quiet atmosphere," Old Fisherman's Grotto adopted the rest of the policy in 2011.
Still, the restaurant says, "We welcome families with children and we serve many every day, we only ask that they abide by our rules."
"Loud children" seems both hilariously redundant and subjective at the same time — so, of course, the wording was bound to stir up feelings on the Internet.
"I support your child-free/no screaming kids policy! The irony of these self-centered parents complaining is that THEY are the reason this exists in the first place," wrote Yelp reviewer Jenni B. "EVERYONE is tired of having their meal ruined by a screaming kid and apathetic, inconsiderate, indignant parents who refuse to do anything about it."
Hilariously, even some parents of small kids totally got behind it:
The policy hasn't gone totally unnoticed in the past, either — an "Old Fisherman's Grotto Boycott" Facebook page has been around since 2014, with a meme that reads: "I never was a child."
On Father's Day a few years aback, another diner posted about her family's disappointment for being refused service due to their toddler in tow.
One Bay Area reviewer couple, Abdullah And Sabrina A., who gave the restaurant one star this April, wrote on Yelp that they wished they could have given a 0 star rating based on the sign.
"If this sign said, 'No women, No African-Americans, No Asians'...would you feel different? It's all the same: discrimination."