As people look for healthier alternatives to white flour and simple carbohydrates, cauliflower is having a major moment.
This versatile veggie has been popping up everywhere from tacos to stir fry — and even in our macaroni and cheese. And while cauliflower pizza crust has been around for awhile, you usually have to make the pizza at home. But early next year, that's about to change.
In 2018, California Pizza Kitchen is making its own version of a cauliflower pizza crust a permanent addition to their menu nationwide — and they'll be the first major restaurant chain to do so.
The new crust is vegetarian and it's made with "a custom blend of cauliflower, mozzarella cheese, rice flour, herbs and spices," according to the brand. It will run you about 90 calories per slice, with 14 grams of carbs. By comparison, a slice of pizza made with the chain's classic hand-tossed crust is about 97 calories and has just over 21 grams of carbs.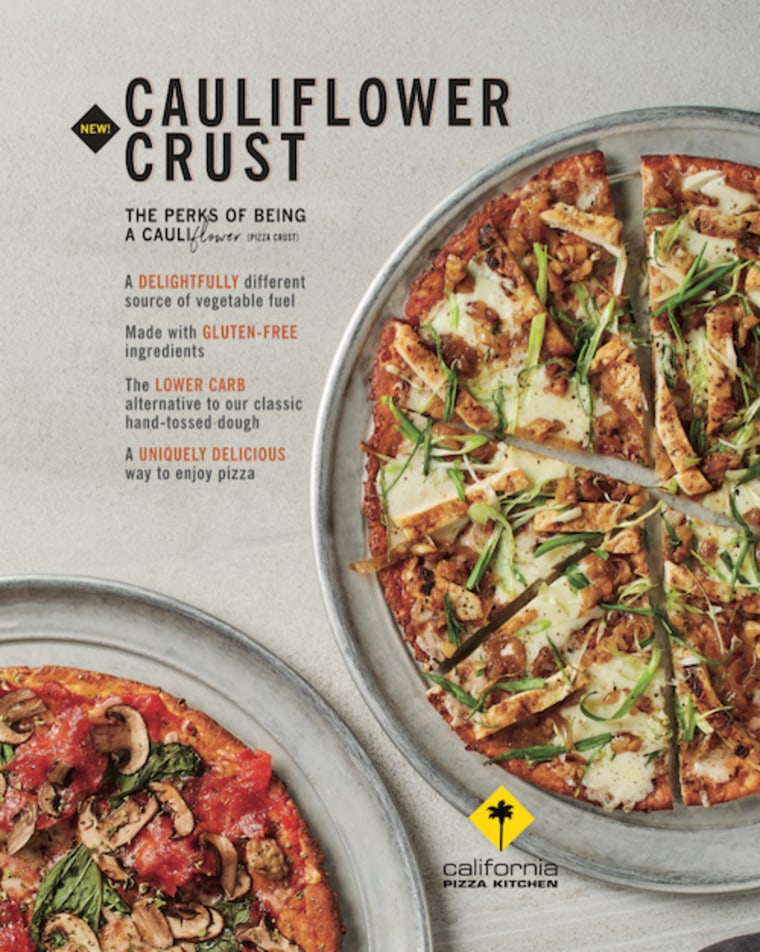 In 2013, CPK introduced its first gluten-free pizza crust made with rice flour, along with four gluten-free pizzas prepared using procedures approved by The Gluten Intolerance Group (GIG). The four pizzas (which are all made with certified gluten-free ingredients) include the chain's Original BBQ Chicken Pizza, Pepperoni Pizza, Mushroom Pepperoni Sausage Pizza and the Margherita Pizza.
The cauliflower crust, which a CPK representative says will rollout nationwide in early 2018, can be ordered on any CPK pizza for an additional charge. Due to "current kitchen space," however, the representative says only the four varieties listed above can be prepared using GIG's certified procedures, so if you have a severe gluten intolerance, simply swapping the crust for the rice flour version or cauliflower version for any pizza won't necessarily make the pizza free of gluten.
The cauliflower crust is available right now at select southern California CPK locations but when it rolls out nationwide next year, it will be available as an add-on for an extra $2.50.