When it comes to high-end Cabernet Sauvignons — I have tasted quite a few from California lately — I am looking for intensity yet balance; great, ripe fruit yet elegant restraint, a wine that is deep yet uplifting. The best of them are complex but not too challenging. Even in their youth they should be approachable. Who likes to spar with a wine, after all? In a word, I like my Cabernets to be charming.
One wine that embodies all of this is the 2000 Piña Napa Valley from Piña Cellars. This $48, limited production Cab — it is the only wine offered by Piña — may well set a standard for Cabernets in this price range. I hadn't heard of it before a sample arrived for review not long ago.
Wanting to know more about Piña, beyond the fact that there are four brothers whose signatures are on the label, and that the fruit comes from the famed Howell Mountain area of Napa, I decided to "Google" Piña Cellars. The search yielded a mere 56 results. Clearly, Piña hasn't yet made it into the wine mainstream, if, in fact, that is even the aim. But, if the 2000 Cab is a gauge, that will be an option if the brothers, Davie, Ranndy, Larry and John, want it.  The wine is gorgeous.
The bottle points out that the Piñas have been "growing grapes and making wines for over five generations." Curious then, that the Piña Web site, www.pinanapavalley.com, reveals that the family bought its Howell Mountain property only in 1996 and began planting Cabernet Sauvignon.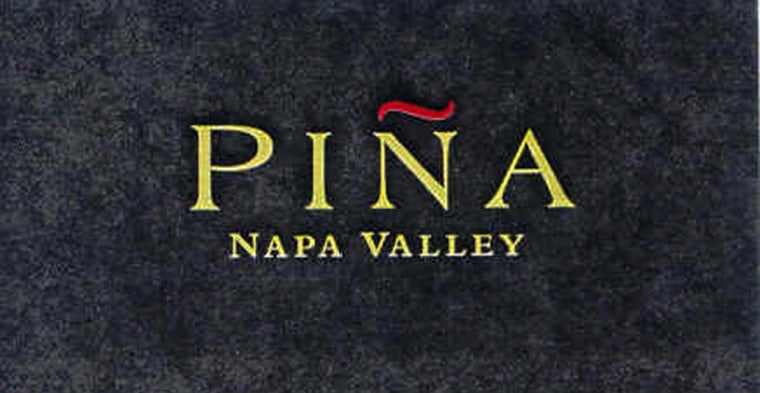 The Piñas, it turns out, are well known for their vineyard management business, developing vineyard properties, planting vines and growing and harvesting grapes for others. They started a winery back in 1976 but decided in the '80s that selling wine was taking up too much of their time.
Fast forward to 1996. The original plan was to sell the grapes from the Howell Mountain property, which they called Buckeye, but the Piñas were disappointed in the wines that others were making from their fruit. They thought they could do better. "When they saw the quality of the fruit, they decided it was time to get back into the wine business," said Jason Donoho, a spokesman. And they did, with the help of Cary Gott, a prominent Napa winemaker whose family has left its imprint on the California wine landscape for decades.
The 2000 is their first vintage. It is characterized by concentrated, ripe blackberry, with secondary notes of blueberry, well-integrated toasted oak and cedar and a touch of vanilla. It is a beautifully balanced, not overpowering and accessible wine that I enjoyed with grilled steak, baked potatoes and the season's first Brussels sprouts. It will continue to age and develop for some years.
Production was 337 cases and will increase to 500-600 cases as successive vintages are released. The Buckeye vineyard, however, is only six acres, which will obviously limit growth.  With its Cabernet, Piña shows just why smaller is often better and what can be done with great fruit and careful winemaking.
For now, the wine is available from the Piña winery in Rutherford and can be shipped to some states. The Piñas have just signed on a New York distributor, and there are plans to place it in some other major markets. For more information you can visit their Web site or call the winery at 707-944-2229.
Edward Deitch's wine column appears Thursdays. Write to him at @hotmail.com.