Food inspiration can come from anywhere. Dublin resident Vicky McDonald, who works in TV production by day and is a food blogger by night, brought together two of her loves to create the Rubik's Battenberg, a cake in the likeness of the '80s Rubik's cube. On her blog, Stasty, McDonald outlined the tedious process of creating the cake, which she made with her partner:
Battenberg cakes are constructed of rectangular pieces of alternatively coloured Victoria sponge cake, sandwiched together by jam and held together with walls of Marzipan. We decided that the different pieces of cake could be dyed the traditional six colours of the Rubik's cube – white, red, blue, orange, green and yellow. Then to make the cake a little more Rubik's like, we decided to have each slice of the cake reveal a different combination of coloured squares, just like a Rubik's cube. To achieve this, we cut the coloured rectangles of sponge into different lengths. This was definitely a case where I needed the engineering mind of my other half to figure out the maths of this cake.
But the work was worth it, considering she gained an unexpected fan – Rubik's cube creator, Ernő Rubik himself!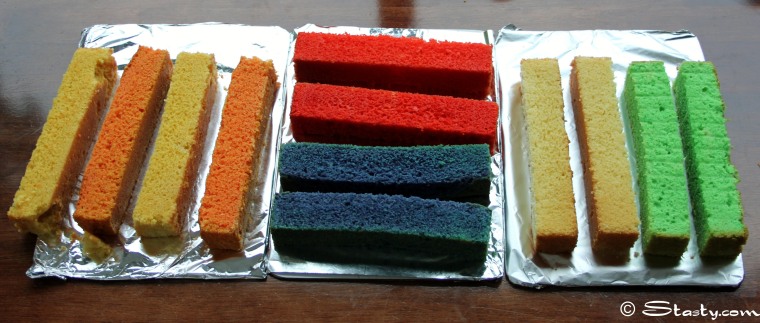 "Thanks for the nice birthday surprise which sweetens the bitterness of passing time," Rubik wrote her in an email.
McDonald was thrilled. "When I started out making this cake, I never in my wildest dreams thought that it would come to attention of the inventor of the Rubik's cube," she told TODAY.com. "I was so excited and surprised to get an email from Ernő Rubik saying that he liked my cake. The cake took a whole day to make but this alone made it all worthwhile."
That brain-busting toy is near and dear to her.
"The Rubik's cube always brings me back to a time of joy and wonder. It's hard to imagine kids today being as fascinated as I was by such a simple but clever toy," she said. "I wanted to make a cake that epitomized this ingenious and timeless invention. I knew it would have to be a clever cake that would make you question how it was made. This cake has captured people's imaginations and brought smiles to their faces. I think this would make a great birthday cake for any big '80s children out there."
Have an '80s obsession and several hours of free time? Throw on some Devo, grab a pack of Pop Rocks for good measure and get to whipping up your own edible Rubik's cube.  
Related content: