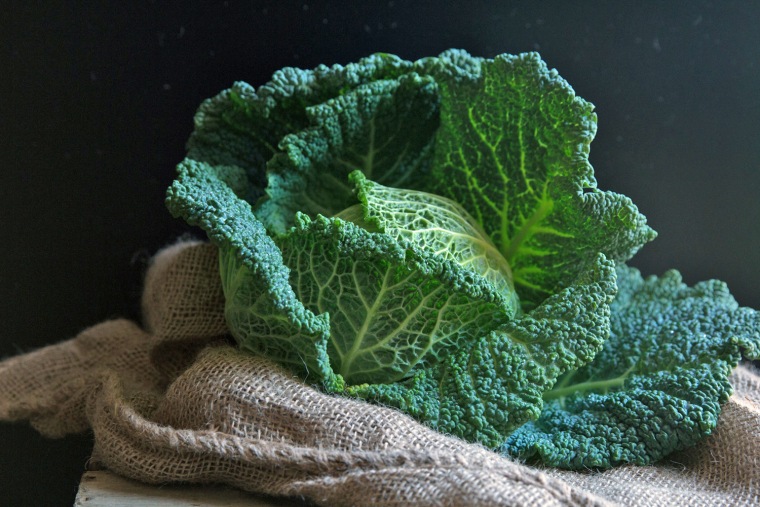 While not the most popular of vegetables, cabbage is hearty, versatile, inexpensive and good for you. It's a cruciferous vegetable — meaning it's in the same family as nutritional powerhouses broccoli, kale and Brussels sprouts — and used in a wide variety of dishes from around the world, including German sauerkraut, Korean kimchi, America coleslaw and the stuffed cabbage rolls enjoyed throughout Eastern Europe. Read on for tips on shopping for, storing and prepping cabbage.
Get everything you need to cook in season for fall!
How to shop for cabbage
There are three main types of cabbage: green, red and Savoy. Both Green and red cabbage have smooth leaves and a crunchy texture, while Savoy cabbage has ruffled leaves and a more tender texture. It's also milder in flavor.
Look for cabbage that feels firm and dense. The leaves should be shiny, crisp and colorful without bruises or cracks.
It's better to buy whole heads of cabbage rather than pre-cut sections, because once cabbage is cut, it starts to lose its vitamin C content.
How to store cabbage
Store whole heads of cabbage in a plastic bag in the refrigerator, preferably in the crisper. Savoy cabbage will keep for about a week, while red and green cabbage will last two weeks or even longer.
If you need to store part of a head of cabbage, wrap it tightly in plastic wrap and place it in the refrigerator; it should keep for a few days.
How to prepare cabbage
Always remove and discard the tough outer leaves of cabbage. Next, cut the head of cabbage in half through the core. If you're making a dish like coleslaw, remove the core by making V-shaped cuts on both halves, then slice the cabbage. If you're braising or roasting cabbage wedges, it can be easier to leave the core intact and just trim the bottom of the core before cutting the cabbage into wedges.
The inside leaves of a head of cabbage are likely fairly clean but you may still want to rinse them under cold running water. It's easier to cut cabbage into smaller pieces before washing.
More great cabbage recipes and ideas
Slow-Cooker Corned Beef and Cabbage
Cantonese-Style Shrimp and Napa Cabbage
Pork Chops with Bacon and Cabbage
Make a 'super' bowl out of a cabbage
Lauren Salkeld is a New York-based writer, editor and recipe developer. She's the cookbook columnist for Tasting Table and has written for Food & Wine, Rodale's Organic Life, Epicurious and Gourmet.