If you're looking to satisfy a growling stomach and avoid afternoon sleepiness with just a few mouthfuls of peanut butter, a Massachusetts-based company feels it has you covered.
A company called Steem has created caffeinated peanut butter that packs about the equivalent of two cups of coffee into two tablespoons of peanut butter using only a handful of ingredients. Steem hopes that you'll replace that second cup of coffee with just a few scoops of its peanut butter.
"It came from my pure love of caffeine and peanut butter, really,'' co-owner Chris Pettazzoni told TODAY.com. "They are two things I already want anyway. We know we're not going to pry that first cup of coffee out of people's hands, but maybe the second or third one. It's way more efficient, and we think you're taking in less caffeine because of how long the peanut butter is staying in you."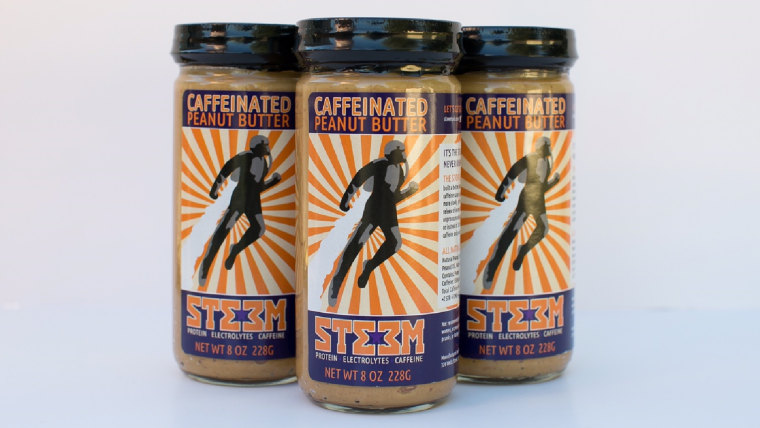 The product is made of peanut oil, salt, peanuts, and agave nectar, with a green-coffee extract mixed in for the caffeine. It's not recommended for children, considering most parents wouldn't be thrilled with their sons or daughters bouncing off the walls after their peanut butter and jelly sandwich. There also is an explicit warning not to feed it to animals, because many domestic pets such as dogs and cats cannot properly digest caffeine, which can lead to serious medical problems.
Pettazzoni and co-owners Keith Barnofski and Andrew Brach came up with the idea about three years ago while trying to brainstorm cures for hangovers. The local Franklin County Community Development Center near the company's headquarters in Greenfield, Massachusetts, helped them wade through the numerous regulatory requirements for products with caffeine before the company officially launched about a year and a half ago.
The jars sell for $4.99 on their website and also are sold in stores in western Massachusetts as well as in a handful of stores and gyms in California, Florida and Arizona. The product has caught on with the CrossFit crowd, according to the owners, in addition to some coffee shops.
"People are always nervous about new caffeinated products, especially food products, because they are comfortable drinking their caffeine and not eating it,'' Barnofski told TODAY.com. "It's something they've never seen before or never thought of before, so they almost think it's not real, but then they taste it and become a believer."
Follow TODAY.com writer Scott Stump on Twitter.