It's a quandary most candy lovers have faced at one time or another: Am I in the mood for a confection that's crunchy like a Butterfinger or creamy like a Reese's cup? Thanks to Butterfinger Peanut Butter Cups you no longer have to choose between the two textures. 

Nestle's newest variation of the Butterfinger has a creamy, crunch-flecked filling covered in that classic milk chocolate. They're sweeter than you might imagine — more akin to a softer Butterfinger than a revamped peanut butter-flavored cup, but it's an option for those who want a little crunch in their peanut butter cup.
While the Butterfinger Peanut Butter Cups don't hit stores until January 2014, TODAY.com got a sneak preview. Reviews in TODAY.com's office taste test were mixed (as usual). Some staffers were less impressed by what they deemed to be just a "mushy Butterfinger," while others appreciated the sweeter, crunchy cup. The truth is, if we had more, they'd be annihilated be in seconds. 
While most of us felt that the peanut butter flavor gets a bit lost in the sweetness of the Butterfinger, Nestle says they arrived at the perfect ratio of creamy to crunchy after a series of consumer tests.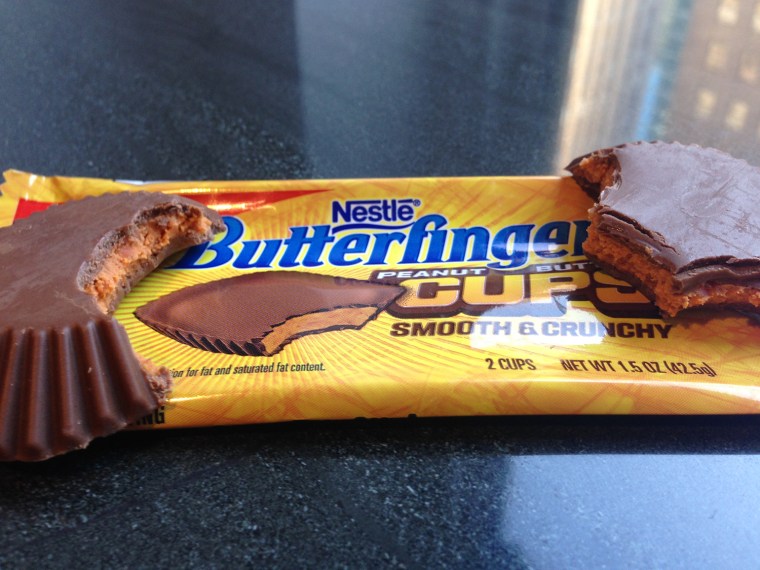 "We did numerous rounds of consumer testing to understand just what that right ratio of Butterfinger to peanut butter flavor was," a spokesperson told TODAY.com. "The ratio we landed on was the winner — it's got just the right amount of crunchy pieces mixed in."
Will this derivative candy be enough to dethrone Reese's Peanut Butter Cups from their coveted position as one of the top three chocolate candies on the market? Only time will tell. Nestle is certainly investing in the candy's future: It will make its television debut in an ad airing during Super Bowl XLVIII. 
After all, Nestle knows that few people can resist the delectable combination of peanut butter and chocolate in a cup.
"America's favorite flavor combination is peanut butter and chocolate, and consumers are very familiar with the cup form for enjoying chocolate and peanut butter," a spokesperson said.