You may have noticed that I don't talk a lot in this space about chardonnay, and there's a good reason for that.  To borrow a simple but effective expression from my nine-year-old: "B-O-R-I-N-G."
Not that I'm one of those ABC (Anything But Chardonnay) people.  I actually love chardonnay that's original and distinctive and not weighted down by its own oak, chardonnay that's crisp and lively, shows delicious fruit and gives a sense of where it was grown.
But much of what I taste, especially (but not always) on the inexpensive end, is dull and generic, particularly (sorry to say) from California. 
There is, of course, nothing like good white Burgundy, with its fabulous fruit, minerals and seamless integration of wood.  But for budget-minded wine drinkers, who can afford Burgundy on a regular basis?
The best solution I've found in quite some time comes from Jean Rijckaert and his charming 2004 Chardonnay from Arbois.  It's around $12 or so, and you'd be hard pressed to find a better chardonnay for that money.
"Arbois?" you ask.
A look at the map of France reveals that the town is to the east of Burgundy in Jura, one of France's smallest wine regions and a source of some excellent wine values.  The Flemish Rijckaert (pronounced ray-cart) made his name in the Mâcon area of southern Burgundy and still makes most of his wines there.
But he also recognized the potential of Jura, which borders Switzerland to the east, for first-rate chardonnay, and this one from the Arbois appellation amply supports his instincts.
Actually, Rijckaert produces half a dozen or so chardonnays in the region. 
But this one marks the first time he has offered a wine this inexpensive, and it's a steal.  The fruit, not surprisingly, is from purchased grapes (Rijckaert also owns vineyards in the region).  The bottle comes with a screw cap (also a first).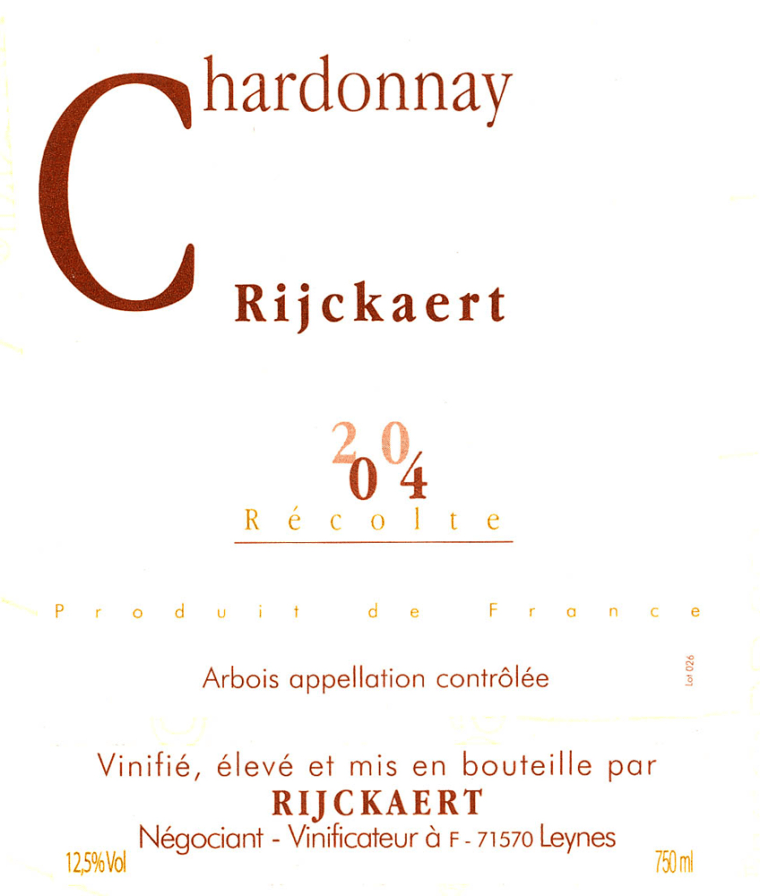 This is chardonnay, to borrow a phrase, the way I like it.  It's lively and lean, with beautiful fruit, including pear and lime, as well as minerals (limestone is the dominant soil type) and light toast from subtle — emphasis on subtle — use of oak.  The wine is nice on its own and will pair well with simple chicken, pork and fish dishes.
It brought to mind the renewing quality of wine.  Just when you've grown tired of the same old thing, a new and distinctive wine emerges, like this one, which reminds me of a simple but classy white Burgundy (a Chablis,
perhaps) but without the price.  From slightly off the beaten path, this is chardonnay to buy by the case.
Edward Deitch's wine column appears Wednesdays. He welcomes comments from readers. Write to him at EdwardDeitch