After tasting and loving Burger King limited-edition black-bun Halloween Whopper in October 2015, I practically skipped 10 blocks to the closest location near 30 Rock for a taste-test preview of the Angriest Whopper, the latest iteration of the burger that launches on March 31.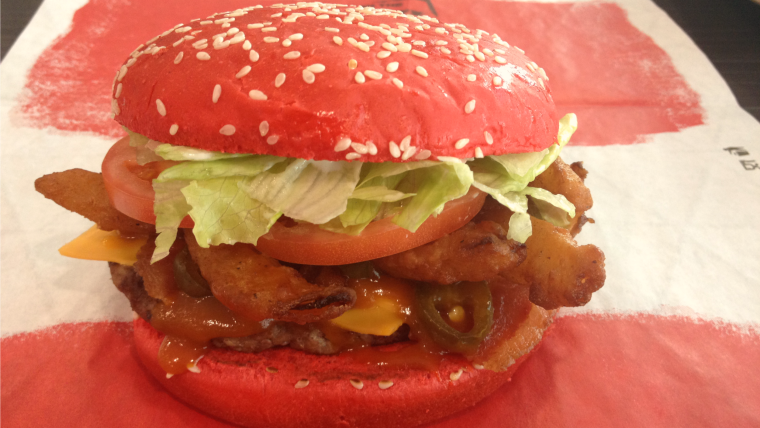 The most arresting feature of the sandwich is its bright red bun that's flavored with hot sauce and sprinkled with white sesame seeds. Instead of the usual Whopper fixings, the burger is loaded with melted American cheese, bacon, battered and deep-fried onion strips, slices of pickled jalapeño, iceberg lettuce, tomatoes, mayonnaise and spicy-sweet "angry" sauce.
If you're a dedicated BK fan, the Angriest Whopper's toppings may seem familiar because it's an update of a previous limited-edition sandwich called the Angry Whopper. That burger was topped with pepper jack cheese instead of American and had a plain bun. I'm guessing that it probably was formulated to be less spicy — or "angry" than the Angriest Whopper.
So, the big question: did the Angriest Whopper light up my life with its incendiary flavor?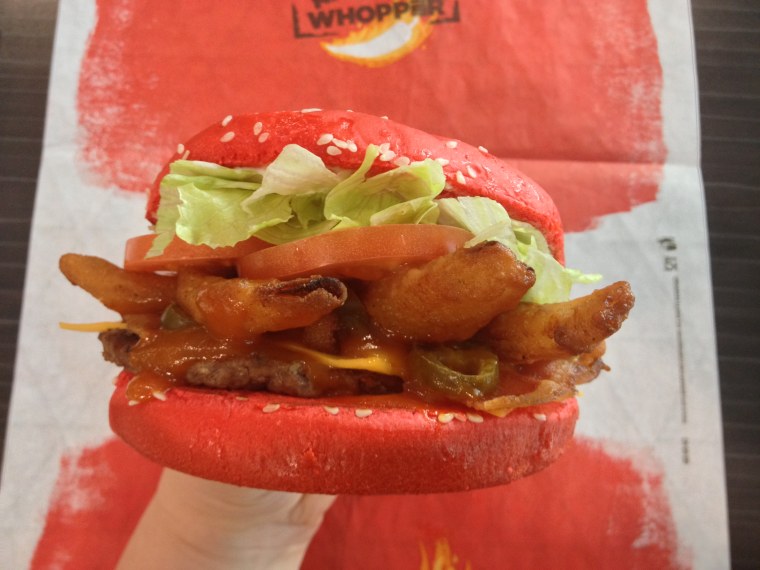 No. (Sigh). The crunch of the crispy onion petals and piquantness of the pickled jalapeños are definitely the touches that I liked best about the sandwich. If you really want to bring the heat, I suggest asking for an extra side of jalapeños. The "angry" sauce is slightly sweet and reminds me of a spicy barbecue sauce more than the unsweetened chile pepper sauces that I favor like Sriracha or Frank's RedHot Sauce.
The verdict: if you're someone who carries hot sauce around, this could be your new fast food burger of choice, but it didn't rock my world and inspire me to have the same kind of existential food crisis that I had with the Halloween Whopper.