Roses are red, and burgers are too. At least they are at Burger King, which will start selling red burgers this summer in Japan.
The Aka Burger ("aka" means "red" in Japanese) comes in two varieties: Samurai Beef and Samurai Chicken. These burgers sport a bright red bun, red cheese, and yes, a red tomato — but this tomato, judging from the press pics, looks extra red.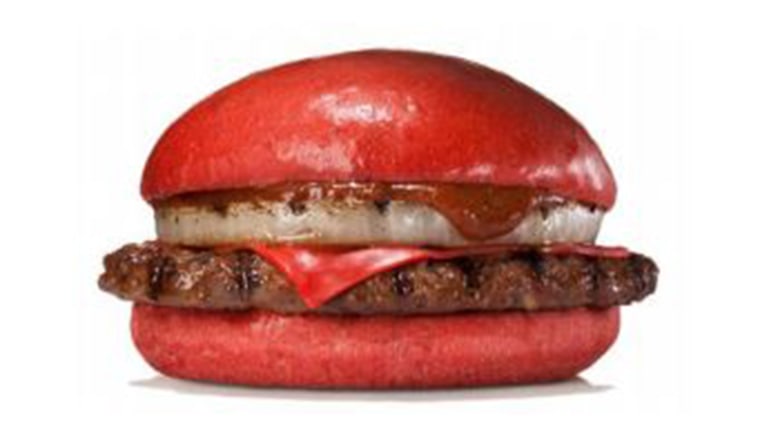 The company says that the fiery crimson hue was created using tomato powder. And befitting of their color, these burgers are spicy — slathered in what Burger King has dubbed "ANGRY Sauce," created from chili peppers and chili paste.
This isn't the only crazy color concoction we'll be seeing from Burger King Japan. The chain has also updated its Kuro Burger, or "black" burger, which rolled out last fall (and inspired a McDonald's knockoff). The new versions, the Kuro Shogun and the Kuro Taisho, both tout the same charcoal-blackened bun and squid ink-dyed sauce as their namesake burger, but now include new ingredients. The Kuro Shogun sports grilled eggplant and the Kuro Taisho features a hash brown patty.
The Aka Burger will be available starting July 3. The Samurai Chicken is priced at 540 yen (about $4.40), and the Samurai Beef costs 690 yen, (roughy $6.60). The Kuro Shogun, which also costs 690 yen, and the Kuro Taisho which is priced at 590 yen ($4.80) are arriving on August 21, apparently slated to replace the red burgers.
Meanwhile in the U.S, Burger King has been experimenting less with colors and more with types of food. Burger King began testing hot dogs and corn dogs at locations in Michigan and Maryland last month.