Is it us, or does it seem that the world just cannot get enough breakfast-cereal food mashups lately? Burger King's joining in on the trend and just announced it's rolling out a Froot Loops Shake, starting April 17, for a limited time.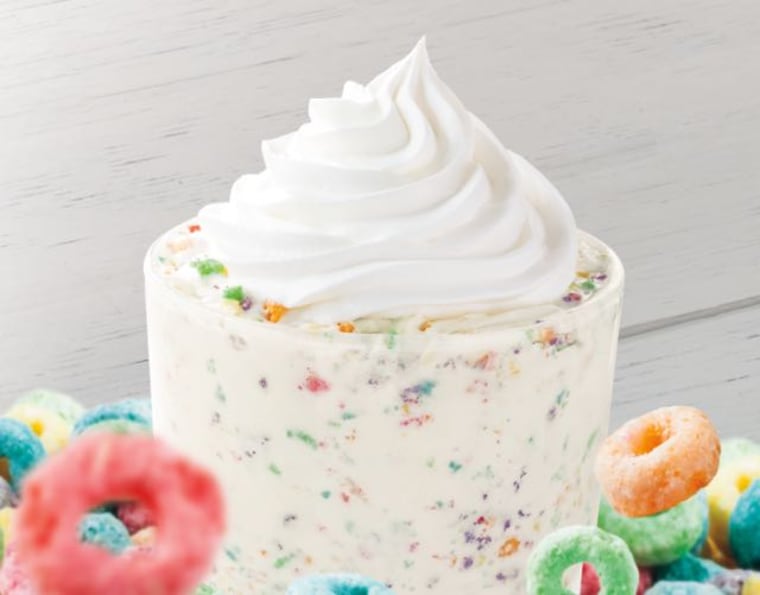 Vanilla soft serve is hand-spun with Froot Loops cereal pieces to make the shake, the chain tells TODAY Food. It will be $2.99.
The cheerful whipped cream–topped creation ends up looking like Funfetti cake in liquid form, and we can imagine it will be for serious sweet tooths only. (It's worth noting that a couple of years ago, we all learned that, despite their rainbow of distinct colors, all Froot Loops are actually the same "froot blend" flavor.)
While Burger King's shake line usually sticks to the tried-and-true — chocolate, vanilla, strawberry, Oreo — the chain does occasionally roll out a seasonal curveball like this one. Previous limited-editions include Gingerbread Cookie, Red Velvet Oreo and a Pumpkin Spice Oreo.
It did get us thinking, though, what's up with the sugar-cereal obsession lately among food makers and chefs?
RELATED: How ditching boxed breakfast cereal helped me lose 30 pounds
Recently, we tasted Fruity French toast, made with Fruit Pebbles, from cookbook author Jocelyn Delk Adams; a Cereal Splashbacks line (including a Froot Loot flavor) from Ben & Jerry's; and cereal-flavored oatmeal (including Lucky Charms mix-ins).
Even though we know what we're supposed to look for in a "healthier" cereal, for some breakfast lovers, the call of that "frooty" rainbow is just too strong.
We're guessing a lot the inspiration goes back to Momofuku Milk Bar's cereal milk soft serve. And there was that limited-time Froot Loops out last fall, a collaboration from the Kellogg's NYC restaurant and Black Tap Craft Burgers & Beer.
That one, though, was garnished with entire Pop Tarts, making BK's latest creation seem downright tame in comparison.
Can't wait until April 17th to get your hands on one of these? Hack your own version at home: In a blender, combine 3 scoops vanilla ice cream, 1/4 cup milk and 1/4 cup of Froot Loops cereal. Pour into a chilled glass, top with whipped cream and sip away!