Some folks get so hungry before hitting the drive-thru, they just drive right on through — the entire restaurant.
For most people, crashing a car is a tragedy or, at the bare minimum, an insurance nightmare, but Burger King is using photos of various car accidents to try to boost its delivery service — and the internet is a mix of outrage and praise.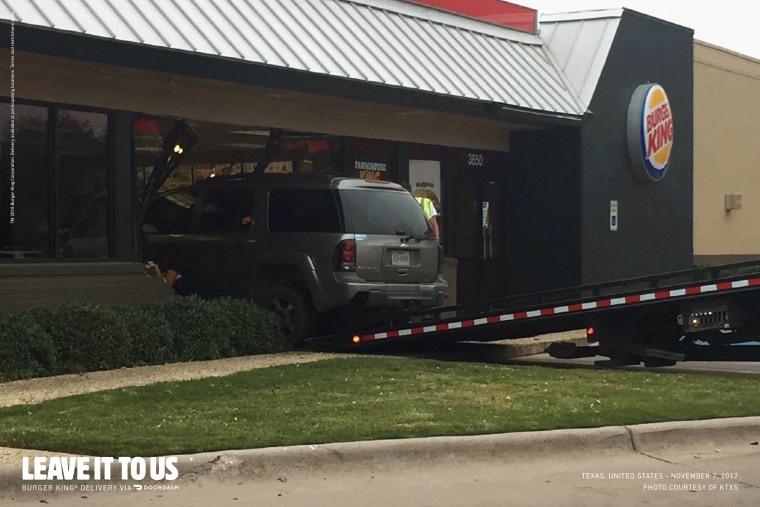 On Thursday, Burger King shared an image of a car that smashed into a store along and the phrase "leave it to us," to encourage people to order delivery through its partner DoorDash.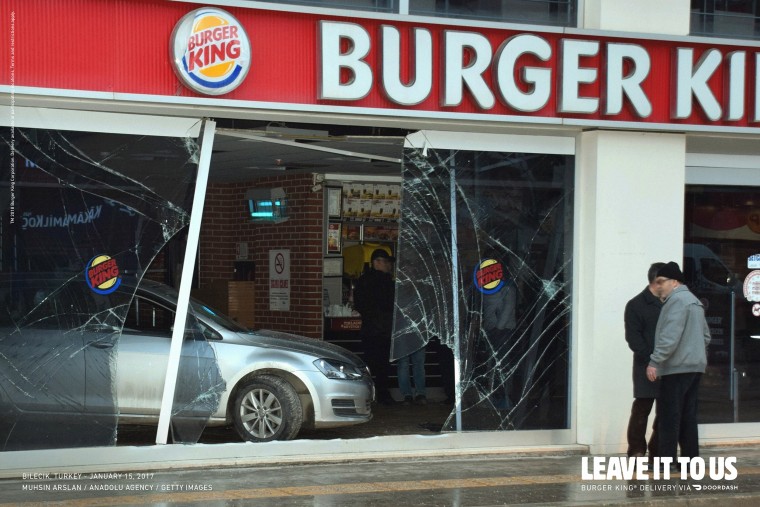 The fast food chain, which is known for flame-grilled burgers and occasionally trolling its competitors on Twitter, also cautioned people with the words "don't drive hungry," and "safety first." It was the first of many images released and the series caused many people to react.
Many people thought the photos were hilarious.
One person had a good ol' time poking fun at the cars' drivers.
Another person just hoped the food made it out alive.
There were people, however, who expressed opposition to Burger King delivery in general ...
or just thought the car crash ads were missing someone.
Even though serious car crashes aren't a laughing matter, no one seemed to be extremely angry about the ads. In fact, some people praised the company for its cleverness.
While its new ad prompted positive and negative reactions, this isn't the first time the company has made waves with photos of its stores gone wrong.
In February 2017, Burger King showcased crazy photos of some of its locations engulfed in flames in order to tout it burgers as "Flame grilled since 1954."
In June, it forged an unlikely partnership with another American staple: Budweiser. When the beer brand brought back its famously catchy (or infamously annoying) "Whassup" ad from 1999, the King of burgers popped in at the end for a brewski — pairing burgers with beer.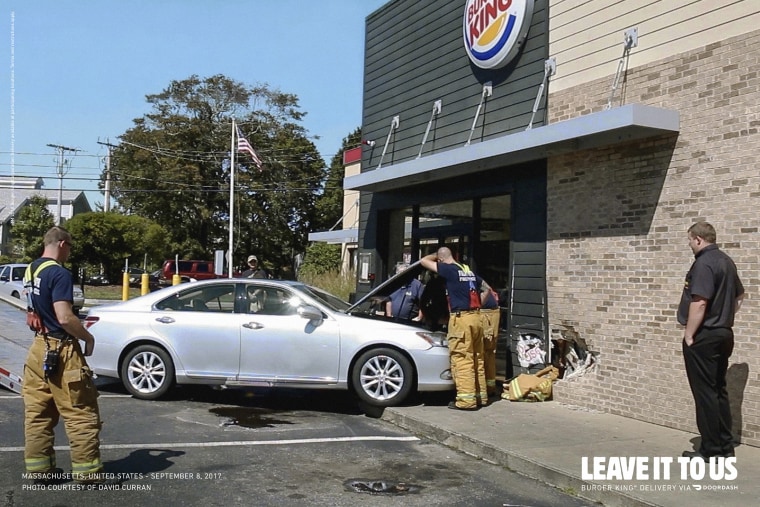 Burger King also took a major stance on bullying in a commercial that showed customers reporting a Whopper Jr. being smashed (or bullied) but did nothing about a high school junior being bullied at a nearby table.
Taking the fast food chain's most recent antics into account, it's probably a good idea to be extra careful driving to snag those $1 nuggets, unless you want to be a star in Burger King's next commercial.