One of your favorite guilty pleasures might soon be a little less guilty.
Ice cream giant Breyers announced it will stop using milk and cream from cows treated with artificial growth hormones, becoming the latest big brand to shift toward more natural ingredients.
"In talking to parents—and moms especially—of all the trends, they want transparency in what they eat and what they buy," Alessandra Bellini, vice president of brand development for Unilever, Breyers' parent company, told TODAY.com.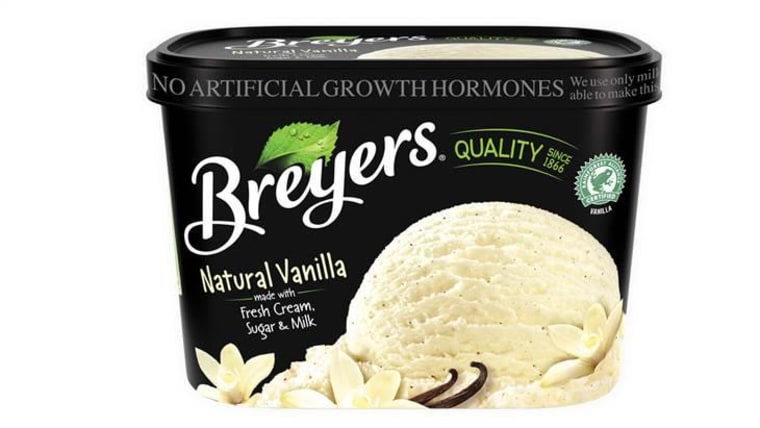 She said during consumer focus groups, moms "actually clapped" when the company presented the possibility of using only hormone-free dairy.
The ice cream brand works with multiple dairy farmers in the U.S. and spent the past year ensuring that it sourced only milk and cream from cows not treated with rBST, an artificial hormone that boosts milk production in cattle.
Breyers is also switching to vanilla that comes from sustainably sourced, Rainforest Alliance Certified beans in Madagascar. Both changes will be in effect by late February.
Harry Balzer, who tracks food trends for the research firm NPD Group, said Breyers' move aligns with the recent push toward real, natural foods. There was a time when people wanted products labeled fat-free and low-sodium, and then demand shifted to foods high in fiber or probiotics or omega-3s, he said, but those trends have passed.
"Now people are looking for the natural stuff, the real stuff," he said. "How can I make this simpler, cleaner?"
"More people are eating organically than are on a diet right now," Balzer added.
The natural route is more expensive, but customers won't see a difference in the price of Breyers ice cream, Bellini said. Money is likely a big factor for other companies considering a similar change.
"But they'll watch the sales of that product," Balzer said. "And if they see it goes well, they'll go there, too."
Breyers is hardly the first brand to ditch hormones, however. Companies have been cutting rBST out of production for years. Ben & Jerry's, also a Unilever brand, has been against growth hormones since 1989. Several yogurt brands, including Chobani and Dannon, are also hormone-free, and you can rest assured that anything in the organic aisle of the grocery store was produced without rBST.
Unilever, which also makes Klondike, Good Humor and Magnum, aims for all of its brands to use only hormone-free dairy by the end of 2015.
While controversial, rBST has been approved by the U.S. Food and Drug Administration since 1993.