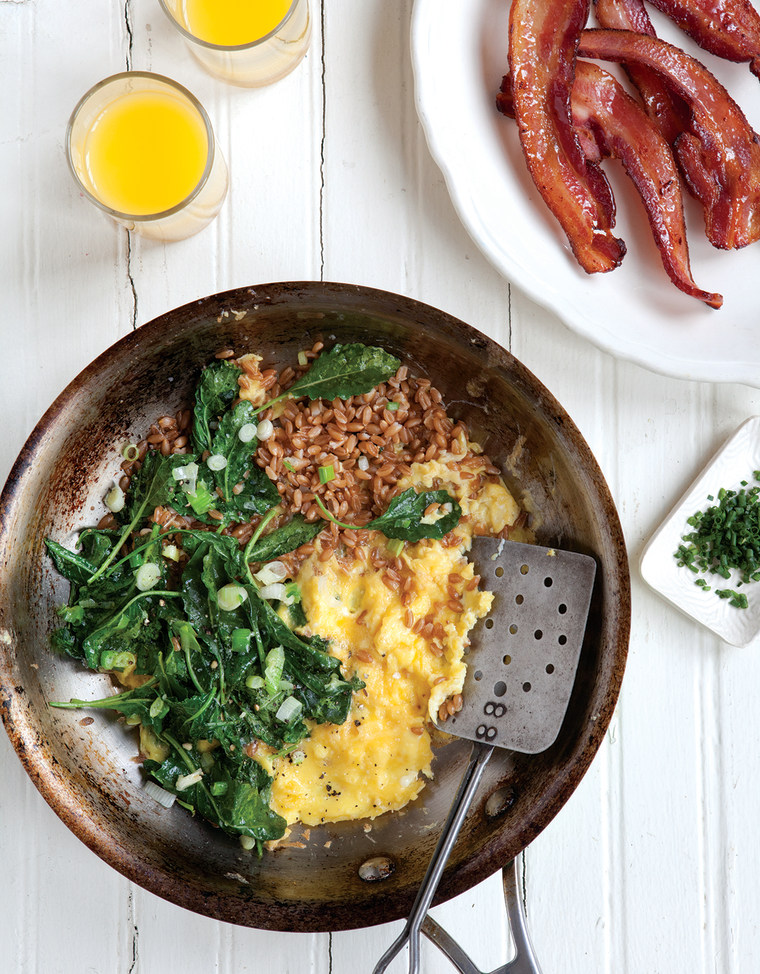 The term "ancient grains" has been popping up on more and more cereal boxes, breads, pastas and snack foods, and you might have spotted it on the bulk grain bins at your local supermarket too. But what exactly does it mean? 
Unlike modern cultivations of wheat, corn and rice, the grains designated "ancient" have earned that name because they're essentially the same version of the crop that has been grown and eaten for thousands of years. Ancient grains number in the hundreds, but some of the ones you're more likely to find in stores—sometimes labeled "heirloom" instead of "ancient"— include the ever-trendy quinoa, the protein-rich spelt, the increasingly popular amaranth and chia, and a tremendous variety of others such as buckwheat, teff and sorghum. Many ancient grains are naturally gluten-free, and easier on the digestive system than refined grains.
"There are so many different ways to use ancient grains in a meal," says Megan Gordon, author of the recently published "Whole-Grain Mornings: New Breakfast Recipes to Span the Seasons" (Ten Speed Press). Some of her favorites include:
·        quinoa, the current celebrity of the ancient grain world and a complete protein that's gluten-free
·        farro, a hearty form of wheat that makes a great alternative to brown rice
·        spelt, another species of wheat that's low in gluten but high in protein
·        millet, a nutty gluten-free grain with a light but chewy texture
·        amaranth, a tiny gluten-free seed that can be cooked like couscous or toasted in a pan for a crunchy topping
Cooking times for ancient grains vary by type, but Gordon recommends this method for coaxing the most flavor and texture out of all grains:
Bring water (amount depends on the grain; check the directions on the package) along with a pinch of salt to a boil in your favorite pot. Toast the grains in a skillet, either dry or with a little bit of butter, then add to the boiling water. Lower the heat to bring the water to a gentle simmer, cover the pot, and cook the grains until tender. Take the pot off the heat and let it sit for 10 minutes so the grains will soak up any residual moisture and get fluffy.
"Don't stress over the process," says Gordon. "Like pasta, the more you cook with ancient grains, the more you'll be able to visually determine their doneness."
Try farro, millet or your favorite ancient grain in one of Gordon's favorite morning dishes, the greens-and-grains scramble from her "Whole-Grain Mornings" cookbook:
Greens and grains scramble
Serves 2
4 large eggs, beaten

1 tablespoon milk

1⁄4 teaspoon kosher salt

2 tablespoons extra-virgin olive oil

1 green onion, white and light green parts, finely chopped (about 1 tablespoon)
2 cloves garlic, minced

1 heaping cup / 240 ml well-packed, chopped leafy greens (such as kale, Swiss chard leaves without ribs, or spinach)

1⁄2 cup / 120 ml cooked whole grains (wheat berries, farro, barley or millet)

1 tablespoon chopped fresh chives

Freshly ground black pepper

Flaky salt

Crusty bread, toasted English muffins, or warm corn tortillas, for serving

In a large bowl, whisk together the eggs, milk and kosher salt; set aside.
Heat 1 tablespoon of the olive oil in a sauté pan over medium heat. Add the green onion and garlic and sauté until soft, 1 to 2 minutes. Add the greens, grains, and remaining 1 tablespoon olive oil and sauté until the greens are wilted and the grains are warmed through, 3 to 5 minutes.

Decrease the heat to low and pour in the egg mixture, gently stirring to commingle them with the greens and grains. Continue stirring until they're softly scrambled, 2 to 3 minutes. Remove from the heat, stir in the chives, and season with pepper.
Serve hot with a sprinkling of flaky salt on top, and crusty bread, toasted English muffins, or warm corn tortillas alongside.

Recipe reprinted with permission from "Whole-Grain Mornings" by Megan Gordon (Ten Speed Press, © 2013). ). Photo credit: Clare Barboza.