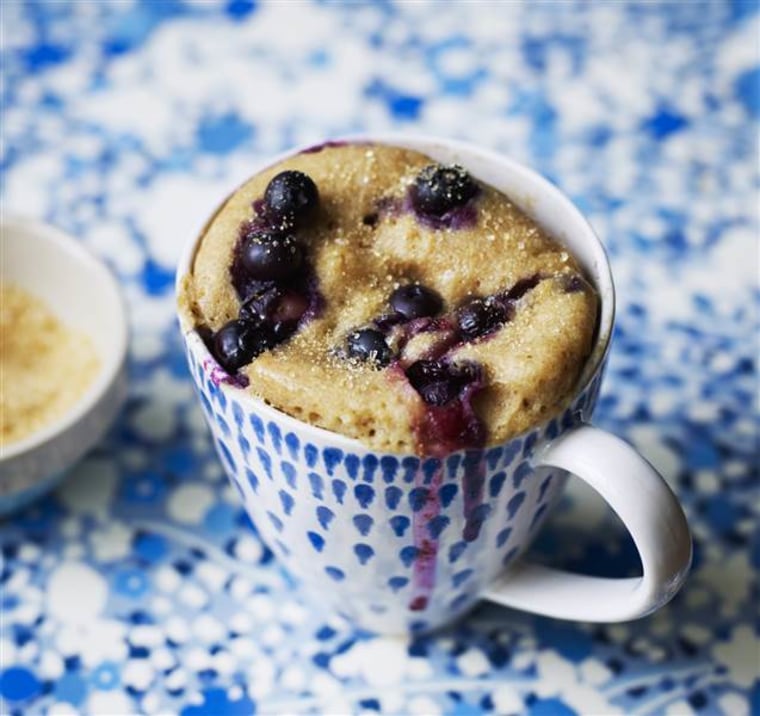 You may already be a fan of mug cakes — the single-serving microwave cakes you create in a cup make pretty irresistible desserts. Easy? Check. Convenient? Check. Delicious? Check. Waistline-friendly portion control? Check. But if you haven't tried mug cakes for breakfast, you're in for a treat.
RELATED: Make a gooey cheddar and bacon muffin in a mug
Get your mug out, gather a few simple ingredients and prepare for a steamy morning with two scrumptious breakfast mug-cake recipes — blueberry muffin, and almond and berry — from Mima Sinclair's new book, "Mug Cakes."
"Missing the frosting and toppings?" asks Sinclair. "Top your mug cakes with a generous spoon of creamy Greek yogurt swirled with your favorite jam. Or scatter with granola just before cooking to create a nice crunchy topping."
More mug cake ideas
Once you've mastered the mug cake, mix up the flavor combos with the following suggestions from Sinclair.
Cherry and Almond: Stir almond butter through your wet batter before adding the dry ingredients and a few halved cherries. You can even add some chopped almonds to the mix.
Banana and Honey: Stir a couple of tablespoons of honey and half a mashed banana through the batter mix. Once cooked, top with slices of the remaining banana and drizzle with extra honey to serve.
Toasted Hazelnut and Orange: Use a little fresh orange juice in place of milk and stir toasted hazelnuts and orange zest through the batter. Top with orange segments and a little brown sugar.
For more inspiration, check out these recipes, both savory and sweet:
Love these recipes? Add them to your Pinterest board!