Everyone loves a sandwich — melty, stretchy, sharp Cheddar on buttery, toasty sourdough bread when it's cold outside, or how about a porky, sweet, creamy and vegetable-filled BLT at the diner?

C'mon, your mouth is watering.
But these sandwiches, while delicious, are also all kind of ... well ... ordinary. Where is the ingenuity? Where is the shock-and-awe?
KFC upped the ante with the Double Down, and the guys from Epic Meal Time went off the charts with a 300,000-calorie sandwich for the Super Bowl.
The following creations take the art of breaded bliss to a whole new level — and calorie count — and are available for those intrepid (or hungry) enough to try.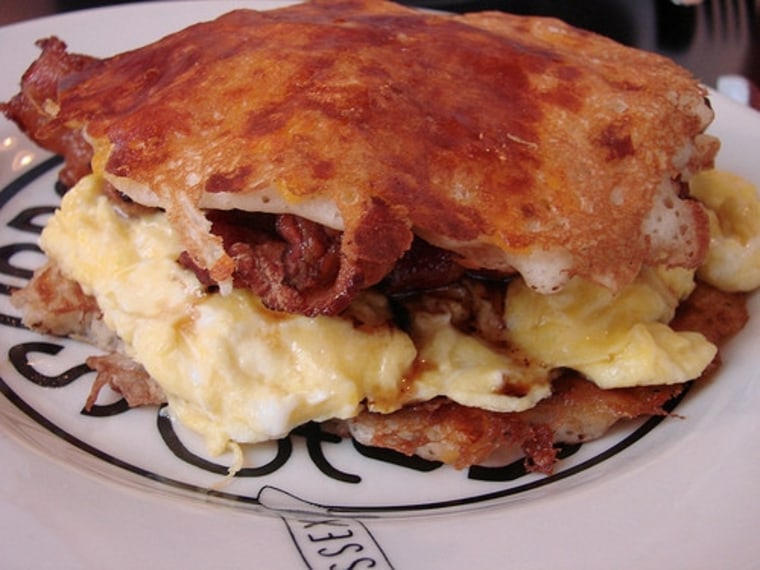 The Mo'Betta from Shopsins, New York City
Nothing beats a steaming stack of buttermilk hotcakes for breakfast, with creamy butter and sweet maple syrup streaming down the sides. How about adding some mac and cheese to the batter for a few hits of tangy cheese as you enjoy your sweet carbs? And protein really is important, so let's just throw a couple of scrambled eggs and some maple bacon in between those cakes. That, my friends, is the Mo'Betta at Shopsins in New York City. This is a popular sandwich for a hearty breakfast or lunch: a sweet, salty, carb-loaded, porky, mac-and-cheesy creation that will either have you begging for more or begging for mercy.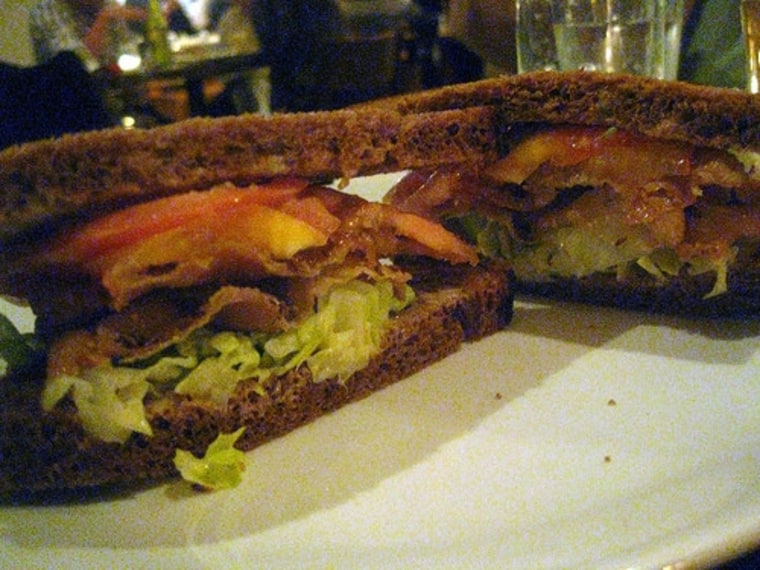 The GLT from The Gorbals, Los Angeles
The classic BLT includes smoky bacon, lettuce, and tomatoes with a luxurious coating of mayonnaise. This baby is pretty much perfect as is.
Or is it?
Enter The Gorbals' GLT — a gribenes, lettuce and tomato sandwich.
Gribenes is chicken skin, rendered and fried until it is a crispy, crunchy layer of savory chicken flavor with a thin undercoating of smooth, velvety fat.
Bacon is really delicious, but, is there really anything better than chicken skin? The Gorbals tells us that the sandwich is extremely popular. When Chef Ilan Hall was asked why he put the sandwich on the menu, the grandson of a butcher said, "I don't know, it just made sense!"
Plus, now the dish is kosher.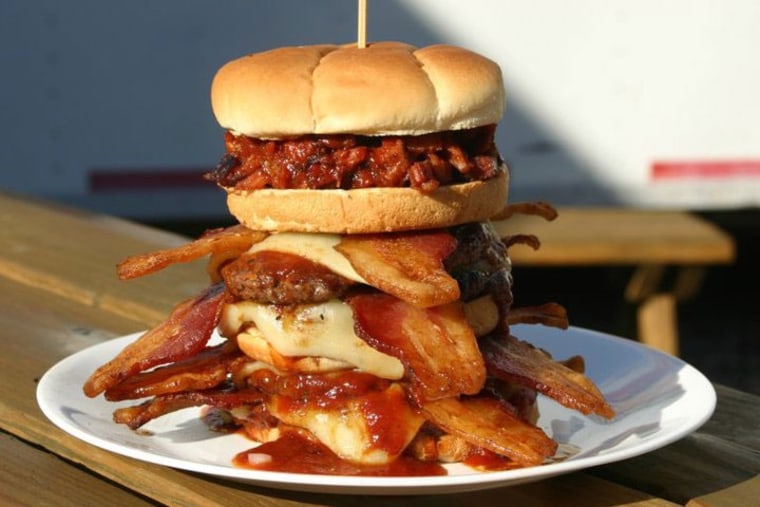 Quadzilla at Nathan's Real Barbecue, Safford, Ariz.
Someone's first cheeseburger is a pleasure. Their first bacon cheeseburger is a revelation. Their first Quadzilla , on the other hand, is a frightening behemoth to be reckoned with. Consisting of "a quarter-pound rib sandwich on top, four third-pound burger patties, eight strips of thick bacon, four slices of extra thick Pepper Jack cheese, pickles, onions and a TON of barbecue sauce," this baby is meaty, she is big and she means business. Only one person has ever attempted to eat it , and he was sadly defeated by the meaty monstrosity. You can try your own luck with the burger any Friday or Saturday night! This is quite possibly the most gluttonous burger in America, unless you consider ...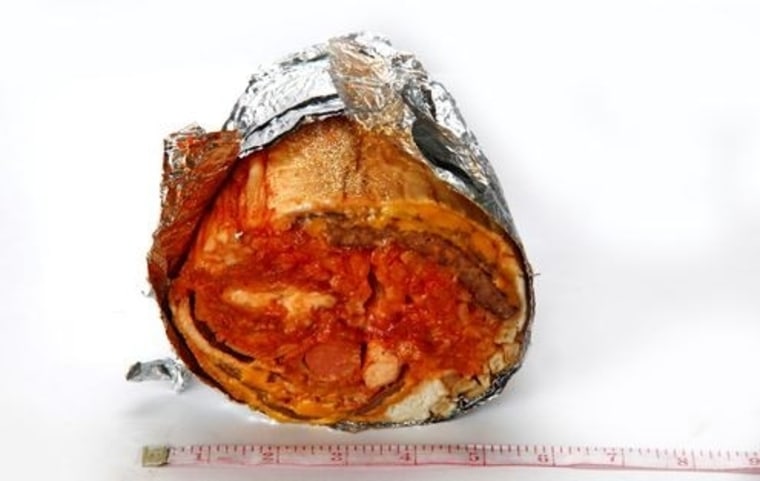 The Big Fat Ugly Sandwich from the Fat Sandwich Company, Madison, Wis., and Champaign, Ill.
Cheeseburgers, gyros, mozzarella sticks, those awesome mini-bagel bites that all the TV moms buy but my mom never did — you might think I am just randomly naming great drunk food, but you would be only partially right.
I am also naming the components of Fat Sandwich Company's Big Fat Ugly Sandwich.
It might be big. It might be fat. But to whoever might DARE to call this ugly, I can only say ...
Do you kiss your mother with that mouth?
What can be ugly about combining all these guilty pleasures into one sandwich? It consists of:
Two rolls, four cheeseburgers, double cheesesteak, chicken cheesesteak, gyro meat, grilled chicken, bacon, sausage, mozzarella sticks, chicken fingers, chicken nuggets, mac 'n' cheese bites, fried mushrooms, jalapeno poppers, pizza bites, onion rings, hash browns, American cheese, mayo, ketchup and french fries.
And it is — by my calculations — well over 7,000 calories. And, perhaps, well worth it.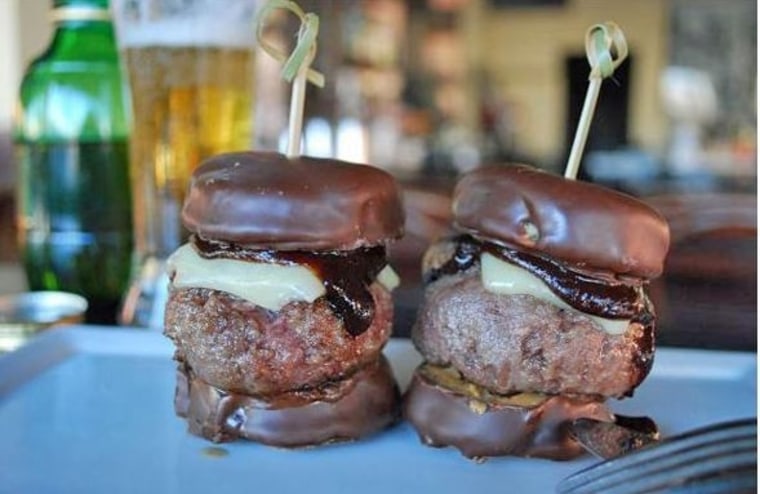 The Tastykake Slider from Adsum, Philadelphia, Pa.
Everyone loves chocolate. Everyone loves a burger. But who would be crazy enough to put them together?
Philadelphia chef Matt Levin pays homage to these chocolate-and-peanut butter Philly snack cakes by actually making them the buns for his sweet and sour mini-burgers. The sammie is comprised of two house-ground brisket patties topped with sour cherry-sriracha jam and American cheese, each sandwiched between two Peanut Butter Kandy Kakes. Apparently, the sour/spicy aspects of the burger balance the sweet nuttiness of the Tastykake. Levin actually started the burger when he found out that Tastykake was having financial difficulties, and put the slider on the menu to raise awareness about the company's woes. But the burger has developed a little following, and Levin says that it is "pretty popular," due to the local and national press, with the restaurant selling 10 to 20 burgers a night.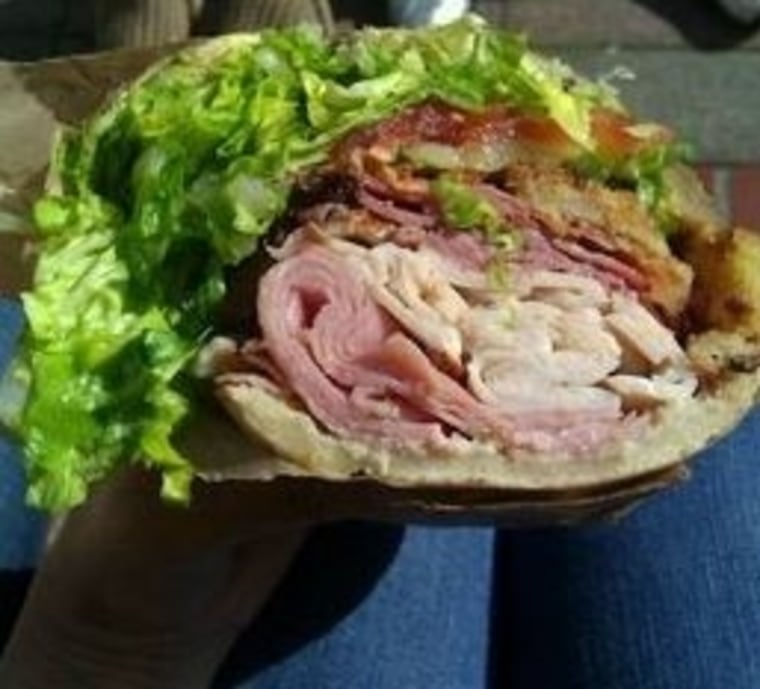 The Kryptonite from Ike's Place, San Francisco
What these guys call kryptonite, an average bear eating his last meal before winter hibernating for dinner might call dinner.
For most of us, though ... it would definitely be our kryptonite: Roast beef, corned beef, pastrami, salami, turkey, bacon, ham, mozzarella sticks, stuffed jalapeno poppers, beer-battered onion rings, avocado, pesto and pepper jack cheese.
This meaty sandwich attracts hundreds of followers a year, including Adam Richman of "Man vs. Food," and clocking in at more than 5,700 calories, this might be the only thing you need to eat for the whole year!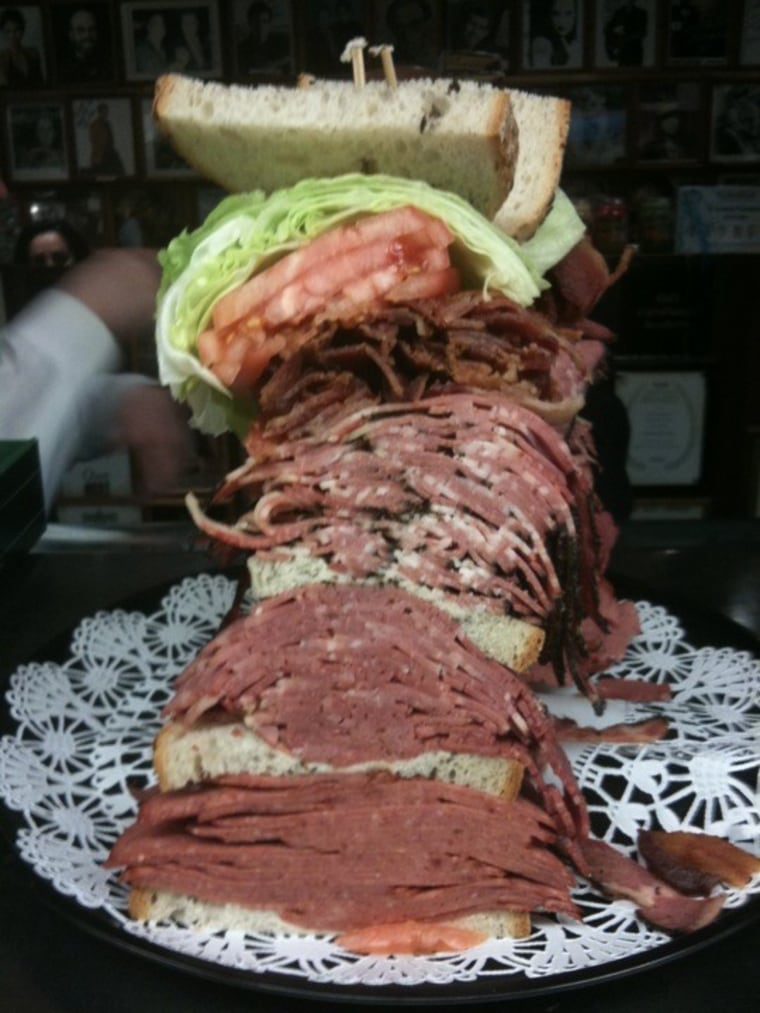 The Melo, Carnegie Deli, New York City
Who says New Yorkers aren't welcoming? Carnegie Deli pays homage to the newest Knicks addition, Carmelo Anthony, with the towering meat orgy aptly named The Melo. The $22 sandwich (seems like an understatement to call it that) features pastrami, corned beef, salami, bacon, lettuce, tomato and Russian dressing, all on several slices of rye. Want to take this on this gargantuan challenge? Watch Chris Sesno, of Sports and Food, as he battles the beast.
Need more crazy sammie inspiration? Check out Paula Deen talking about her dream sandwich:
Check out Fritos and Foie Gras for more from Sarah Spigelman.