Wine in a box may get a bad rap compared to its bottled brethren, but there is at least one distinct advantage to pushing that rubber spigot to fill your glass with red Franzia.
Boxed red or white wine can stay good for four to six weeks after opening, thanks to vacuum-sealed bags that prevent air from getting in and spoiling the wine through oxidation, according to the makers of Black Box Wine.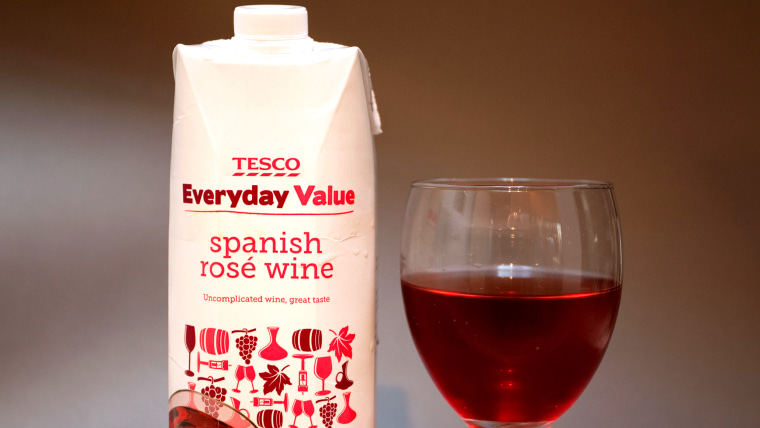 Conversely, uncorking a bottle of wine means you only have about a week until it expires. So if you're more of a sipper than a gulper, boxed wine is the way to go as far as ensuring it doesn't spoil quicker after opening.
"The enemy of wine is oxygen, and so what the bag and the box does is it keeps the oxygen away,'' wine expert and author Leslie Sbrocco told TODAY. "[Wine in a box] is really the ideal option if you just want to have a glass a night, and it can last for a month or more."
While sales of boxed wines only make up about 5 percent of total wine sales, they continue to grow, Sbrocco said.
"There is no stop to boxed wine, and now the newest trend is canned wine,'' she said.
When it comes to finding quality boxed wine, Sbrocco offered two key tips.
The better wines come in a 3-liter box compared to a 5-liter box, and if you see wines from the same brand found in a bottle, box and can instead of just a box, that's an indication it's a higher-quality wine.
The three classics of boxed wine are Black Box, Bota Box and Wine Cube, Sbrocco said, but there are also some up-and-coming boxed wines that she also recommends.
House Wine from Washington state now has a dry rose in a box, and a French wine called La Vielle Ferme that Sbrocco has recommended for a decade in a bottle is now in a box. There also is a Portuguese winery, Esporao, that makes a tasty wine called Alandra Red that is sold in a box.
"I think we're moving away from the idea of packaging making a difference,'' Sbrocco said. "It's about the quality of wine in the package. A lot of people are putting the same quality wine in all three."
One caveat with boxed wine is that, unlike bottled wine, it has an expiration date even if it hasn't been opened. It's not going to age to perfection in that plastic bag. The bags let in microscopic amounts of oxygen that reduce the freshness, according to Wine Spectator, so you want to check that box before buying.
Plus, these days inexpensive boxed wine can even have seasoned wine drinkers thinking they are tasting the good stuff.
This past Thanksgiving, TODAY investigative correspondent Jeff Rossen poured boxed wine into fancy-looking bottles, and a group of wine lovers couldn't tell the difference.
Franzia, anyone?
Follow TODAY.com writer Scott Stump on Twitter.