When it comes to young, fresh and relatively inexpensive white wines, the kind that I like to drink in these last warm weeks of summer or with simple seafood in any season, there is an excellent source for such wines in France, in Bordeaux, that deserves a good deal more attention than it gets.
It's called Entre-Deux-Mers. It's the name of the area within Bordeaux and of the wine, which you'll see on the labels. If you've never heard of it, Entre-Deux-Mers literally means "between two seas," or, in this case, between two of Bordeaux's three rivers, the Dordogne to the north and the Garonne to the south.
In area, Entre-Deux-Mers is huge, extending south and east of the city of Bordeaux in a vast triangle. This is the place where most of the wine labeled simply "Bordeaux" or "Bordeaux Supérieur" is produced — well over half a billion bottles a year, most of it red.
But it was some of the white wines, the ones called Entre-Deux-Mers, that brought me to the area of rolling hills one stunningly beautiful day on a weeklong tour of Bordeaux this summer. The Entre-Deux-Mers appellation is reserved for pockets of white wine production, some of the region's best, and represents a small fraction of overall output.
I had known of the wines, of course, having enjoyed them from time to time in the United States. And it was actually on my first night in the city of Bordeaux, a few days before my visit to Entre-Deux-Mers, that I started to reacquaint myself with the appellation's simple charms. After walking around for a while in search of a relaxed place for dinner, I took an outdoor table at the Bistro de L'Embarcadere on the rue Saint James, a narrow street lined with old four- to five-story apartment buildings a few blocks from the city's restored and charming central square.
It was dinner for one, but in the restaurant's casual street atmosphere I quickly struck up a conversation with a woman named Chantal who sat across from me at the next little table and said she lived a few blocks away. For one thing I thought it was a good sign that someone from the neighborhood was eating there and, after looking over the menu, I decided to take my cue from my accidental dinner partner and ordered the moules frites (mussels and fries), adding a simple green salad and a bottle of the 2007 Entre-Deux-Mers from Château Chantelouve.
"They're in season," Chantal said of the mussels as she pulled the orange meat from the shells and dipped it in the broth. Their source was most likely near the end of the third of Bordeaux's rivers, the Gironde, which eventually leads to the Atlantic Ocean some 60 miles or so to the northwest. I chose well. Steamed in white wine, shallots and parsley, the mussels were utterly fresh and sweet and perhaps better than I had ever had. As for the Entre-Deux-Mers, it was just what I'd hoped for — dry, fresh and lively with notes of lime and grapefruit, some grassiness and minerals. A nice quaffing wine that went perfectly with the mussels.
Entre-Deux-Mers is always a blend of three white grapes — mainly sauvignon blanc and semillon with a bit of muscadelle — grown in the area's predominantly clay and limestone soils.  There is considerable variation in style from producer to producer, depending on exactly where in Entre-Deux-Mers the grapes are grown. That became clear in a blind tasting of ten wines from the 2007 vintage with the man in charge of promoting the appellation, Stéphane Defraine, owner of Château de Fontenille and the head of the Syndicat Viticole de l'Entre-Deux-Mers, which represents 240 growers.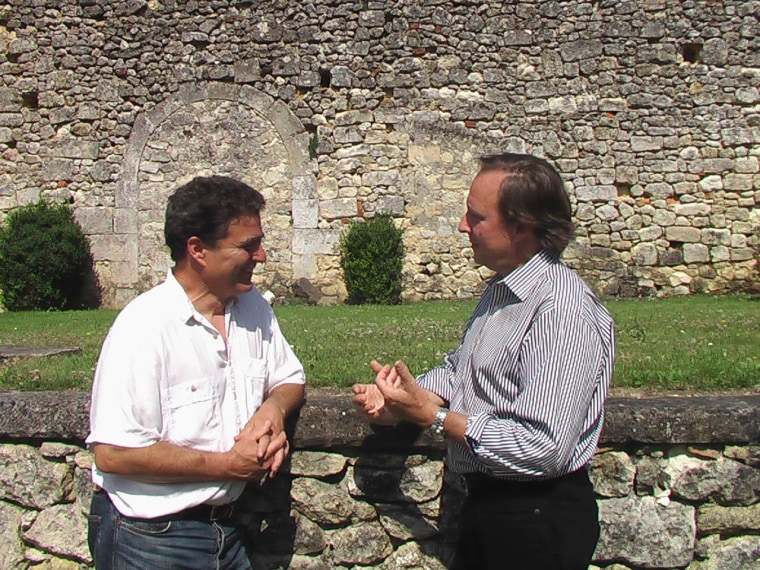 We met in the town of La Sauve-Majeure, in the association's tasting room, which is across the square from the remains of a magnificent 12th-century Benedictine abbey. The wines, all of them made without oak, were fresh and fruity and easy to drink, some on the more citrusy side with grapefruit, lemon and lime notes, while others had a more obvious floral component.
One of my favorites was the 2007 Entre-Deux-Mers from Château Bonnet, round and elegant and marked by notes of grapefruit, tropical fruits and a slightly creamy quality. This happens to be a relatively large-production wine from André Lurton, who presides over a Bordeaux wine empire, and it should be fairly easy to find in the United States, providing a nice introduction to the appellation.
Many of the other wines are also available in this country in certain markets. Some to look for include those from Château Tour de Mirambeau (produced by the innovative Despagne Family Vineyards), Château Vignol, Château Turcaud, Château La Freynelle, Château Landereau, Château Lestrille, Château Sainte Marie and Château Martinon.
Prices are in the $9 to $15 range, making Entre-Deux-Mers one of Bordeaux's real bargains even with a weak dollar. More broadly, Bordeaux, I found, is full of relatively unknown and interesting appellations. I'll look at other parts of Bordeaux and some exciting red-wine values in coming weeks.  
Edward Deitch is the recipient of the 2007 James Beard Foundation Journalism Award for Best Multimedia Writing. He welcomes comments from readers. Write to him at