They're masters of hawking lattes and burritos supreme, but now two unexpected big names in food—Starbucks and Taco Bell—are pushing into the booze business.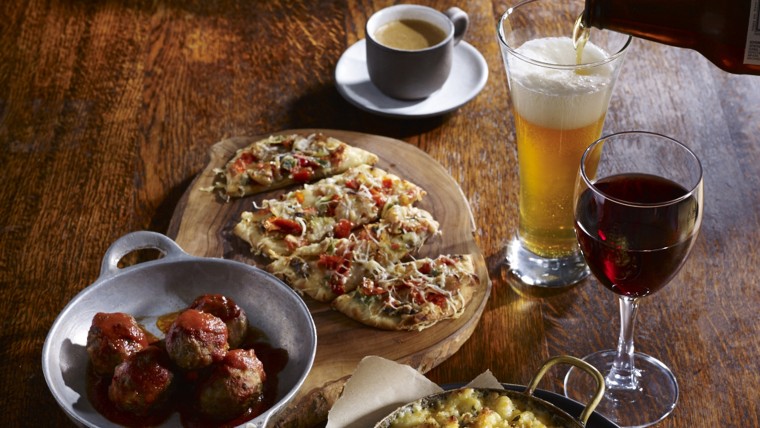 Despite having not much in common culinarily speaking, the two companies appear to have similar goals: Attracting younger customers (yes, those millennials) looking for higher-end, yet casual nighttime spots close to where they live and work.
Starbucks Evenings, first tested in a Seattle location in 2010, rolled out a big expansion this fall, bringing the grand total of evening locations to about 100 (find out here if there's one near you). The menu offers up small plates, wine and beer, and yes, they still serve coffee at night. By 2019, the coffee giant hopes to bring its evening menu to about 2,000 U.S. stores, or about 20 to 25 percent of the market here, a spokesperson told TODAY.com.
Taco Bell made a clear play for the hipster crowd with the locations of its first two Taco Bell Cantina locations, which opened this fall in the Wicker Park neighborhood of Chicago, and the SoMa neighborhood in San Francisco. The chain also has grand plans: It's mum on where the next Cantina location will be, but the company plans to add 2,000 stores by 2022, and remodel 600 stores a year.
Ambiance
Starbucks Evenings: By day, they are "normal" stores with perhaps a tad more comfy furniture, warmer colors and local art on the walls; at night, they morph into Starbucks with the help of mood lighting and music.
Taco Bell Cantina: The Chicago location has a more urban-industrial look inside, with lots of metal, wood and a giant, dramatic mural, while the San Francisco spot has more of a modern West Coast feel, with lots of horizontal wood, corrugated metal and a patio with box planters that look pulled out of a Crate & Barrel catalog.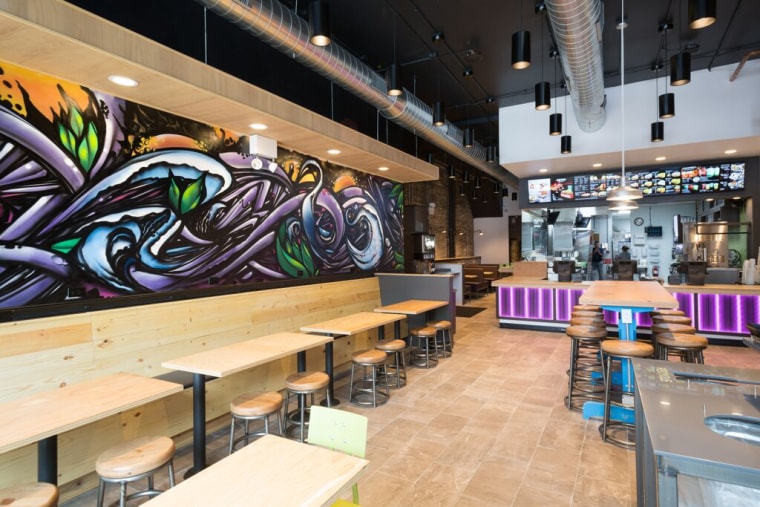 Wine
Starbucks Evenings: A whopping 70 percent of Starbucks customers also drink wine, compared to 30 percent of the general U.S. population, according to a Mintel Reports survey, so wine was a no-brainer for the company. The wines are all tailored to local tastes and range from a bargain $6 glass of Riesling (or $20 for the bottle) to a more eyebrow-raising $14 glass of Syrah (or $50 by the bottle).
Taco Bell Cantina: In addition to $3 red and white wines, Taco Bell Cantina is also, smartly, serving up sangria—always a crowd pleaser. (Right now, only the Chicago location is serving alcohol, but it will be coming to San Francisco soon as well.)
Beer
Starbucks Evenings: The same Mintel survey also reported that Starbucks customers are two times more likely than average customers to drink craft beer, so, naturally the chain caters to its crowds with local beers on tap, for a fair $4 to $5 a glass.
Taco Bell Cantina: At $3 a glass, pours of Dos Equis and Fat Tire beers are a steal here.
Liquor
Starbucks Evenings: Starbucks, at least right for now, doesn't sell cocktails or hard alcohol.
Taco Bell Cantina: Served from slush dispensers, the Twisted Freezes ($7) are available in Mountain Drew Baja Blast, Cantina Punch, and Cantina Margarita, with the option of adding rum, tequila or vodka. They taste just like college.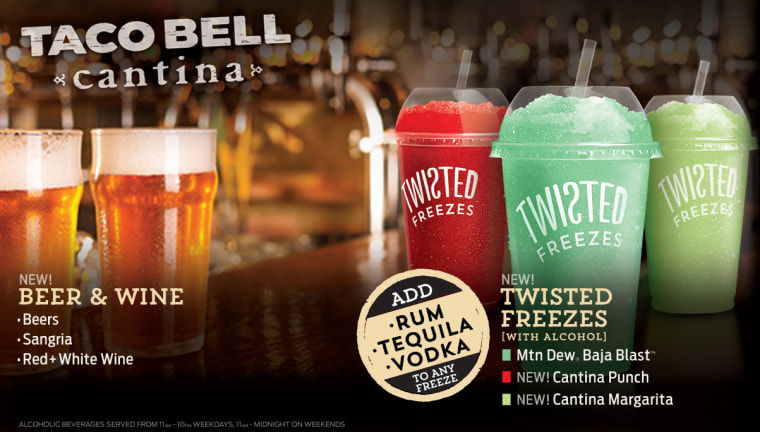 Food
Starbucks Evenings: Ah, the ever-present small-plate menu. Here, it includes things like the always trendy truffle: Truffle Mac & Cheese, $5.95, and Truffle Popcorn, the cheapest thing on the menu, at $2.95. The Cheese Plate and flatbreads (available in Chicken Sausage & Mushroom or Artichoke & Mushroom) top out at the priciest, at $6.95.
Taco Bell Cantina: "Sharable" snacks, available after 5 p.m. at the Catina locations, have three price tiers: $3 (Chili-Cheese Nachos, or three "rolled" tacos), $4 (Mini Quesadilla Nachos, or Homestyle Nachos) and $5 (Chicken Tenders or a six "rolled" tacos).