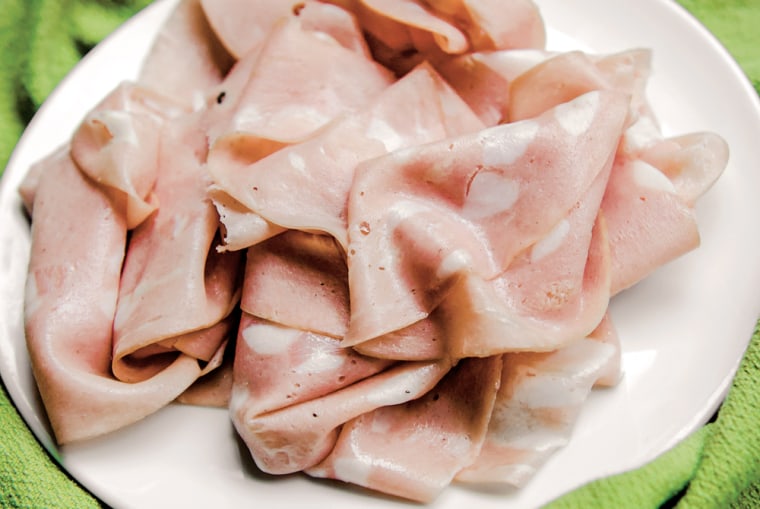 Past grade school, most Americans think of bologna as, well, baloney: a bubble gum-colored, sodium-clogged mystery meat only kiddies could love. But it's time to think again. After all, this emulsified sausage has its roots in one of the world's gastronomic capitals: the Italian city it's named for, where it has for centuries epitomized the art of salumi. And since American chefs are into making their own cold cuts these days, bologna is finally coming out of the lunchbox and onto the restaurant plate.
Granted, mortadella Bologna is a whole different animal from its stateside counterpart—literally, since the latter is often made with beef. It may also be smoked, reflecting regional German rather than Italian influence. By contrast, bona fide mortadella contains only pork, larded and seasoned primarily with peppercorns before it's cooked, though pistachios are a popular addition as well. It's this type of bologna that has been popping up on upscale menus nationwide in recent years.
As the author of "The New Charcuterie Cookbook," for instance, James Beard Award-winning chef Jamie Bissonnette doesn't hesitate to give housemade mortadella the gourmet treatment, whether he's wood-firing it with artichokes at modern Boston trattoria Coppa or serving it a la plancha with fried squid, cabbage, lime vinaigrette and pickled-oyster mayonnaise at New York tapas bar Toro. At The John Dory Oyster Bar, also in Manhattan, you may occasionally encounter fellow Beard-winning superstar April Bloomfield's mortadella-stuffed mussels. And Jimmy Bannos Jr. of acclaimed Chicago gastropub The Purple Pig will put it in croquettes or puree it to yield a creamy, velouté-enriched mousse.
8 ways sour cream can make your life (or at least your food) better
Still, says Bannos, you never forget your first lunch meat: "I may call it mortadella, but the inspiration was bologna. The sandwiches I had as a kid with American cheese were my jam." In fact, he sometimes "recreates them almost to a T" for his customers, slathering them with "old-school yellow mustard—no whole-grain." Zach Pollack of Alimento in Los Angeles follows a similarly nostalgic impulse in filling the pastries he calls "pigs in a blanket" with mortadella. And at Denver destination Beast + Bottle, Paul C. Reilly will reserve some of the ground pork he uses for mortadella to make "plain old baloney flavored with garlic and salt," which he then slices into inch-thick disks and fries up for brunchtime sandwiches topped with sunny-side-up eggs: "We thought, 'Let's go Ohio State Fair with this,'" he muses.
Ohio is, in fact, among the many heartland states where bologna enjoys iconic status, thanks to institutions like G&R Tavern. The decades-old Waldo establishment's famous sandwich starts with smoked beef-and-pork sausage that's sliced, fried on a cast-iron grill "until it's good and brown," and slapped on oversized buns with Monterey Jack, sweet pickles and raw onions. Oklahomans, meanwhile, have spread the gospel of barbecued bologna throughout the South and as far west as Los Angeles, where Bonnie B's Smokin Barbeque Heaven slow-smokes its "Okie prime rib" over oak.
Respect for these all-American traditions are what motivate even a classically trained chef like Bissonnette to reinvent such down-home classics as pimiento dip by incorporating mortadella and Italian cheeses. And someday, he says, "I want to open up a dive bar with 'jalapeño poppers' of peperoncini stuffed with pureed bologna and cheese." If they're a hit, he promises, "then you'll really know bologna's back."
Ruth Tobias is a freelance food-and-beverage writer based in Denver, Colorado. Visit her at and follow her on Twitter.