As the man behind Chicago's Rockit Burger Bar, among other restaurants, Billy Dec knows a thing or two about burgers — and, lucky for us, he's willing to share his secrets. Here are Dec's top tips for everything from shaping the perfect patties to grilling and serving, plus his out-of-sight recipe for a Green Chile Burger.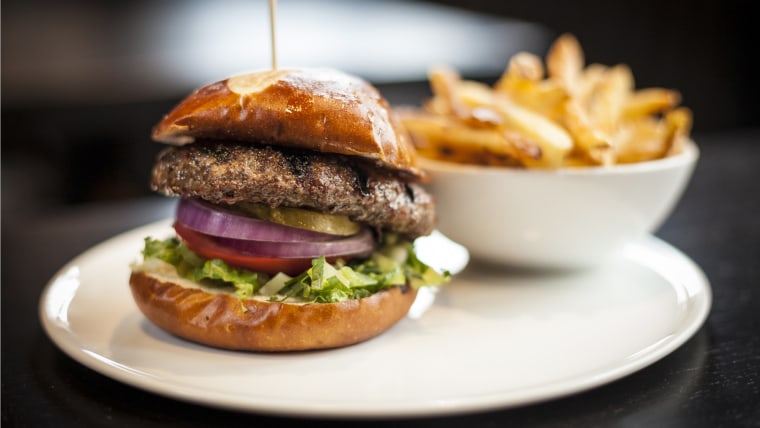 Billy Dec's burger tips
1. The best beef blend: Use ground chuck beef with an 80/20 lean to fat ratio. If you like your burgers well done, consider going with higher fat percentage so your burger stays juicy. You can buy a packet at the store or grind your own meat — or ask your butcher to do it for you (many supermarket butchers will grind meat for you if you ask).
2. Perfect patties: Spread ground meat out and grab about eight ounces in your hand, lightly forming a ball. Lightly push ball down to form patty about 3/4 to 1 inch thick. Don't overwork meat — it will become overly dense). Put a dimple or divot in middle of our burger with your thumb so it doesn't shrink and ball up, as most proteins do when cooked.
Related: How to grill corn: Billy Dec shares his tips and street corn recipes
3. Cool it down: Chill patties in the fridge to help them keep their shape.
4. Prep your grill: Pre-heat grill to medium-high (set at high if you are using a gas grill; if using charcoal, get it to glow bright orange and ash). Oil the grate before grilling.
5. Season at the right time: Season patties on one side liberally with salt and pepper right before grilling (any sooner and the salt will pull moisture out of the meat). Cook seasoned side down, then season the other side before flipping.
6. Don't prod or press your patties: After you've put the burgers on the grill, close the lid and leave them be until it's time to flip (and only flip them once). Let them cook for about five min on each side for medium (more or less as you desire). Don't push the patties down (even if like to hear and see the fire roar). You are just pushing juices out.
7. Take your burger's temperature: Use an instant-read thermometer to judge doneness (note that the USDA recommends cooking ground beef, pork, veal, and lamb to an internal temperature of 165°F.):
120°F and below for rare (red/raw in the center)
130°F for medium-rare (pink and warm)
140°F for medium (totally pink, starting to dry out)
150°F for medium-well (grayish pink, significantly drier)
160°F and above for well done (completely gray, very little moisture)
8. Let your burger rest: Let patties rest when done for 5 min to just redistribute juices.
More burger goodness!